Trump's description of Orlando gunman
Snapshots from the trail: Donald Trump in Texas
Trump's art of the deal with Native Americans: Racial insults or flattery, whichever was good for business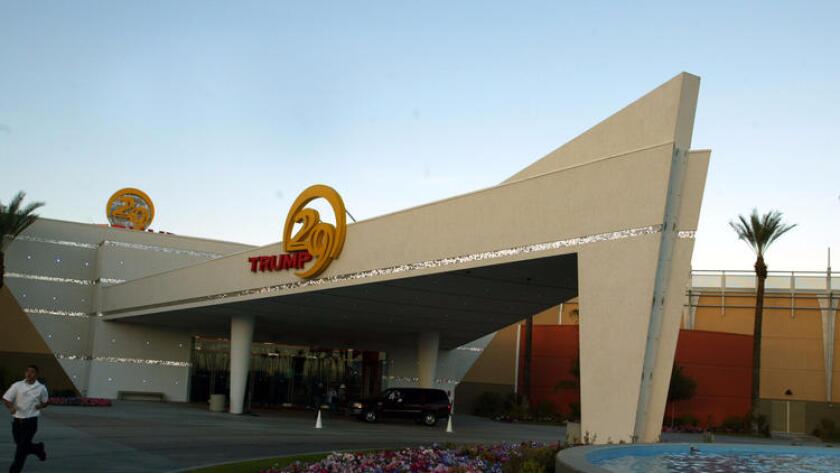 Donald Trump stood fuming in the back of the hearing room on Capitol Hill for two hours, impatiently scribbling notes. Staffers had refused to move up his testimony, and no one would give up a seat for the casino mogul.
When he finally sat down at the witness table that fall afternoon two decades ago, he crumpled and trashed his "long and probably very boring speech," which he called "politically correct." He then unloaded a tirade — about Native Americans, casinos and the mob.
"When I have to sit here and listen to people saying that everything is just peachy-dory, it is not, folks. It is going to blow," Trump warned. There was no way, he said, that "an Indian chief is going to tell 'Joey Killer' to please get off his reservation."
He also accused a federally recognized tribe, the Mashantucket Pequots, of being fakes.
"They don't look like Indians to me," he declared.
Move over politicos. Trump wants 'Winner's Night' at GOP convention
Donald Trump is already remaking the Republican Party. Now he wants to shake up the GOP summer convention.
Trump is considering setting aside one night during the gathering in Cleveland not for politicians, but for "winners" — the sports and entertainment figures who have endorsed his campaign — he said.
NASCAR's Richard Petty, UFC fighter Dana White, former Indiana Coach Bobby Knight and others would be so much better than "everyone falling asleep" listening to politicians, Trump told supporters during a rally Thursday night at Gilley's in Dallas.
"Winners' night" would "probably be the best-attended night of the whole deal," he said.
As the GOP's presumed nominee, Trump's team will have great sway in shaping the four-day event in July and has talked about sprucing it up to make it more engaging. Trump said at the rally Thursday he hasn't yet invited his guests.
"We're thinking about doing something that's different," he said.
Trump says he will outperform negative polls in a reverse Bradley effect
Facing dismaying new poll numbers, Donald Trump said he believes he will outperform the surveys because voters aren't willing to tell pollsters their true intentions.
Call it the reverse Bradley effect.
Trump didn't mention former Los Angeles Mayor Tom Bradley by name, but referred to "one person in California" who lost an election despite polls that had favored him to win.
"It's a certain effect," Trump said. "I have fortunately the opposite effect."
"I do much better," he said.
Trump's comments, at a rally late Thursday in Dallas, came as he marked the one-year anniversary of his entry into the GOP race and his improbable rise since.
Bradley's loss in the 1982 election for governor is often cited as an example of how "social desirability" of certain answers to a poll can skew results. Bradley, who was black, lost to a white candidate, and the result may have stemmed from poll respondents who did not want to admit they planned to vote against a black candidate.
The Times wrote about evidence of a so-called reverse Bradley effect involving Trump earlier in the campaign season.
Polling now shows 70% of Americans — and as many registered voters — have negative views of Trump. Democrat Hillary Clinton is also deeply unpopular, but not as much. Clinton leads Trump in a raft of new polls, including some of key battleground states.
Trump recounted his unlikely primary state victories to the overflow crowd at Gilley's as evidence that he does better at the ballot box than the political experts expect.
In fact, however, while there was some evidence of that early on, polls later in the campaign were fairly accurate in predicting Trump's vote.
In a state with a large Latino population, Trump pivoted away from immigration and national security issues that had dominated the week. Instead, he focused on economic populist themes that have proved especially popular with white, working class voters.
He also said he wanted to ride the venue's famous mechanical bull — though he called it a horse.
Analysis: Bernie Sanders lists his demands and declines to praise Hillary Clinton — but how much leverage is left?
Bernie Sanders' presidential campaign ended with what had become his standard pitch in recent months as his odds of defeating Hillary Clinton dimmed: a long list of demands for the Democratic Party, a host of thinly veiled insults against party leaders and no recognition for the woman who outdistanced him in the popular vote and delegates en route to clinching the presidential nomination.
Sanders never mentioned Clinton's historic accomplishment except by inference when he said that his campaign henceforth would be about "defeating Donald Trump." He never actually said that Clinton had defeated him, or even that he was bowing out of the race, despite the fact that there are no more primaries to contest.
The absence of typical political grace by the defeated candidate was reminiscent of another insurgent inveighing against the establishment: Democrat Jerry Brown never got around to endorsing Bill Clinton in 1992 after the future president became his party's nominee.
But if Sanders' pitch Thursday night was consistent with his entire pursuit, it also came after his power seemed to have ebbed.
Bernie Sanders never came close to beating Hillary Clinton. But here's why his campaign still mattered
When Bernie Sanders took an early, exploratory trip to Iowa, a curious crowd of 150 or so turned out at a college-town bookstore, where they listened politely as he raged against the billionaires and oligarchs he said were destroying America.
The angry aria from the wild-haired, slouch-shouldered senator from Vermont was delivered beneath a sign reading "Science Fiction and Fantasy," which seemed an apt, if unintended, metaphor.
How many people would take seriously a 73-year-old Jewish grandfather and democratic socialist, vying for the presidential nomination of a party he never joined and trying to topple one of the country's most powerful political dynasties?
Plenty, it turned out.
Yes, Sanders is still a candidate, top aide says
Bernie Sanders signaled a slowdown in his campaign on Thursday night, but that doesn't mean he's giving up his candidacy, his campaign manager said Friday.
"Yes, he is. Yes, he is. Yes, he is. He's an active candidate for president," Jeff Weaver told MSNBC's "Morning Joe."
Sander has said he'll help presumptive Democratic nominee Hillary Clinton fight Donald Trump in the general election. But that doesn't mean he's backing out before the party's convention in July.
"For him, this is really about transforming America," Weaver said of Sanders' candidacy. "... And what he's trying to do is continue to make the changes we need so that the American government and the economy works for all people in this country, not just a few."
Paul Ryan: A divided GOP loses its White House bid
House Speaker Paul Ryan vowed that he won't be the one to open a divide in the GOP and plans to stick with his endorsement of Donald Trump.
"I feel as a responsibility — institutionally as the speaker of the House — that I should not be leading some chasm in the middle of our party," Ryan said in an interview with NBC's "Meet the Press" airing Sunday. "Because you know what I know that will do? That will definitely knock us out of the White House."
Though Republican leaders have balked at Trump's controversial response to the Orlando shooting and the presidential candidate's popularity is at yet another low, Ryan simply called the 2016 election a "strange situation" and Trump a "very unique nominee."
He also said, though, that he won't ask party members to back Trump against their will.
"The last thing I would do is tell anybody to do something that's contrary to their conscience," he said. "Of course I wouldn't do that."
Many Utah Republicans say they're sour on Trump, and Libertarians sense opportunity
At a recent weekend farmers market in Provo, Utah — the heart of a reliably Republican county in a reliably Republican state — little love was to be found for the presumptive Republican presidential nominee.
"I can't vote for Donald Trump, not in good conscience," said Michelle Tukuafu, a 47-year-old registered Republican from nearby Spanish Fork, with a distaste representative of views held by many fellow shoppers.
As for Democratic contender Hillary Clinton?
"Oh my gosh, heck no," she said.
In the chorus of disappointment ringing from Utah voters, Andy McCullough, chairman of the state's Libertarian party, hears opportunity.
"The timing is right," said McCullough, sitting in his Salt Lake City law office above Dr. John's Lingerie Store -- he's carved a niche representing the adult entertainment industry.
There's a Japanese Donald Trump commercial – kind of
Donald Trump gets mixed reviews in Japan.
He's riled up politicians by suggesting that Japan should get nukes, he's said that Japan should pay more for U.S. bases in its country and he's even criticized Japan's auto industry.
So what better way to win his Japanese doubters over than with a cute Japanese music video?
First off, a caveat: This isn't a sanctioned campaign ad  —  it's a parody, produced by Los Angeles-based video director Mike Diva.
But in an alternate reality in which it was somehow necessary to appeal to the niche "cutesy-nihilist Japanese psychedelic robot anime fan" demographic, this is the ad Trump would want.