Trump's art of the deal with Native Americans: Racial insults or flattery, whichever was good for business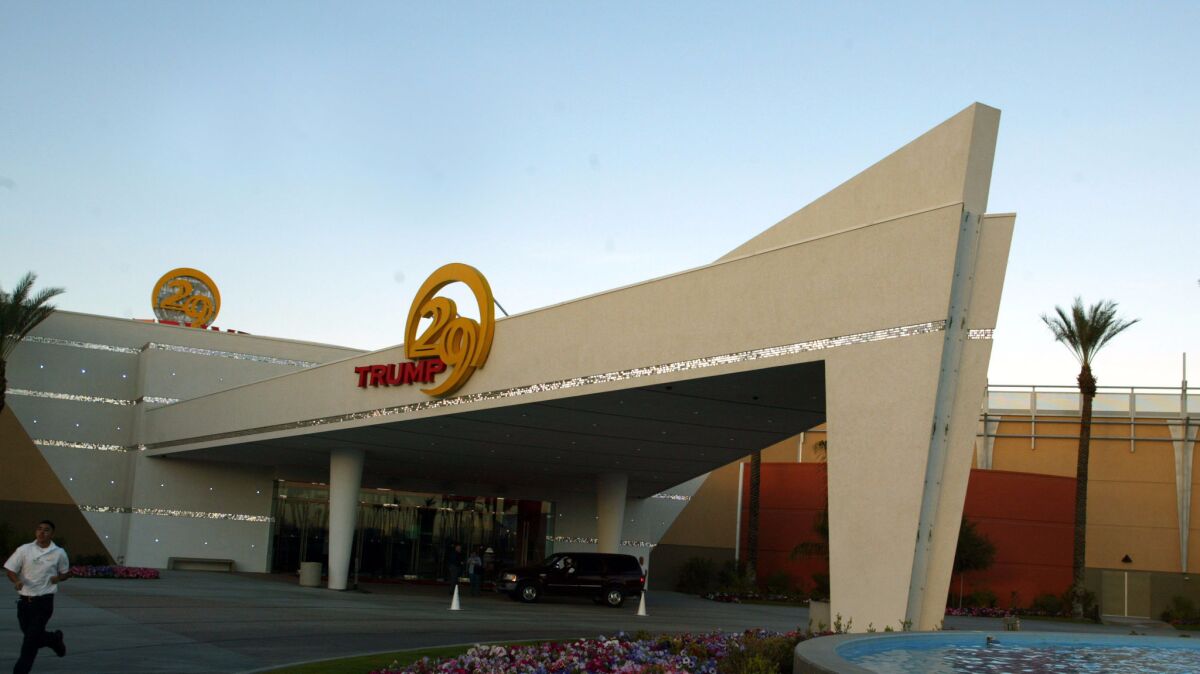 Reporting from Washington —
Donald Trump stood fuming in the back of the hearing room on Capitol Hill for two hours, impatiently scribbling notes. Staffers had refused to move up his testimony, and no one would give up a seat for the casino mogul.
When he finally sat down at the witness table that fall afternoon two decades ago, he crumpled and trashed his "long and probably very boring speech," which he called "politically correct." He then unloaded a tirade — about Native Americans, casinos and the mob.
"When I have to sit here and listen to people saying that everything is just peachy-dory, it is not, folks. It is going to blow," Trump warned. There was no way, he said, that "an Indian chief is going to tell 'Joey Killer' to please get off his reservation."
He also accused a federally recognized tribe, the Mashantucket Pequots, of being fakes.
"They don't look like Indians to me," he declared.
Donald Trump testifies about casinos, Native Americans and the mob on Oct. 5, 1993, in front of the House Native American Affairs Subcommittee.
The hearing previewed a style, tone and vocabulary that have become familiar in Trump's improbable political rise. Racially and culturally loaded rhetoric has been Trump's constant weapon this election, from kick-starting his campaign by labeling Mexican immigrants as drug-carrying rapists, to citing an Indiana-born judge's Mexican heritage to attack his fairness, or repeating his call this week to ban Muslims from entering the country as an answer to terrorism.
But Trump's long and conflicted history with Native Americans also showed that he can deploy his racial epithets strategically, demeaning tribes that threatened his casino empire, romancing others if he thought he could cut a deal with them – whichever tactic was better for business.
During his years as a casino magnate, even as Trump courted tribes on the West Coast as potential partners, he bashed others in New York and Connecticut as criminals, frauds and pawns of the mob.
In one instance, his effort to undermine a tribe was covert – a secretly funded advertising campaign against a casino in New York's Catskills region that the St. Regis Mohawk tribe considered racist.
"Are these the neighbors we want?" said one ad, underneath a large picture of hypodermic needles. The ad was credited to the New York Institute for Law and Society, a front organization created by Roger Stone, a longtime Trump associate.
"It's just these wild charges; nothing has changed," said Bill Richardson, the Democrat who chaired the subcommittee that took Trump's testimony about the Pequots and who went on to serve as governor of New Mexico. "He's always operated this way."
Election 2016 | Live coverage on Trail Guide | Sign up for the newsletter
Early in 1993, before his Capitol Hill attack on the Pequots, who had opened a casino in Connecticut, Trump visited the offices of the Agua Caliente Band of Cahuilla Indians. He promised to use his vast connections to open doors and build and operate a "first-class" casino in Palm Springs, according to a statement by the then-tribal chairman. Nothing came of it.
But Trump fought hard to block tribal gambling on the East Coast, which he thought threatened his three casinos in Atlantic City, N.J.
At the time of the hearing, Trump – whose casino empire had nearly been wiped out in bankruptcy – was back to calling himself the "largest casino operator in the world." Tribal casinos were gaining a footing, and Congress was debating how to regulate them. Trump complained loudly about what he described as unfair tax advantages that the tribes received and their freedom from many of the anticorruption regulations governing his casinos.
"He was scared to death" of the competition, recalled Neil Abercrombie, a former Democratic congressman, later governor of Hawaii, who served on a House committee that oversaw tribal affairs.
In June of that year, Trump, who did not respond to requests for comment or written questions for this story, appeared on the Don Imus radio show, where the two men joked crudely about the appearance of the Mashantucket Pequots, whose history of intermarriage with African Americans left many with dark complexions.
"I might have more Indian blood than a lot of the so-called Indians that are trying to open up the reservations," Trump said, adding that one tribal leader called himself "Chief Running Water Sitting Bull."
The derisive use of stereotypes foreshadowed Trump's campaign trail insults of Sen. Elizabeth Warren (D-Mass.), the liberal rival he's labeled "Pocahontas" for her undocumented claims of Cherokee heritage. Last week, a crowd at a Trump rally erupted in war whoops when he leveled insults at Warren; a few minutes later, Trump insisted he is "the least racist person that you've ever seen."
Three months after the Imus appearance, at the hearing convened by the House Natural Resources Committee, Trump dug in. The hearing was crowded with staffers and reporters, drawn by Trump's celebrity appeal, and Native Americans who saw their rights and business opportunities at stake. It was a raucous proceeding, said Stone, who was present.
Trump arrived late. After he was seated as a witness, then-Rep. George Miller (D-Martinez), who chaired the panel, confronted him over his questioning of the Pequots' heritage.
Trump refused to retreat.
"They don't look like Indians to me, and they don't look like Indians to Indians, and a lot of people are laughing at it," he said amid a mix of boos and cheers.
"Thank God that is not the test of whether or not people have rights in this country or not, whether or not they pass your look test," Miller shot back.
Stone, who said he didn't advise Trump to disparage the Pequots, called the observation an example of "the Trump double-down," a tendency to push even further when faced with hostile questions.
Others had a different view.
"I'd heard about him, but to see him in action – I thought, 'This man can't control himself,'" said A. Gay Kingman-Wapato, an early leader of American Indian gambling and one of the Native Americans at the 1993 hearing.
Trump went on to contradict FBI testimony without citing evidence and call Miller closed-minded when he disagreed with Trump's version of the facts. Throughout, he trafficked in racial invective, angering many in an audience that included Native American schoolchildren from Minnesota, even as he insisted, "I have great respect for the Indians."
Republicans who had come to bask in Trump's celebrity began bolting for the exits as the testimony wore on, Abercrombie recalled.
"In my 19 years on this committee," Miller told Trump, "I don't know when I have heard more irresponsible testimony."
Trump lost his fight to rein in tribal gambling. The Pequots, meanwhile, kept Trump out of the Connecticut market, and their giant Foxwoods casino thrived for years before the gambling industry fell on hard times.
"The leopard doesn't change his stripes," said former Connecticut Gov. Lowell Weicker Jr., now 85, who opposed Trump's plans in his state. "I've not been surprised at all by his racist remarks in this latest go-around. That's Donald Trump."
Seven years after the hearing, Trump returned to similarly rough tactics, spending more than $1.5 million to try to block the Mohawks' ambition to build a casino closer to New York City.
"Members of the Mohawk Indian Tribe have a long criminal record … and ties to the mob," read one newspaper ad placed by the organization used by Trump and Stone.
Trump and companies affiliated with the campaign eventually agreed to pay $250,000 to settle charges of violating New York's law that requires lobbyists to register. Trump also was forced to take out ads apologizing – though he said he was sorry only for concealing his role, not for the ads' content.
Stone said the ads simply repeated news accounts of smuggling and other crimes on the Mohawk reservation near the Canadian border. "The ads didn't target them as Indians; it targeted them as criminals."
Eventually, Trump became worried that his attacks would cost him business with other tribes. In 2000, pitching a deal to the Cowlitz tribe in southeastern Washington, he wrote a letter to explain "prior statements attributed to me regarding Native Americans."
Trump assured then-tribal chairman John Barnett that he was only trying to make certain that tribal casinos were operated by what he termed "legitimate" Indians with appropriate regulations.
Tribal leaders were flattered at first by Trump's attention, said Barnett's son, David. They were warned by other tribes to be careful.
"'You're always going to end up in a lawsuit with him,' is what we heard," he said. In the end, the tribe concluded that Trump wanted too big a cut.
Trump finally made a deal with a tribe in 2002, when a Coachella, Calif., bingo parlor operated by the Twentynine Palms Band of Mission Indians became the Trump 29 casino – "where the desert meets the Donald."
"We're going to have a beautiful love fest," Trump proclaimed at the opening.
For a time, the desert casino was a source of badly needed cash for Trump, whose Atlantic City empire was collapsing under debt and serial bankruptcies.
It didn't last.
After three years, the tribe grew tired of paying Trump's 30% management fee and fired him, paying a penalty to exit the deal early. Trump's name came off the casino, which now operates as Spotlight 29.
"We expected he was going to come in and create this jewel in the desert," said Victor Rocha of Temecula, editor of Pechanga.net, a website for American Indian gambling news. "It was a Wal-Mart-type structure, a big square box with the name 'Trump' on it."
Twitter: @jtanfani, @noahbierman
ALSO:
Donald Trump doesn't brag about his poll numbers anymore, and no wonder
What it could look like if Donald Trump's broader immigration ban were implemented
Bernie Sanders never came close to beating Hillary Clinton, but his campaign still mattered. Here's why
---
Life is stressful. Our weekly mental wellness newsletter can help.
You may occasionally receive promotional content from the Los Angeles Times.