Live
Hillary Clinton interviewed by FBI investigators over her private email server
Hillary Clinton spoke with federal investigators Saturday about her use of a private email server while secretary of State.
Tom Cotton says he's not being vetted to be Donald Trump's running mate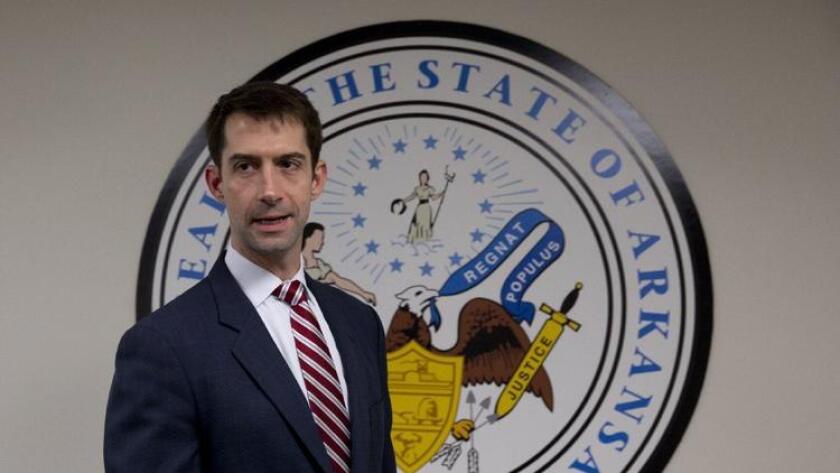 Arkansas Sen. Tom Cotton, a Republican up-and-comer whose name has frequently been bandied about as a potential running mate for Donald Trump, played down his prospects to be on the GOP presidential ticket on Saturday.
"I'm not being vetted. And I have no reason to believe I would be the nominee," Cotton told reporters after addressing a convention of conservative activists in Denver.
"I'm very happy and honored to be able to serve the people of Arkansas in the Senate and to have the time to be a good husband and a good father to my 14-month-old son," he added.
Cotton demurred on whether he'd want the post, saying he was "not going to speculate about hypotheticals."
Intrigue over Trump's vice presidential pick has escalated as the GOP national convention draws near. On Friday, the New York Times reported that Trump may announce his choice as early as next week.
Cotton, in his address to the Western Conservative Summit, laced into presumptive Democratic nominee Hillary Clinton, calling her unfit to be commander-in-chief and making frequent digs at Clinton's controversial decision to use a private email server while secretary of State.
While his speech detailed arguments on why not to vote for Clinton, it included no affirmative case for — or even mention of — Trump.
After the remarks, Cotton was pressed about whether an anti-Clinton case was sufficient to unite the fractured Republican Party, or if there must also be a pro-Trump argument.
"Donald Trump is the presumptive nominee. It's his responsibility and opportunity to not just unite our party but also to expand our party," Cotton said.
"Clearly based on the last couple of election results we need to do both of those things."
He closed by noting there are months to go before the general election in November.
"I am confident that the country will be better off, safer and more prosperous with a Republican president and a Republican Congress," he said.