Trump was once so involved in trying to block an Indian casino that he secretly approved attack ads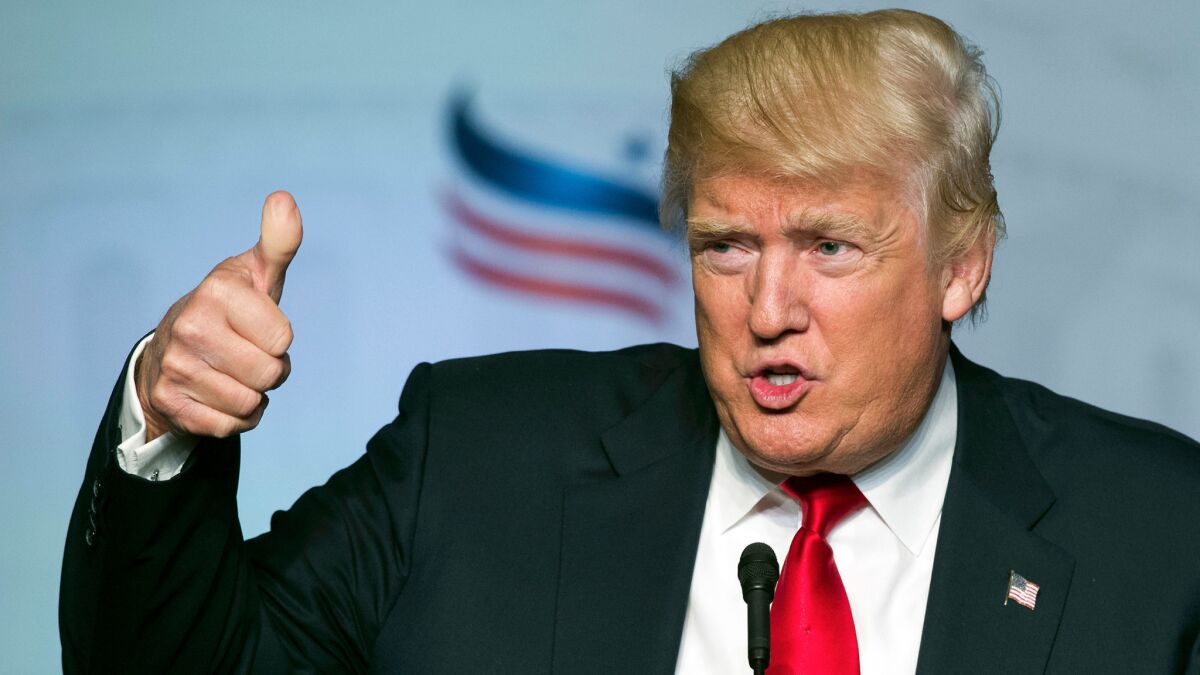 Reporting from Washington —
Soon after an American Indian tribe announced plans to open a casino at a Catskills horse track, ads started appearing in local newspapers and on radio, sounding an alarm about unbridled crime and corruption.
They came from the New York Institute for Law and Society, a new self-described grass-roots anti-gambling group targeting the St. Regis Mohawks. Its campaign in 2000, supposedly supported by 12,000 "pro-family" donors, warned of the evils an Indian casino would bring: "increased crime, broken families, bankruptcies and, in the case of the Mohawks, violence."
But there were no 12,000 donors. Virtually all the money for the campaign, more than $1 million, came from Donald Trump.
The institute was the brainchild of Trump's longtime lobbyist and consultant, Roger Stone, and Trump himself was hands-on — not just paying the bills, but signing off on ad copy or radio scripts depicting the tribe as violent criminals and drug dealers. When Stone hired private investigators to dig up dirt on the Mohawks, Trump secretly paid the bills.
"Roger – This could be good!" Trump scrawled across one ad that included a picture of hypodermic needles and lines of powder meant to depict cocaine, underneath the headline: "Drug Dealing at Monticello?," the name of the track. The ad ran in Catskills newspapers, credited to the institute.
Trump has pointed to his experience in business and real estate as the main argument for why he should be president. As he prepares to accept the Republican presidential nomination at the party's convention in July, some of the more combative and controversial episodes in his long career, including the anti-Mohawk campaign, are coming under renewed scrutiny. Hundreds of pages of records from a New York agency's investigation into the ad campaign, obtained by the Los Angeles Times, reveal new details about Trump's covert fight against the tribe. It was unusual not only for how deeply involved he was, but for the sharp tone of the attacks and the elaborate attempt to conceal his role.
Stone told state investigators that he thought the public might pay attention to a "pro-family" group, but not to Trump, a loud and longtime critic of Native American gambling who was trying to stave off competition for his three casinos in Atlantic City.
"You could hide Trump's actions? From the public?" the investigators grilled Stone. "And you did that? Over and over again?"
"Yes," Stone answered each time, finally adding: "Nothing wrong with that, by the way."
The agency, the state's Temporary Commission on Lobbying, disagreed. Trump paid $250,000 for violating state law on lobbying and was forced to make a rare public apology.
Election 2016 | Live coverage on Trail Guide | Sign up for the newsletter
In a recent interview, Stone said the ads were accurate, based on news accounts, and insisted that the casino campaign broke no laws. He said Trump, whose presidential campaign did not respond to detailed questions, was entitled to secrecy, like other donors to nonprofit advocacy groups.
"Sorry, kiss my ..., that's a 1st Amendment issue," Stone said, adding that the ads weren't lobbying because they didn't advocate for or against specific bills. "Donald wanted to settle because it was easier. We both thought we could win a long, drawn-out case."
In the rough-and-tumble casino business, Trump was not the only executive to use a public-opinion campaign to try to thwart would-be rivals. Tribes themselves have spent heavily to block competitors, including in California.
The St. Regis tribe of Mohawk Indians opened a casino in 1999, on ancestral land in New York. The tribe had ambitions to capture more of the New York City gambling market and began working on a deal to open a casino at Monticello Raceway in the Catskill Mountains, less than two hours from the city.
At the time, Atlantic City was the region's dominant casino hub, and Trump was still its biggest operator, with three hotel-casinos. Trump had weathered one bankruptcy that left him with a reduced stake and a company laboring under huge debts. Indian casinos in Connecticut had already captured some of Atlantic City's business, and Trump said he thought he would be "devastated" by more competition.
View more of the ads Trump approved »
Stone, who has a tattoo of former President Nixon on his back and revels in a reputation as a political henchman, came up with the idea to run the anti-Mohawk campaign under the guise of the institute, as well as the idea to set it up as a nonprofit corporation under section 501(c)(4) of the U.S. tax code, which allows such groups to keep their donors secret.
In recent elections, similar so-called dark-money nonprofits have poured hundreds of millions of dollars in undisclosed contributions into campaign advertising. Trump has bragged about spurning similar outside spending for his presidential campaign, though he has recently gotten backing from super PACs.
Trump signed off on just about everything, Stone told investigators.
"There were no expenditures that weren't approved by Mr. Trump himself," said Stone, who started working for Trump in the 1980s. "He saw the ads, television ads, which he would see on a video machine, radio ads, you play on a tape recorder, or newspaper ads, which he would see the artwork for."
The ads hit hard, highlighting news about crimes involving Mohawks to question whether the tribe was fit to run a casino. The Mohawk territory, straddling the U.S. and Canada, has been a hot spot for cigarette and liquor smuggling; some tribal members have been accused of drug trafficking and dealing with mob figures.
"Now the Mohawks want state approval of a $500 million casino … opening the door for organized crime," said one ad.
Another attacked gambling as evil: "If you think this stinks, it's because casino gambling stinks.
"It brings increased crime, bankruptcy, broken homes, divorce, and in the case of Indian gambling, violence."
Leaders of the tribe said the campaign unfairly tarred all Mohawks as crooks. "This is all racist propaganda promoted by special interest and racist groups hiding behind organizations such as the Institute for Law and Society," a tribal spokeswoman told the Albany Times-Union in 2000.
"The Mohawks were incensed," said Bradley Waterman, a Washington lawyer who represented the tribe.
Trump "was a bully at that time, just as he is now," said Tony Cellini, who then was a local government official working to bring in a casino. "It's the same as he is in his campaign, running for president."
Trump and Stone even tried to use presidential politics as leverage, running ads in New Hampshire, Texas and South Carolina warning then-Texas Gov. George W. Bush -- the GOP nominee in 2000 -- to steer clear of New York Gov. George Pataki as a running mate because of his support for Indian gambling.
The tribe suspected the attacks were really coming from Atlantic City, but Thomas Hunter, an old acquaintance Stone found to serve as the public face of the institute, told the Times-Union that his group was made up of constitutional purists and denied that he was taking money from Trump or other gambling interests.
That fiction unraveled quickly after the state lobbying commission began investigating.
"Is that a true statement? That you have 12,000 donors?" one investigator asked Hunter, whom Stone knew from Ronald Reagan's 1980 campaign for president.
"Not to my knowledge," Hunter said. He said he knew of only two checks that came into the institute's office, for about $20 each.
Hunter, paid $5,000 a month, testified that he had nothing to do with a "fact sheet" about the institute that was published under his name -- Stone had faxed it to him -- or with writing or placing the ads. He also said he had no idea where the money was coming from, saying he trusted Stone.
"I got paid to handle some PR things," Hunter, who died in 2009, told the commission. "Answer the telephone and talk to reporters."
In written answers to the commission's questions, Trump confirmed that he approved more than $1.5 million in spending for an anti-Mohawk lawsuit, investigation and public opinion campaign. "I understood Roger Stone's idea that the Institute was a more credible voice than a casino company's," Trump wrote.
Trump agreed to a settlement to end the commission's inquiry over whether the campaign violated New York's laws requiring lobbying disclosure. "Donald is always deeply suspicious of big lawyer fees," Stone said in the interview. In addition to the fines, Trump agreed to pay more than $30,000 to run a statement in Albany-area news outlets: "Donald Trump, Roger Stone and Thomas Hunter … apologize if anyone was misled concerning the production and funding of the lobbying effort." They didn't say they were sorry for the ads' content.
Stone said he's no longer being paid by Trump, but he is still a supporter and ally, and Stone's former lobbying partner, Paul Manafort, is now running Trump's presidential campaign.
In the end, the Mohawk deal fell apart amid internal disputes. David Grandeau, the lawyer who headed the state investigation, believes that Trump wasted money trying to crush the Mohawks.
"For all the hoopla Trump went through," he said, "it didn't matter."
Twitter: @jtanfani
ALSO:
Donald Trump vows in Rust Belt speech to punish China and end major trade deals
House Democrats mistakenly release transcript confirming big payout to Clinton friend Sidney Blumenthal
How Donald Trump's speech attacking Hillary Clinton compares with the facts
Get our Essential Politics newsletter
The latest news, analysis and insights from our politics team.
You may occasionally receive promotional content from the Los Angeles Times.