Donald Trump could have wooed skeptical Republicans in Colorado. Instead, he brought up their old fights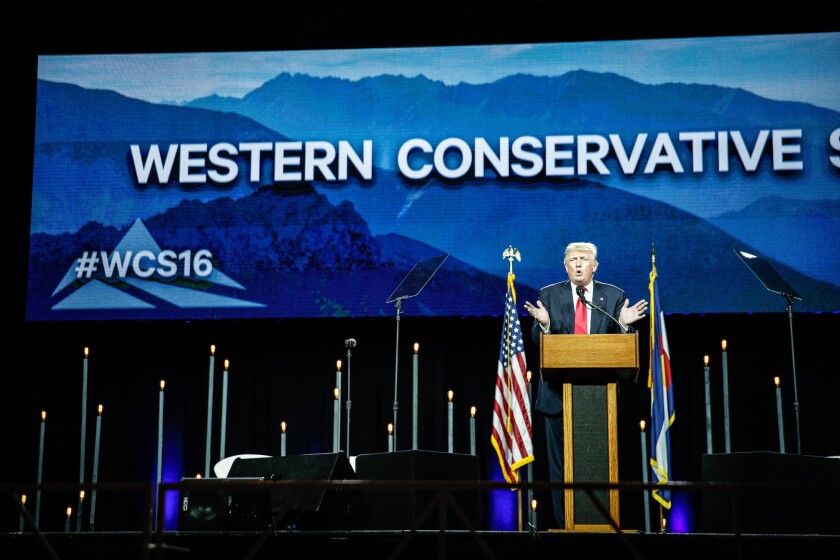 Reporting from Denver —
Donald Trump's visit to Colorado on Friday offered the presumptive GOP nominee a chance to repair relations with Republicans in this pivotal swing state after a contentious primary season. But Trump instead dwelt on the divisions that threaten to split open the party.
In his address at the Western Conservative Summit, Trump repeatedly mentioned the fractious GOP primaries, particularly Colorado's complicated delegate allocation process, in which the real estate mogul was outmaneuvered by GOP rival Sen. Ted Cruz.
"Polls came out and I was going to win Colorado, doing really well in Colorado. It looked good, and I was looking forward to it," Trump recounted. "And then, all of a sudden, I didn't get the delegates!"
Back in April, Trump slammed the process, and the fierce outcry he triggered culminated in state GOP Chairman Steve House receiving death threats.
Election 2016 | Live coverage on Trail Guide | Sign up for the newsletter
On Friday, House introduced Trump and spoke glowingly about his campaign, suggesting a detente. The two exchanged handshakes and back slaps, to the delight of the summit's organizer, Jeff Hunt, of the Centennial Institute at Colorado Christian University.
"That moment when Steve House welcomed Donald Trump — that was what I wanted to see," Hunt said in an interview.
But Trump and his supporters doubled down on the rift with GOP leaders and other party members who have yet to fall in line behind him.
Former Alaska Gov. Sarah Palin, who spoke before Trump, lambasted conservatives who remain skeptical of him.
"I just call them Republicans Against Trump — or RAT for short," said Palin, among several prominent GOP politicians and activists featured at the confab, including prominent anti-Trump voices such as Nebraska Sen. Ben Sasse and media personality Erick Erickson.
By dwelling on the rancor of the primaries, Trump also underscored just how difficult it will be to soothe GOP discord.
"They were really nasty to me. And I was really nasty to them," Trump said of his Republican primary rivals.
The billionaire businessman insisted he had moved on, despite being the one to bring up their past quarrels, and reminded Republicans that the stakes of this election include the potential of multiple vacancies on the Supreme Court.
Having a Republican president selecting those justices is "the difference between having our country as a great country and having Venezuela," he said.
Eventually, Trump trained his attention on Hillary Clinton, the presumptive Democratic nominee, calling the former secretary of State "as weak as you get" and declaring that Islamic State militants were hoping for her election.
And he scoffed at news of Bill Clinton's meeting with Atty. Gen. Loretta Lynch, a face-to-face encounter that has garnered criticism given that Lynch's Justice Department is conducting a probe into his wife's use of a private email server to conduct government business.
"When I first heard the story, I said. 'No, no, you're kidding. I don't believe it,' " Trump said, adding that the former president "really opened up a Pandora's box" by meeting with the attorney general. Lynch said Friday that she would accept the recommendation of prosecutors when deciding whether to bring charges in the investigation.
Trump's speech got high marks from Teresa Bramlett, an executive assistant from Brighton, Colo.
Bramlett, 57, was not originally a Trump supporter but was won over by his penchant for "taking the blindfolds off everybody's eyes."
"I am thrilled with the promises and even hopeful that they will be done," Bramlett said after the speech.
Follow @melmason for the latest on national politics.
ALSO:
Lynch to accept recommendation of FBI, career prosecutors in Clinton email probe
Donald Trump: Americans should 'pay a little bit more' for U.S.-made products to save jobs
How Tim Kaine went from 'wild card' vice presidential pick to shortlist favorite for Hillary Clinton
---
Must-read stories from the L.A. Times
Get all the day's most vital news with our Today's Headlines newsletter, sent every weekday morning.
You may occasionally receive promotional content from the Los Angeles Times.