Live
Campaign 2016 updates: Hillary Clinton's campaign seeks answers from FBI on email probe
Donald Trump heads West to Colorado and Arizona as Hillary Clinton seeks answers from FBI over email probe.
The Trump vs. McMullin battle for Utah spills into the open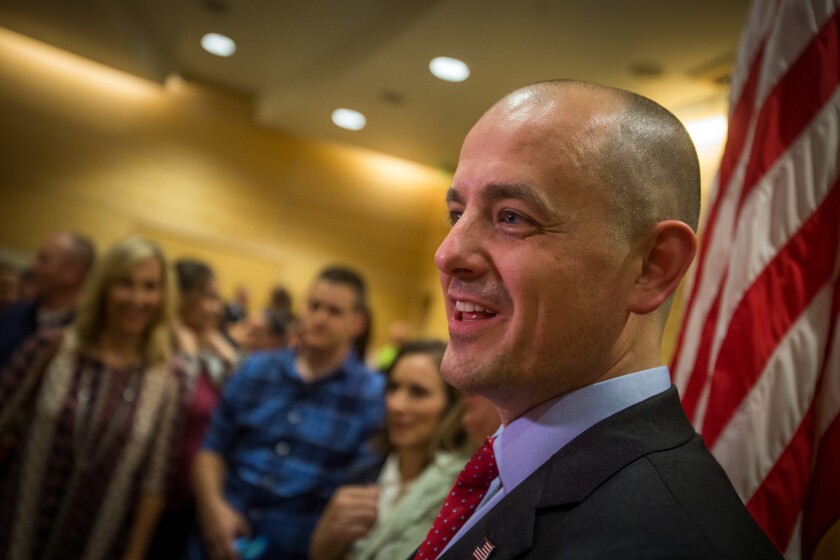 It was only a matter of time, but the shadowboxing between Donald Trump and conservative rival Evan McMullin turned into a full-scale brawl Saturday.
Who is McMullin? The 40-year-old Republican-turned-independent is the face of the Never Trump movement; he announced his presidential candidacy in August and as a Mormon has built up a well of support in Utah, where he could very well stop Trump from winning a state that no Republican has lost in years.
Trump delivered the first blow, calling McMullin a "puppet" backed by prominent conservatives — namely, neoconservative commentator Bill Kristol.
"The guy takes votes away from me," Trump complained during an interview alongside running mate Mike Pence on Fox News. "He's a puppet of a loser."
"Nobody ever heard of him," Pence said.
Trump criticized McMullin for going from "coffee shop to coffee shop" trying to win votes.
McMullin, who stepped up for the long-shot run as part of a Republican effort to block Trump and launch a new conservative movement, fought back the way Trump knows best: a tweetstorm.
"Yes you've never heard of me because while you were harassing women at beauty pageants, I was fighting terrorists abroad," McMullin, a former CIA operative who more recently worked on staff for House Republicans, tweeted late Saturday.
"You think you're entitled to Utahns' and other Americans' votes. We're earning them," McMullin added.
Trump has struggled with Mormon voters, who make up 60% of the electorate in Utah, creating an opening for McMullin.
The Times' Melanie Mason traveled to the Beehive State recently to more closely examine the state of play in the presidential race there.