What you need to know about the FBI's new inquiry into emails that might be related to Hillary Clinton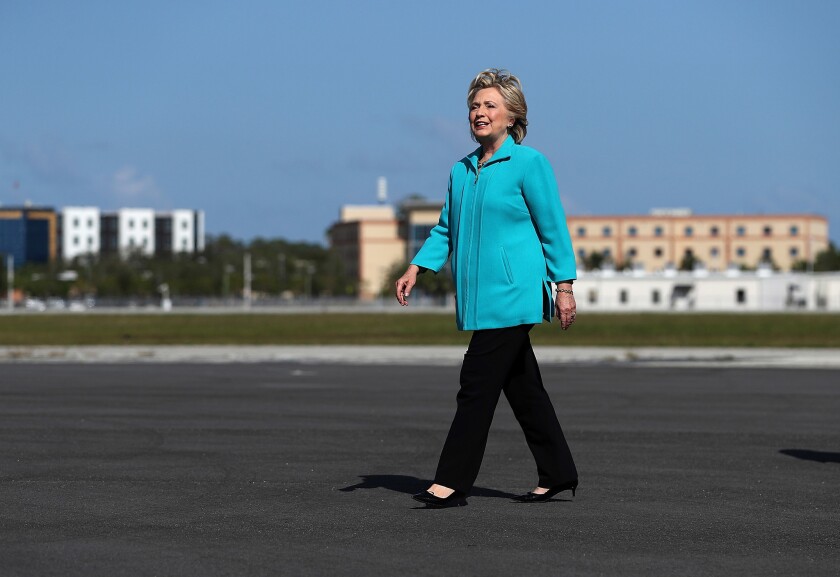 FBI Director James B. Comey's announcement Friday that his agency was investigating newly found emails that might be related to Hillary Clinton's use of a private server sent shock waves through the presidential campaign in its final days.
A letter from Comey announcing the new probe rekindled a politically damaging controversy that has dogged Clinton since she launched her campaign last year.
Here is some of what we know so far and what we don't.
What did Comey say?
Not much. In a three-paragraph letter to members of Congress, Comey, who has served as FBI director since 2013, said newly discovered emails could be relevant to questions of whether Clinton and her aides mishandled classified information while she was secretary of State. He offered no details about the messages themselves and said he could not predict how long it would take for the FBI to determine whether they were relevant.
So did the FBI reopen its investigation into Clinton's email use?
No. In July, the Justice Department declined to file charges in the case, based on Comey's recommendation. He concluded that although Clinton had been "extremely careless" in her use of a private email account while at the State Department, there was no "clear evidence that Secretary Clinton or her colleagues intended to violate laws governing the handling of classified information."
How did these new emails surface?
The FBI came across the emails while investigating whether Anthony Weiner, a former New York congressman, violated federal law when exchanging sexually explicit texts with a teenage girl in North Carolina, a federal law enforcement official said.
What's Anthony Weiner got to do with it?
His estranged wife, Huma Abedin, is one of Hillary Clinton's top aides. The two of them shared the computer that the emails were found on, law enforcement officials said.
How significant is this development?
It's unclear. Comey was vague, saying that the FBI "cannot yet assess whether or not this material may be significant." However, a federal official told The Times that the emails examined so far were not to or from Clinton, and that they contained information that appeared to be more of what agents had already uncovered.
Then why did Comey announce it?
He told bureau employees in an email Friday that he felt compelled to be transparent after announcing in July and testifying on Capitol Hill that the investigation was over. "I also think it would be misleading to the American people were we not to supplement the record," he wrote.
What is Clinton's campaign saying?
The campaign is urging Comey to be even more transparent. Robby Mook, Clinton's campaign manager, said Comey "owes the public the full story, or he shouldn't have cracked open the door in the first place." Clinton herself has called Comey's letter "deeply troubling."
Democrats and Republicans alike are also asking for more information. Indiana Gov. Mike Pence, Donald Trump's vice presidential running mate, tweeted that the FBI should "immediately release all emails pertinent to their investigation. Americans have the right to know before election day."
Moreover, four Senate Democrats, including California Sen. Dianne Feinstein, the ranking member on the Senate Intelligence Committee, wrote that more information must be made public in regard to the new investigation.
"The letter is troubling because it is vaguely worded and leaves so many questions unanswered," the senators wrote. The letter is also troubling because it breaks with the longstanding tradition of Department of Justice and the FBI exercising extreme caution in the days leading up to an election, so as not to unfairly influence the results.
How did Clinton get caught up in this email controversy?
While she was secretary of State, Clinton used a personal email address to conduct government business. The messages were stored on her family's personal server in the basement of her home in Chappaqua, N.Y. Clinton has said she used the account because she didn't want to carry two devices for personal and State Department communications. Other officials have said the State Department's official email system was cumbersome and difficult to use.
Clinton has since said that using a private server was a mistake and "not the best choice."
Has she admitted any wrongdoing?
Clinton has said if she could do it over again, she would not have used a personal email server while at the State Department. The issue has continued to create headaches for the campaign. On Sunday, Podesta, Clinton's campaign chairman, said she did not give it much thought back then and it's been a hindrance.
"It's the kind of a decision that I think needed more thought, more review, and she didn't do it. And she regrets that," he said on CNN.
Times staff writers Del Quentin Wilber and Evan Halper in Washington contributed to this report.
For more political news follow @kurtisalee
ALSO
The FBI director had a choice in the new Clinton email probe: Follow custom, or go public
FBI says emails found in Anthony Weiner's sexting scandal may have links to Clinton probe
I broke the news to the Clinton campaign about the new FBI emails probe. Here's what happened next
---
UPDATES:
Oct. 30, 4:50 p.m.: This article was recast for clarity throughout and expanded with additional context.
This article was originally published Oct. 29 at 3:35 p.m.
---
For reporting and exclusive analysis from bureau chief John Myers, get our California Politics newsletter.
You may occasionally receive promotional content from the Los Angeles Times.