Bullet Falcon targets motorcycles' colorful past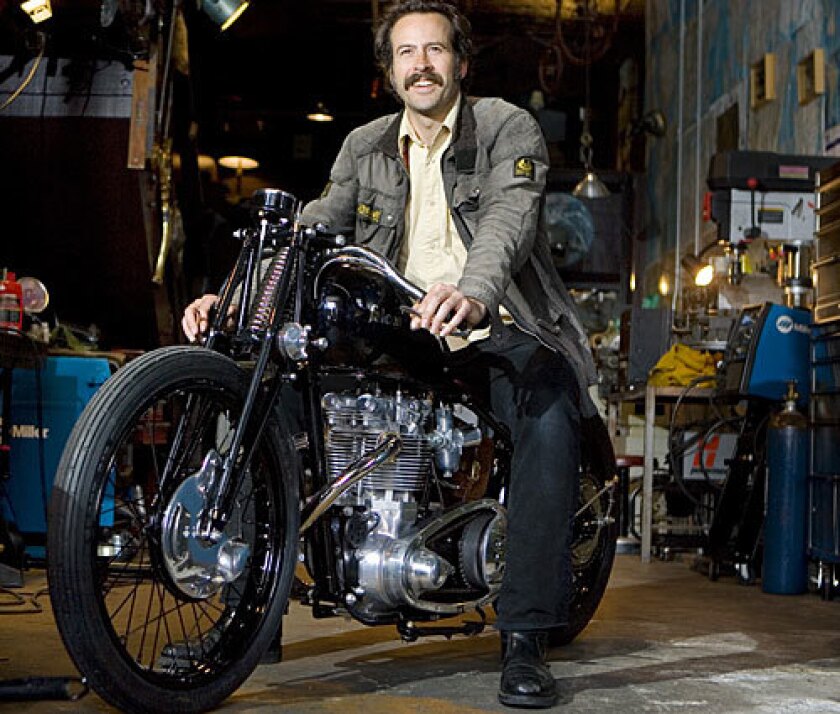 Los Angeles Times Staff Writer
If you're going to open a custom bike shop in Los Angeles, it doesn't hurt to have a celebrity endorsement -- or three, as the case has been with Ian Barry, Amaryllis Knight and their Silver Lake garage, Falcon Motorcycles. Actor Giovanni Ribisi, rocker Josh Homme and, most recently, Jason "My Name Is Earl" Lee are all clients of Falcon, which will unveil its first official bike at the Legend of the Motorcycle International Concours d'Elegance on Saturday at Northern California's Half Moon Bay.
Like many under-the-radar businesses with celebrity clienteles, Falcon Motorcycles doesn't want to be found. The shop is on Sunset Boulevard, but there isn't a sign or even a front door. Visitors enter through the alley, where they're greeted with a metal gate, a "Beware of Dogs" sign and, if Barry's working, the grind and whir of machinery.
On a recent Saturday, I stopped by Falcon to meet with Barry and Lee and check out the 1950 Triumph Thunderbird they've spent the past year refashioning into the Bullet Falcon -- a vintage custom that melds mid-century British machinery with a 1920s board-track aesthetic.
As builders tend to do, Barry was tinkering with the Bullet when I arrived. Lee pulled up just a few minutes later, riding one of the bikes he's collected since 2005, when "My Name Is Earl" hit it big for NBC. His Earl Hickey 'stache and 'burns were hidden by a leather face mask. His graying hair was smashed with a Davida helmet. Lee's preference for things born before he was even carried through to his vintage boots, gauntlet gloves and weathered-to-gray Belstaff jacket.
"I'm one of those guys that kind of likes everything pre-1970," said Lee, who was born that year. "That goes all the way back to the beginning of motorcycles."
The Bullet Falcon he commissioned goes back in motorcycling history, though not entirely to the beginning. It rewinds the clock to the cafe racers of the '60s, then goes back even further to the board trackers of the '20s -- fusing the two eras into a single bike.
Like all Falcon customs, the Bullet is pieced together from a variety of old British motorcycles, most of them Triumphs, which are more plentiful than other marques and therefore not as likely to draw the ire and resistance of vintage English iron collectors and purists. As for the Bullet, the frame and engine were pulled from a 1950 Thunderbird, then modified. The frame was stretched 3 inches, and the 650-cc vertical twin motor was boosted with an aluminum barrel to add an extra 100 cc of displacement and power.
The oil tank, wheels, rear fender and girder fork were all pulled from separate bikes and given the Mary Shelley treatment. The brass tail light and über-rare Revulator tach/speedo were cyber-hunted then shipped from overseas. The footpegs and front fork tensioner were plucked from Barry's drawer of random Anglo parts and reshaped into entirely new pieces that fit the aesthetic needs of the machine. And the seat, exhaust pipes, handlebars and inverted levers, among other things, were all made from scratch.
"The idea is that you use the amazing pieces that existed back then, remake some pieces out of old pieces and add new things and modern technology only when it makes sense with the original purity of the bike," said Barry, a Brit bike aficionado whose vision is to create prototypes of could-have-been bikes that never actually existed, i.e., a 1950 board track racer.
Barry, 35, has put 1,000-plus hours into the Bullet. The starting price for a Falcon: $45,000, due to all the hand-craftsmanship. But the steep price only half-explains Barry's celebrity clientele. Falcon's Gen X star appeal is also a generational aesthetic that finds authenticity and cool in the rare, the old, the unusual.
"[Barry's] not into the sort of custom, current motorcycle culture as we know it," said Lee, who grew up riding dirt bikes in Orange County in the '70s before becoming a professional skateboarder and actor in such films as Kevin Smith's "Mallrats" and "Chasing Amy." His first street bike was a 1966 Honda 305 Dream, which he customized, then traded to a friend for a painting. He's also owned some 1960s BSAs.
It wasn't until his karmic-hick show took off that Lee started collecting bikes in earnest. The other motorcycles in his collection include the customized Honda cafe racer he rode to the Falcon shop, and a Derringer moped.
But his new Bullet Falcon is "the most important of what I have," he says, "and the one that I'll probably ride the least. Not because I'm afraid to scratch it but because it's not very comfortable. This is the bike I'll take out on Sundays and cruise around town and probably get stopped every 20 yards [by people asking], 'What is that?' "
---
Get breaking news, investigations, analysis and more signature journalism from the Los Angeles Times in your inbox.
You may occasionally receive promotional content from the Los Angeles Times.