Shaken but vowing to rebuild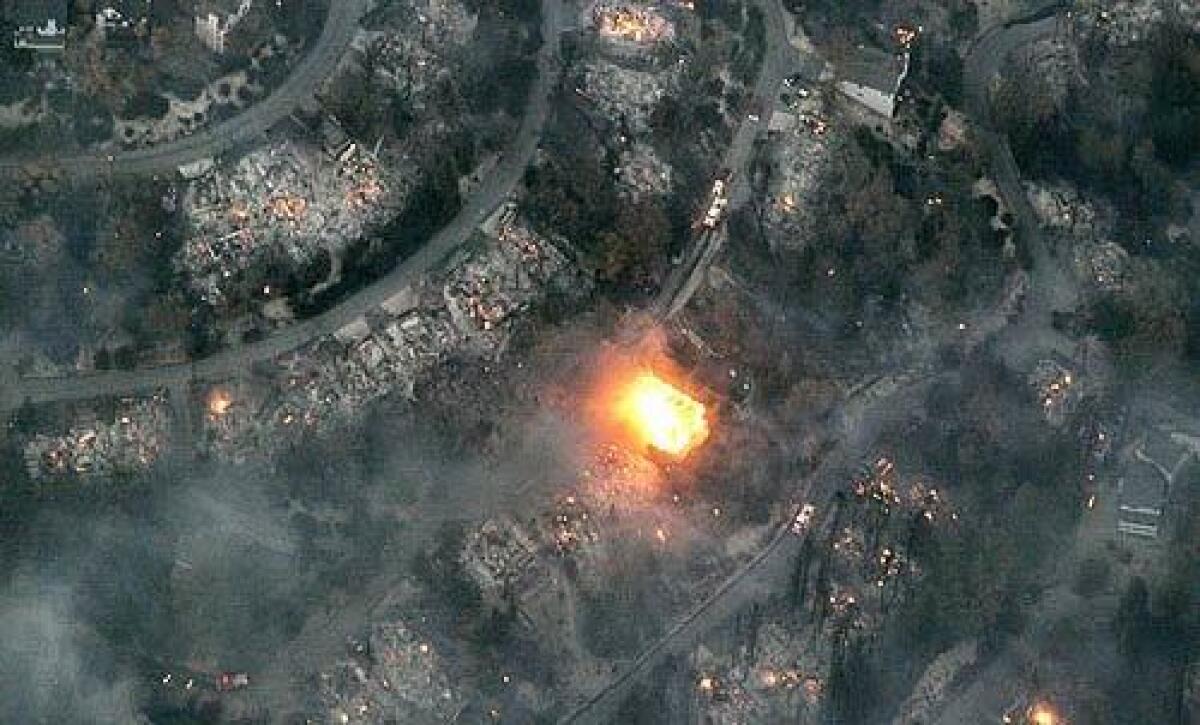 Los Angeles Times Staff Writers
Column after column of dark smoke shot high above the tree line, spewing soot and ash, and Mary Salzwedel knew that each eruption signaled the loss of another home.
"We watched the homes go up one by one," said Salzwedel, 58, who had just fled her own house Monday with her husband and puppy as separate fires tore through Green Valley Lake and neighboring Grass Valley, near Lake Arrowhead.
This was the third time in four years that flames had driven the Salzwedels from their Green Valley Lake home. They had pulled through twice before, including during the 2003 blaze that devastated nearby Cedar Glen.
But as Monday's fires raged into the night, they were left to wonder if their luck had run out.
The flames destroyed nearly 140 homes in the mountainous region, from tiny weekend cabins to million-dollar year-round residences, most of them in Lake Arrowhead.
"What a nightmare," said James Towery, 43, who stood across a golf course pond from the glowing ruins of his $1.6-million home, one of dozens incinerated around the Lake Arrowhead Country Club.
As dusk fell, an entire hillside of houses on the lake's west side continued to burn to their foundations. Propane tanks exploded, and ruptured gas mains became giant flamethrowers.
The blaze chewed through stands of trees, then hopscotched through the neighborhood, following the path of windblown embers.
Towery had ignored the first evacuation order, then his power went out and he knew time was short. "I open the garage door and the house across the street is a 40-foot wall of flames," he said.
As he grabbed his golf clubs, a laptop and some bills, his home caught fire. He escaped in his SUV. "I was lackadaisical, and I learned a valuable lesson," he said.
Hours earlier, the Page family awoke before daybreak in their Lake Arrowhead home to the smell of smoke, the reflection of the approaching fire flickering in their windows. Yvette Page, 43, screamed for everyone to get out, and the eight of them grabbed the cats and a computer disk holding family photos.
In her haste, Page's pregnant daughter almost tripped on the stairs. They left in their pajamas, but only six of them could fit into the car, so Yvette Page's husband, David, 47, and their son-in-law, James Gronley, stayed behind. The rest ended up at an American Red Cross shelter at the National Orange Show Fairgrounds in San Bernardino.
"Now that we're here safe, it's just starting to sink in how scary the situation really could be," Yvette Page said.
The Kerr family had only 45 minutes to pack up and leave their Lake Arrowhead home. CHP officers exhorted them to move down the road. Stopping two blocks away, they watched as their house caught fire, then collapsed in flames.
"We're mountain people; we're tough," said Michael Kerr, 42, who was at the shelter helping set up cots for 975 evacuees.
The Grass Valley fire broke out about 5 a.m. Monday near Deer Lodge Park, driven by winds of up to 60 mph. It had destroyed 113 homes, burned about 300 acres, and was heading toward Twin Peaks and Blue Jay late Monday.
About seven miles east, at Green Valley Lake, the Slide blaze started about 8 a.m., and moved along a ridge toward Arrowbear and Running Springs, blackening 1,500 acres. The high winds hampered firefighters and made aerial water drops too dangerous for much of the day, officials said.
No injuries were reported, and the cause of the fires was unknown. Mandatory evacuations were ordered for Arrowbear, Running Springs, North Lake Arrowhead, Deer Lodge Park and Twin Peaks.
Don Valentine, 75, fled early Monday as the flames closed in on Lake Arrowhead.
"I have no idea if my house is still there," Valentine said. "This morning, we saw big flares of bright red across the sky. We stood and watched it come and come and then we skedaddled."
Victor Cocchia, 33, stood on the east side of a golf course pond, which is called Grass Valley Lake, and anxiously monitored the flames along the opposite shore. They licked along the hill behind the $900,000 house, on which he had closed escrow Friday. Leaf-sized embers floated over the rooftops.
"This is just insane," Cocchia said. He had been moving from Cedar Glen, where more than 300 homes burned four years ago. "This is so fast," he said of Monday's destruction, "2003 -- it took a couple days to build."
About a mile away, Ontario firefighter Ron Spellman stood in front of his Lake Arrowhead house, stamping out embers near his driveway. He had raced home from the front lines of another fire. Across the steep, winding street, flames crept toward the house of a friend, an Upland firefighter.
Spellman debated whether to stay and do what he could, but his wife was calling him on his cellphone, begging him to leave. "I'm worried about it," he told her, referring to the friend's house. But then he left.
On the road outside Green Valley Lake, Mary Salzwedel gazed at the banks of smoke curtaining the northern sky. She waited for her husband at their pickup truck.
Salzwedel said her family built the house in the early 1960s, and the beauty of the mountains always kept the fire risk in perspective. "It's worth it," she said.
jason felch@latimes.com
francisco.varaorta@
latimes.com
Times staff writer Paul Pringle contributed to this report.
Sign up for Essential California for news, features and recommendations from the L.A. Times and beyond in your inbox six days a week.
You may occasionally receive promotional content from the Los Angeles Times.