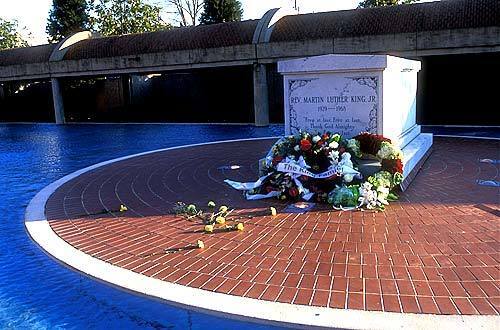 15 Images
A Neighborhood Remembers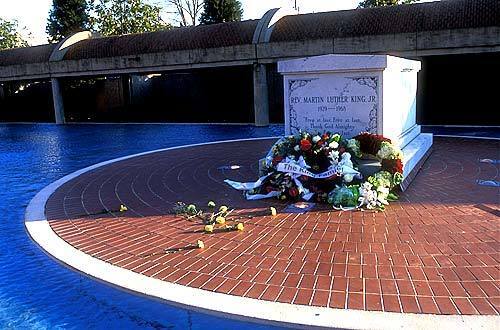 A wreath marks Martin Luther King Jr.'s birthday on his grave at the King Center.
(Amanda Moulson)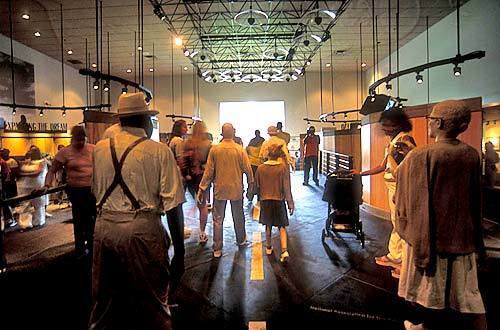 Inside the visitor's center, tourists walk side-by-side with immortalized marchers along "Freedom Road," a life-size tribute to those who joined King in the Civil Rights Movement.
(Amanda Moulson)
Worshipers leave Sunday service at the historic Ebenezer Baptist Church, located west of the King Center on Auburn Avenue. Martin Luther King Jr. and his father, "Daddy" King, co-preached here from 1960 until the younger King's assassination in 1968.
(Amanda Moulson)
Outside, a church group sells King memorabilia to passing tourists.
(Amanda Moulson)
Crowds wait to enter King's birth home, located at 501 Auburn Avenue.
(Amanda Moulson)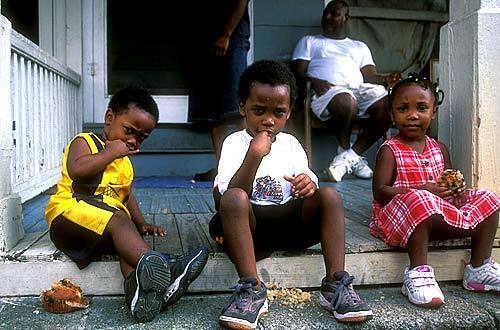 The houses flanking King's birth home are also part of the historic residential section of the park. Here, young residents watch tourists pass their house.
(Amanda Moulson)
From his porch on Hogue Street, Mr. Reid talks about Martin Luther King, Jr., who was born 200 feet away on Auburn. "He was one of the greatest," says Mr. Reid, who named his son after the civil rights leader. "He was the Moses."
(Amanda Moulson)
Mr. Reid looks at his white neighbor's newly-restored baby blue Victorian house across the street.
(Amanda Moulson)
An employment agency worker on assignment gives directions to Auburn Avenue's business district.
(Amanda Moulson)
Men reminisce about the old days outside Elk's Kitchen.
(Amanda Moulson)
Rosena Johnson pulls slabs off the fire at the historic Rib Shack.
(Amanda Moulson)
"Captain Hard Rock Jonathan" spins yarns pre-jam session at Pal's Lounge, a corner bar on Auburn.
(Amanda Moulson)
At Pal's Lounge, bartender Jimmy Gates, left, who goes by "Bay Window," reminisces with George about the now closed Royal Peacock, the street's most happening night club. James Brown, Sam Cooke, Marvin Gaye and Ike and Tina Turner all performed inside.
(Amanda Moulson)
The "Jesus Saves" sign, a spire adornment on the Big Bethel AME Church, is a permanent fixture of the Sweet Auburn skyline.
(Amanda Moulson)
Nightfall on Auburn Avenue.
(Amanda Moulson)