la-cleaners4-j73d96nc
Checo walks through Harlem carrying a black portfolio. Among other things, it contains a photograph of himself with the softball team he used to play for before his illness. It's a memory of a happier time.
(Carolyn Cole / LAT)
la-cleaners3-j73dcznc
Sanchez and Checo worked together as a cleaning two-man crew just after the World Trade Center attack. Their sickness has driven them close to each other, and farther from everyone else. "Me and him, we're a team," Sanchez says.
(Carolyn Cole / LAT)
la-cleaners2-j73d9pnc
Five years since the World Trade Center attack, more and more New Yorkers are coming forward with a chronic and sometimes disabling respiratory condition nicknamed the "World Trade Center" cough.
(Carolyn Cole / LAT)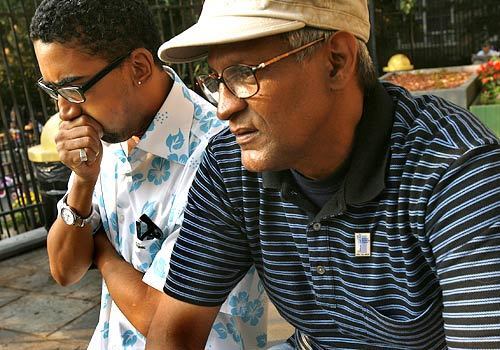 la-cleaners1-j73dannc
Alex Sanchez, left, and Manuel Checo worked as industrial cleaners in buildings around ground zero for six months after 9/11. Since then, both have developed breathing problems, muscular skeletal problems, and gastrointestinal problems.
(Carolyn Cole / LAT)