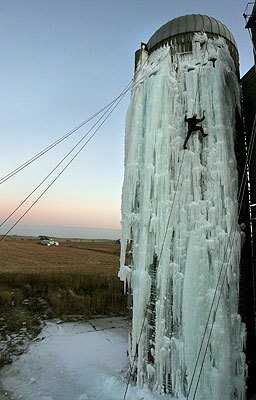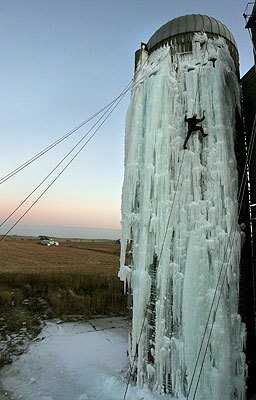 NEW HEIGHTS:
Tom Robertson scales an icy silo in Cedar Falls. Said another climber: "You've got to be creative when you live in vertically challenged areas."
(Matthew Putney / For The Times)
BRAINCHILD:
Don Briggs, a physical education instructor at the University of Northern Iowa, got the idea to turn silos into climbing walls a few years ago. He hoses down a quartet of the storage facilities after harvest — Iowa's frigid winter temperatures do the rest. Briggs' students help him maintain hoses and water pumps, and all climbers must sign a liability release form. Anyone is welcome to climb at no charge.
(Matthew Putney / For The Times)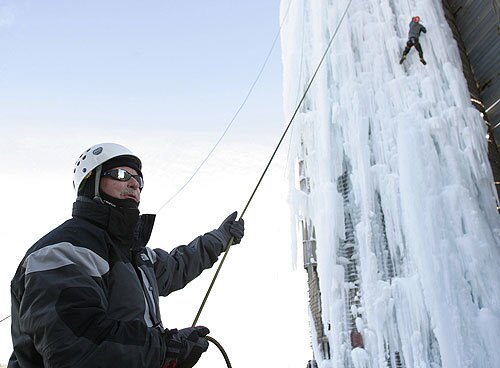 TEAMWORK:
Robert Lee belays Andy Rowland to the top with lines threaded through rings on top of the silos. "What else are you going to do for fun on the farm in the middle of winter?" asks one climber.
(Matthew Putney / For The Times)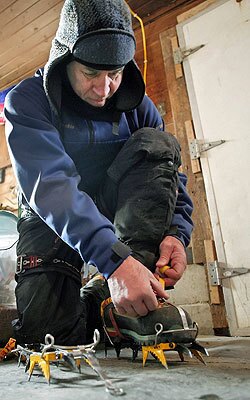 SUITING UP:
Briggs straps on crampons, which, along with helmet and heavy boots, are required equipment.
(Matthew Putney / For The Times)