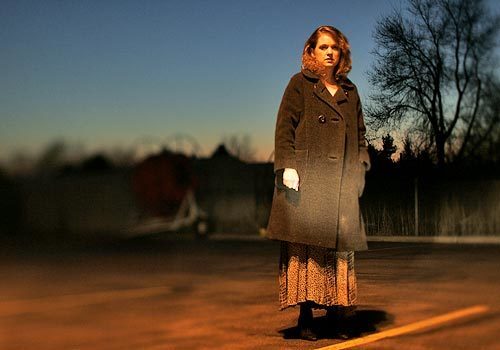 13 Images
A family seized as church property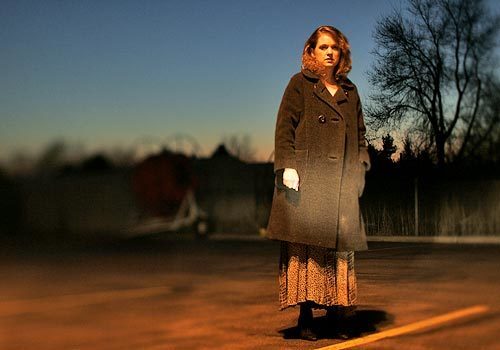 Carolyn Jessop spent the first 35 years of her life in the Colorado City, Ariz., and Hildale, Utah, polygamist community and was married to Merril Jessop, one of Warren Jeff's top lieutenants. After Warren Jeffs took over, she became increasingly concerned for the safety and well-being of her children. She escaped in the early morning hours with her eight children in April 2003. She now lives in the Salt Lake City area.
(Damon Winter / LAT)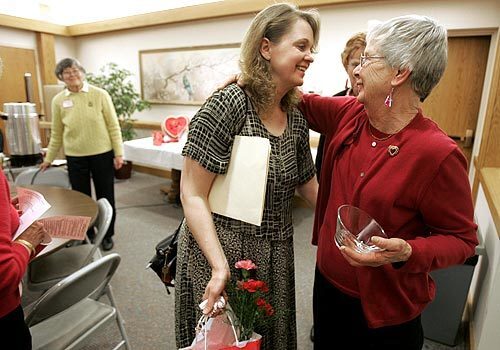 Carolyn Jessop, left, is greeted by Bobbie Ivey, a member of Presbyterian Women, a church group in Salt Lake City, after speaking about her experiences in the polygamist society in Colorado City and Hildale.
(Damon Winter / LAT)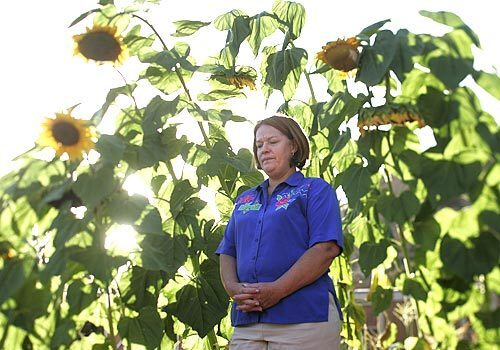 Pam Black, a former Hildale resident, says she was run out of town after clashing with church leaders, and now lives in a mobile home on the outskirts of town.
(Damon Winter / LAT)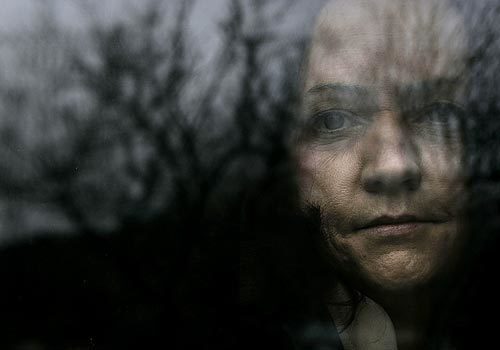 Lenore Holm faced eviction from her home in Colorado City for failing to allow her 16-year-old daughter to marry a 38-year-old man she believed was a child molester. Holm successfully fought attempts to evict her for two years but could not prevent her daughter from marrying the man appointed for her. She now lives alone in the same home where she used to live with her husband and eight children.
(Damon Winter / LAT)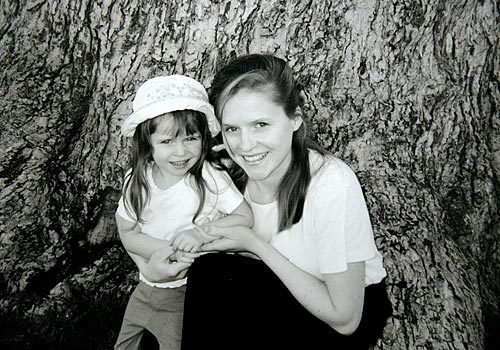 Holm's daughter, Nicole Jessop, and Jessop's daughter, Wynona.
(Lenore Holm)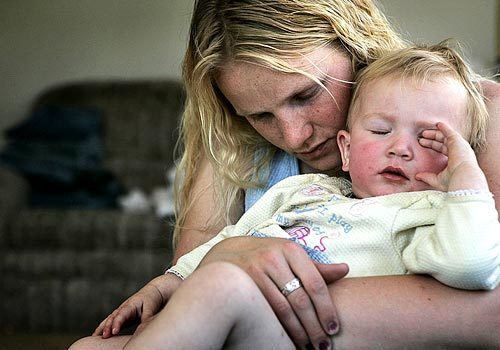 Ruth Stubbs cares for her 1-year-old daughter, Kendra Holm, sick with a fever at Stubbs' home in Hurricane, Utah. Stubbs was 15 when she asked Rulon Jeffs, the former prophet of the Fundamentalist Church of Jesus Christ of Latter Day Saints, for permission to marry her sweetheart, Carl Cooke. Jeffs declared that Stubbs was to marry her sister's husband, Rodney Holm, a 32-year-old Colorado City, Ariz., police officer. Stubbs became Holm's third wife and had four children with him. Stubbs left Colorado City with the help of her sister Pennie Peterson.
(Damon Winter / LAT)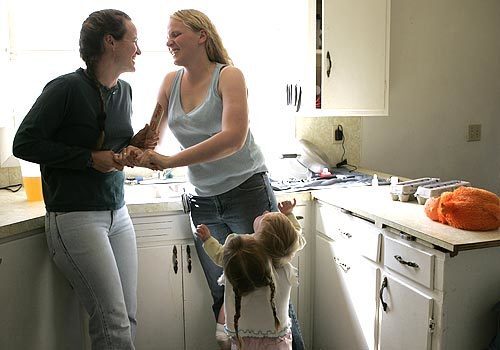 Ruth Stubbs playfully wrestles with her sister Lydia Cooke, left, as her daughter Carlie Holm, 3, carries sister Kendra at their home in Hurricane.
(Damon Winter / LAT)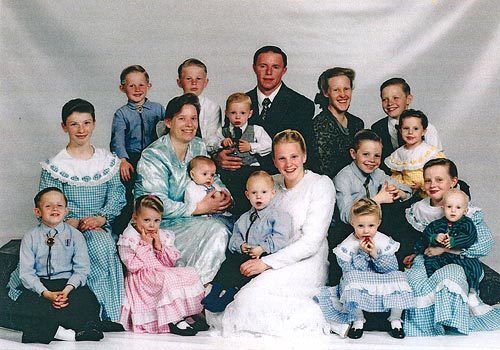 Family photo of the Holms.
()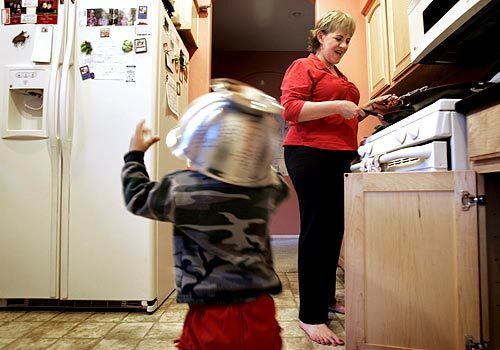 Pennie Petersen cooks dinner for the youngest three of her five children in their home in Mesa, Ariz. Petersen fled Colorado City when she was 14 after being told she was to marry a man who allegedly molested her. Petersen left a home of three mothers and 39 siblings, where she said she was often physically abused.
(Damon WInter / LAT)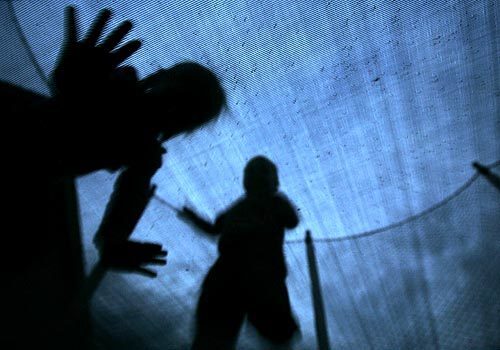 Two of Pennie Peterson's youngest children play on their trampoline at their home in Mesa in the last light of the evening.
(Damon WInter / LAT)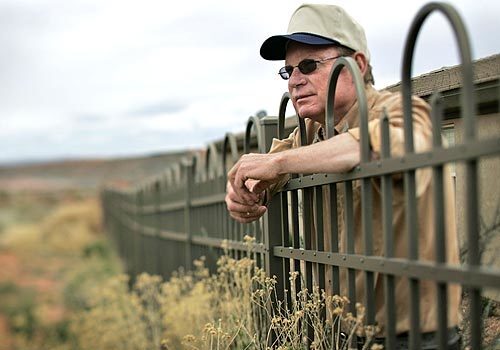 Richard Holm at his home in Hurricane, Utah. Holm was born and raised in Colorado City and served on its City Council.
(Damon WInter / LAT)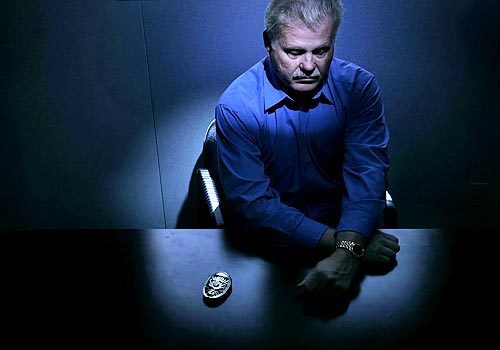 Mohave County, Ariz., investigator Gary Engels is looking into alleged crimes in the closed polygamous society in Colorado City. Engels said he gets little or no cooperation from the community in his efforts to prosecute alleged child rapes and other crimes and has even been threatened verbally and physically
(AP)
FBI Special Agent in Charge Tim Fuhrman speaks at a Salt Lake City news conference regarding Warren Jeffs' placement on the FBI's 10 Most Wanted list in May. The FBI hopes the additional exposure and reward money lead to an arrest in a long-running investigation.
(Michael Brandy AP/Deseret Morning News)