Newsletter: Hummus and other feasts
Happy Saturday, and welcome to the first weekend in August. It's a good month for keeping cool, or trying to, for watching a little baseball before the LeBron Show begins, doing some grilling and heading to the beach with the family if you can. If you're planning a picnic or a casual dinner party, we have a story about hummus, one of the greatest things you can put in a bowl, and an excellent addition to any communal table. We've gone off the map a little, experimenting with ingredients other than chickpeas, which is an added incentive to get to your local farmers market. Also, because it's grape season, as well as peak time for stone fruit.
Speaking of grapes, we have a lovely piece on the wines of the Columbia Gorge in the Pacific Northwest, where the stuff in the local bottles can be as interesting and dramatic as the scenery. If a road trip isn't in the cards, we have some bottles to recommend for your picnic table. We have some more recipe ideas — paella, vegetarian burgers, breakfast muffins if it's not too hot in your kitchen — and an update on some new restaurants to visit, including a Highland Park joint from a favorite chef and a long-awaited second location for a popular doughnut shop. We also check out a seriously ambitious new cookbook from an award-winning author that catalogs the cuisine of the entire Islamic world — and although you will find a hummus recipe there too, you'll find so much more.
Over the last two weeks, we've received numerous reader tributes to Jonathan Gold. On Sunday, Aug. 26, The Los Angeles Times in association with KCRW will host a public tribute to the late restaurant critic in downtown Los Angeles. Mark your calendar for an evening celebrating his legacy with special remembrances, music and food.
PLAYING WITH HUMMUS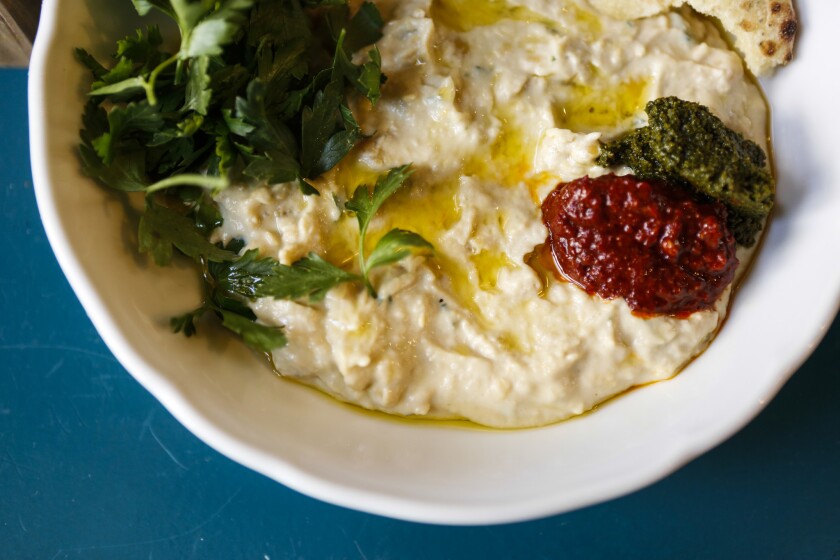 Bavel and Hasiba are among the latest of the many excellent Middle Eastern restaurants in this town where you can get outstanding hummus. Test Kitchen Director Noelle Carter has sourced recipes not only from chef Ori Menashe's restaurant but a few others where they make the stuff with beets, avocados, even black-eyed peas. Because although you may never tire of the purist version (remember our hummus taste test?), experimentation can be fun too.
A 1,500-YEAR FEAST
My latest Cookbook of the Week is a massive, extraordinarily ambitious and utterly delicious read: Anissa Helou's "Feast: Food of the Islamic World." This 500-plus-page masterwork is Helou's ninth cookbook, and in it, she explores the culinary history of not only much of the Middle East, but swaths of Africa, Asia and Indonesia. The scope is temporal as well as geographical, as the book's introduction begins with the birth of Islam, around AD 610. "Feast" is a history lesson, a travel guide, an instruction manual — and an exercise in menu-planning. And yes, we included a recipe.
DOUGHNUT NEWS
Fans of Primo's Donuts on Sawtelle Boulevard can soon get their fix further west, as Jenn Harris reports in her latest restaurant news roundup. Owners Ralph and Celia Primo, who opened their shop in 1956, are planning on opening a second location in Venice by the end of the year — proving that if you wait long enough, expansion can happen. And for folks who have waited for Wes Avila to park his Guerrilla Tacos truck in a more stationary place, the chef has at last opened the doors to his bricks-and-mortar location in the Arts District. What else? Hippo, chef Matt Molina's new restaurant, has opened in Highland Park, serving fresh ricotta tortellini and more.
DRINKING IN THE PACIFIC NORTHWEST
Wine writer Patrick Comiskey goes a bit further afield than local wine country to the vineyards of the Columbia Gorge, a 5,000-acre stretch along the Oregon and Washington border. As Brian McCormick of Idiot's Grace vineyard in Mosier, Ore., describes the vast and diverse project: "We just planted a … ton and hoped for obvious failures," he explains. "Unfortunately, not much failed." So area winemakers planted more than a few varieties of grapes and came up with compelling bottles, including a blend, a Cabernet Franc and a sparkling wine that Patrick recommends in particular.
MORE GREAT GRAPES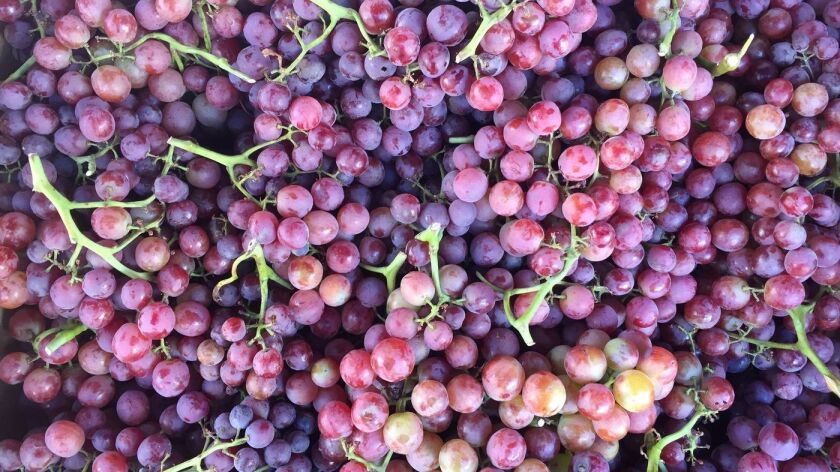 If you like your grapes on a plate rather than in your glass, in her latest farmers market column, Noelle considers the abundance of seasonal grapes now loading local stands. And if you're accustomed to just one or two varieties at the supermarket, maybe check out all the Flames, Black Emeralds, scarlet-colored Sweet Mayabelles, Summer Royals and Tomcords (a seedless Concord) at your neighborhood market. And if you have any left when you get home, we've got recipe suggestions, including roasting them, topping focaccia with the fruit, or even pickling a bunch or two.
The Taste(s): Food Bowl may be over, but our events calendar is ongoing. Next up is our annual Labor Day festival, the Taste, held over the course of that holiday weekend at Paramount. And this year we're having two Tastes, not one, with the second happening in October in Costa Mesa. For more info and early tickets, go to extras.latimes.com/taste.
Check us out on Instagram at @latimesfood.
And don't forget the thousands of recipes in our California Cookbook recipe database.
Feedback? We'd love to hear from you. Email us at food@latimes.com.
---