One of L.A.'s best doughnut shops is opening a location in Venice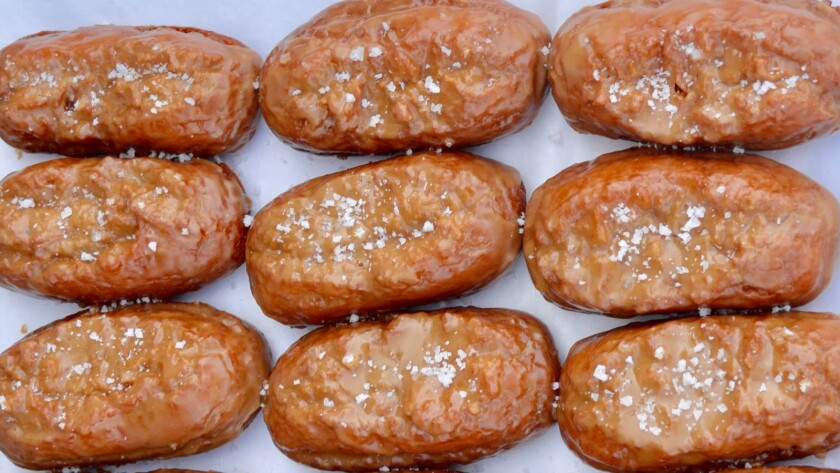 From buttermilk bars by the beach to sweet potato tacos in the Arts District, here's what's happening in our food and drink world.
Baker's dozen
The smell that envelops you as you walk through the door of Primo's Donuts on Sawtelle Boulevard is nothing short of intoxicating. It's a mixture of sugar and butter, melting glaze and freshly fried dough — an aroma capable of pulling you back to civilization in the wee hours of the morning. You simply can't breathe in deep enough. Owners Ralph and Celia Primo, who opened the shop in 1956, serve some of the best buttermilk bars in the city — tangy and covered in crunchy sweet edges. After 62 years, the couple plan to open a second location, on Main Street in Venice Beach, later this year.
"Our business has grown tremendously over the last three years, primarily due to social media, and our little shop just doesn't have the capacity to fulfill demand," Ralph Primo Jr. said recently.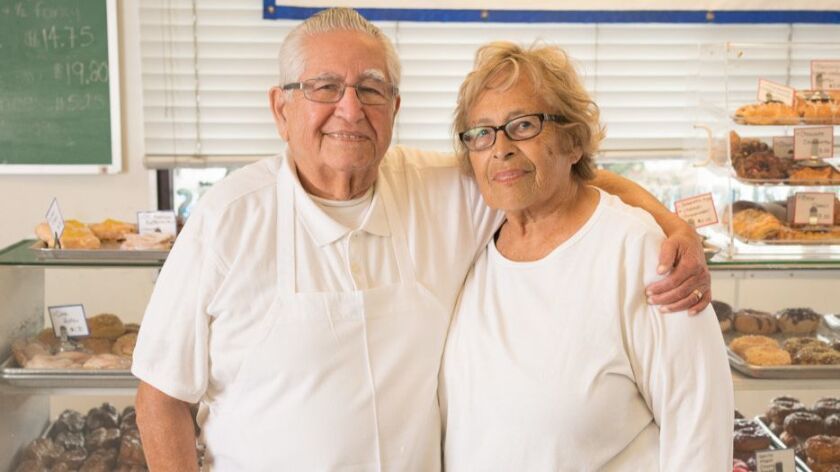 When the shop opened, it served 13 kinds of doughnuts. Now, there are more than 30, including a new salted caramel buttermilk bar. While Primo Jr. said the menu and prices at both stores will be the same, the family is adding a raised glazed doughnut ice cream sandwich to the menu at the Venice location. 2918 Sawtelle Blvd., Los Angeles, www.primosdonuts.com
Taco time
Nearly six years after introducing Angelenos to the sweet potato taco that would forever change tacos in Los Angeles, Wes Avila has opened a restaurant. The chef, who gained a cult following with his farmers market-fueled tacos on the Guerrilla Tacos cart-turned-truck, has opened a bricks-and-mortar restaurant in downtown's Arts District. Those sweet potato tacos, doused with almond chile and sprinkled with feta cheese, fried corn and scallions, are on the menu. As are a beef brisket taco, a crab taco and a cauliflower taco. Avila is also making an heirloom tomato salad, octopus quesadilla and fried oysters. Guerrilla Tacos also has a full bar, with a cocktail program designed with the help of Va' La Hospitality. 2000 E. 7th St., Los Angeles, (213) 358-7070, www.guerrillatacos.com
Moving on
Chef Bruce Kalman helped put Pasadena on the culinary map when he opened Union, his Italian restaurant in Old Pasadena, in 2014. Now, the "Top Chef" alum has announced he is stepping away from the restaurant completely to focus on his private events company, BK Hospitality Group. He will, however, remain involved with Knead, an Italian food stall at Grand Central Market. "Sometimes it's just time to move on, and I want to spend time with my family," Kalman said. "Union was great for me, and I feel like we did a really great thing out there, and definitely helped pioneer the Pasadena restaurant scene." Kalman is also focusing on his pickles, which are now available wholesale to restaurants. You can find Kalman next at a Feastly pop-up dinner in Venice on Aug. 12, where he will cook a five-course tasting menu.
Back behind the line
Chef Matt Molina, who was chef at Pizzeria Mozza before moving on to Everson Royce Bar in the Arts District, is gradually taking over a bit of Highland Park. After opening Triple Beam pizza this year, the James Beard Award winner has opened Hippo adjacent to the pizza spot, with Joe Capella and Randy Clement of Silver Lake Wines and Everson Royce Bar. The restaurant's menu represents the straightforward, Italian-leaning food Molina is known for with fresh ricotta tortellini; garden lettuces with zucchini vinaigrette; and barbecued quail wrapped in pancetta with treviso and aceto balsamico. With the crew behind Silver Lake Wines involved, there should be no shortage of vino to pair with the pancetta-wrapped quail. And Clare Ward, who has mixed drinks at Akasha Richmond's Culver City restaurants, is behind the Hippo cocktail program. 5916 1/2 N. Figueroa St., Los Angeles, (323) 545-3536, www.hipporestaurant.com
Cocktail time
The Mermaid, a nautical-themed bar in Little Tokyo, is scheduled to open this month in the former Bar C space in Honda Plaza on East 2nd Street. Owners Arelene Roldan and Katie Kildow, who have worked at Lemon Poppy Kitchen, Bar One Tap Room and Steampunk Café, say to expect a cocktail bar and lounge with tropical-inspired drinks. Menu highlights include Boozy Snow Cones such as tequila watermelon and vodka cherry limeade; and the Mermaiden Voyage made with two types of rum, house-made lime cordial and hibiscus syrup with a coconut salt rim. The Mermaid will also serve small plates such as slow braised brisket and pulled pork on Hawaiian rolls; and hearts of palm ceviche. You can also expect a late-night menu with popcorn and hot dogs. 428 E. 2nd St., Los Angeles, www.themermaidla.com
Instagram: @Jenn_Harris_
---
Get our weekly Tasting Notes newsletter for reviews, news and more.
You may occasionally receive promotional content from the Los Angeles Times.