Newsletter: Omakase and breadcrumbs
Happy Saturday and welcome to a cool, likely rainy weekend, which means it's a good time to stay home and cook if you can. There's lots of inspiration from our local farmers markets (leeks, rhubarb), as well as in the wealth of recipes both on our California Cookbook recipe database, and in many of the excellent cookbooks on the shelves (actual, virtual) at the moment. To that end, this week we have a rhubarb tart recipe, a cooking story about the practical joy of breadcrumbs and a review of a cookbook that may feature New England dishes but that nevertheless translates pretty well to our coast.
If you're out and about, there are of course myriad local restaurants worth visiting, including the sushi palace that is the subject of Jonathan Gold's latest review. A reminder that there are 38 Koreatown restaurants that you may still want to visit, and a few new food television shows that are worth your time. Remember to set your clocks forward tonight (note to self: add an hour onto the sourdough's overnight rise) and maybe factor in an extra cortado tomorrow morning. Enjoy your weekend.
THE RETURN OF MORI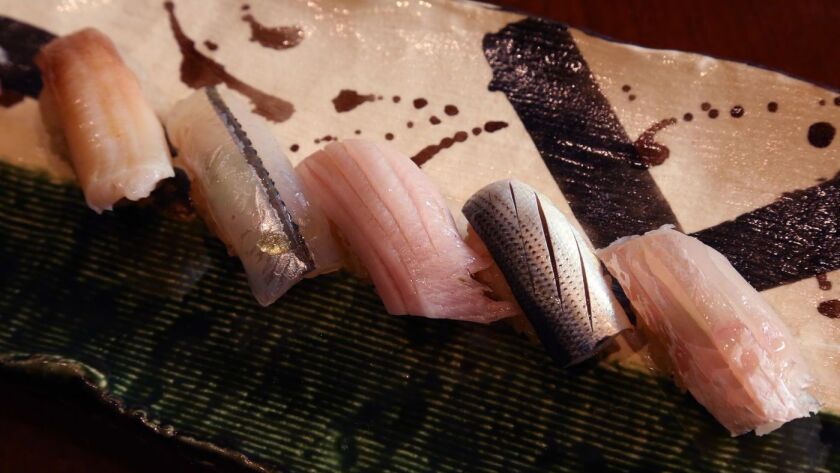 This week Jonathan sits down at the sushi bar of Shiki Beverly Hills, a Japanese restaurant in, you guessed it, Beverly Hills, where he finds a familiar face: Morihiro Onodera, the sushi master who left the restaurant scene when he sold Mori Sushi a few years ago. Actually two familiar faces, as Onodera has joined chef Nao Sugiyama, another Japanese cuisine veteran. The pair are old friends and cooked together many years ago at both Matsuhisa and Katsu in Los Angeles. They've revamped the menu at Shiki, and Jonathan finds not a few stunning dishes, including bream of which he is "in awe." (Good luck getting a seat at the sushi bar now.)
THE JOY OF BREADCRUMBS
In her latest Cucina Italiana column, Evan Kleiman discusses breadcrumbs. Yes, breadcrumbs. Using them in cooking is not only a good way to use up excess bread (do NOT buy the stuff), but they can add surprising texture and flavor to recipes. Kleiman gives us a recipe for them on cauliflower steaks and talks about their practical magic in the kitchen.
COOKBOOK OF THE WEEK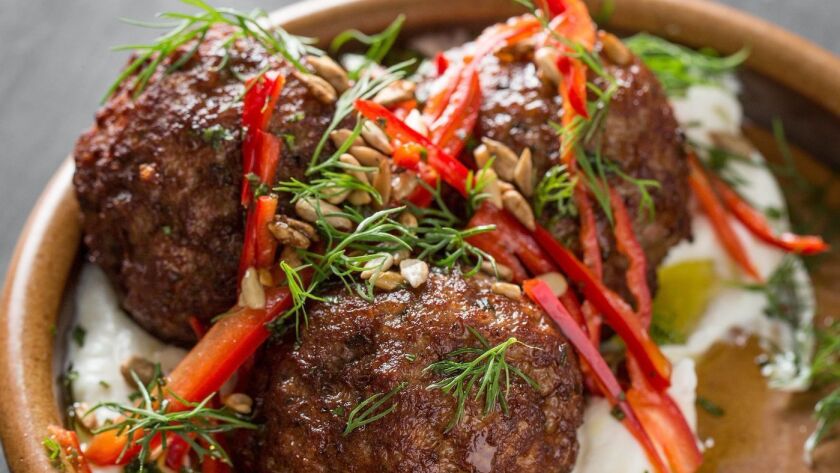 The subject of this week's cookbook review is chef Matt Jennings' recent "Homegrown: Cooking From My New England Roots," a paean to the chef's regional and culinary heritage. It's a fun, of-the-moment book, despite the backwards-looking title, with photos of the tattooed chef and his kids, anecdotes about his New England childhood and lots of terrific recipes — not only his grandmother's clam chowder, but eclectic stuff that showcases the many immigrant cultures that have built the region. Plus, a recipe for lamb meatballs with yogurt sauce!
FOOD TV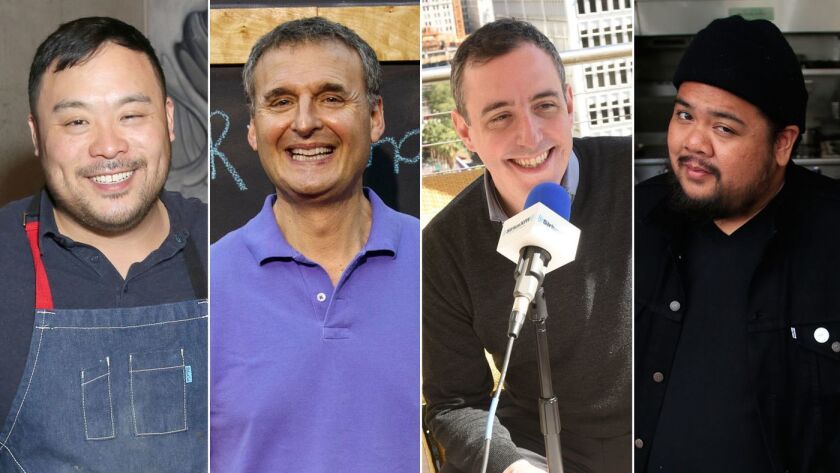 Finished binge-watching "Atlanta" and need something to watch? Deputy Food Editor Jenn Harris checks out three new food shows (and a radio show). Phil Rosenthal has a new show on Netflix called "Somebody Feed Phil" (spoiler alert: somebody does); David Chang's "Ugly Delicious" has debuted as well, also on Netflix; Alvin Cailan has a burger show, helpfully titled "The Burger Show"; and over on SiriusXM, Will Guidara of NoMad and Eleven Madison Park has a show as well.
CULINARY SOS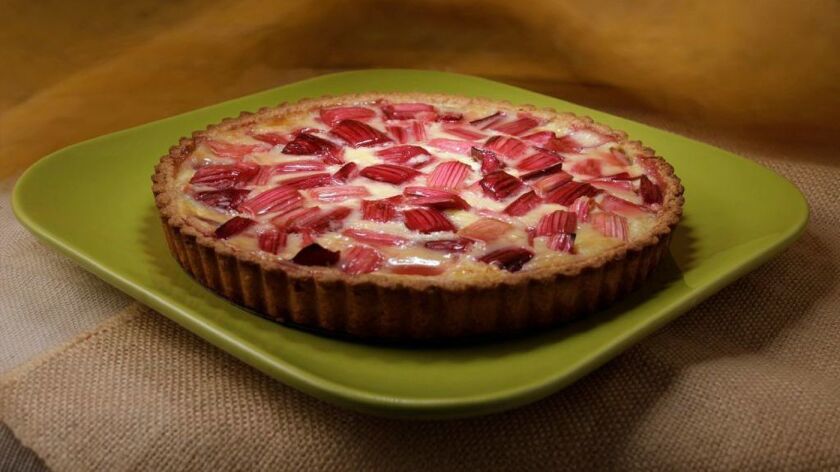 Not only is rhubarb in season (as are leeks!), as Test Kitchen Director Noelle Carter notes, but it's also the reason for a fantastic tart from downtown L.A. restaurant Church & State — the recipe for which is this week's Culinary SOS, thanks to a reader who wrote in asking for the recipe. Embedded into a delicate custard, the rhubarb lends distinct tartness to the tart (haha) and has a lovely almond-based crust.
L.A. Times FOOD BOWL returns for a second year this May. It's 31 days of events celebrating L.A.'s food and drink scene and helping raise awareness and funds to fight food waste, hunger and food insecurity and to promote sustainability. Guest chefs include Ben Shewry (Australia), Yoshihiro Narisawa (Japan), Virgilio Martinez (Peru) and Yu Bo (China), along with Diana Kennedy (Mexico) and Fuchsia Dunlop (United Kingdom), with more to be announced. The full program will be released on March 31. If you have a restaurant, bar, market or other establishment and are interested in hosting a Food Bowl event, here's how to register.
Jonathan Gold's 101 Best Restaurants, the authoritative annual guide to local dining, is online for subscribers featuring his 2017 Best Restaurants. If you don't have a copy of the booklet, you can order one online here.
Goldbot: You can talk to Jonathan Gold any time you want — or at least the robot version of him that now lives on Facebook Messenger. You can ask Goldbot for a personal restaurant recommendation based on location, type of food or price. The bot will also deliver Jonathan Gold's latest reviews straight to your device.
Check us out on Instagram at @latimesfood.
And don't forget the thousands of recipes in our California Cookbook recipe database.
Feedback? We'd love to hear from you. Email us at food@latimes.com.
---