Newsletter: Essential California: What happened to the Golden State's close primary?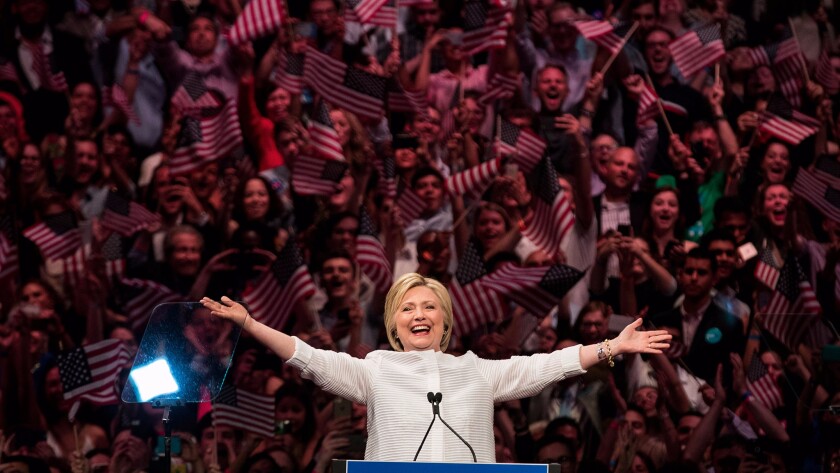 Good morning. It is Thursday, June 9. A well-known West Hollywood vegan joint is now offering cannabis-infused cocktails. Cheers. Here's what else is happening in the Golden State:
TOP STORIES
Path to victory
Leading up to Tuesday's primary, polls showed Democratic presidential hopefuls Hillary Clinton and Bernie Sanders running neck-and-neck with eligible voters. So how was Clinton able to clinch such a decisive victory? "The focus on the early vote and the focus on diversity I think is really a big piece of how and why we won," said Buffy Wicks, Clinton's state director. Los Angeles Times
Party vs. party
California's top-two system, which allows the top voter-getters in a race to advance to the runoff regardless of their party affiliation, has led to lots of political uncertainty. "We, as campaign operatives, have no control of our campaigns anymore," said Katie Merrill, a Democratic campaign strategist. Los Angeles Times
Excused from vote
The chairman of the California Coastal Commission says he will not vote on the Banning Ranch project, the largest development slated for the coast in decades, because he failed to report a private meeting with the project's backers. "There are real risks to this commission for those who don't pay attention to that law," said Steve Kinsey. In another twist, Commissioner Martha McClure lost her reelection to the Del Norte County Board of Supervisors and will be forced to leave the commission. Los Angeles Times
DROUGHT AND CLIMATE
Planning for the future. Will Los Angeles have enough water to meet its needs for the next 25 years? "Of course, no long-range plan is without a fair amount of guesswork. Fingers crossed DWP continues to make strides in reducing demand and increasing local supply." Curbed LA
L.A. AT LARGE
Injunction granted: An oil field near USC must remain closed permanently or comply with stringent regulations, Los Angeles City Atty. Mike Feuer told The Times after obtaining an injunction. The two-acre field is operated by Allenco Energy Inc. on land leased from Los Angeles' Catholic Archdiocese, and neighbors have long complained of health problems. Los Angeles Times
Political outsider: A political newcomer beat out better-known and better-financed candidates to make it to the runoff for the L.A. County Board of Supervisors. Darrell Park, a Democrat, will face Republican Kathryn Barger in November. "In this cynical time in our politics, everyone thinks it's only big money that matters, and it's not true," he said. Los Angeles Times
Electric fleet: BMW won a contract to supply the LAPD with 100 electric vehicles. The plug-in cars will not be used for patrol or car chases. "We should be thinking green in everything we do," said Mayor Eric Garcetti. Los Angeles Times
On the move: Angelenos loves to move big objects through city streets — space shuttles, fuel tanks, rocks. This week, a couple moved their Hollywood bungalow to Los Feliz and it turns out, that practice used to be pretty common in Los Angeles. LAist
Train to trail: A new shuttle connects the Metro Gold Line with the San Gabriel Mountains. "Low-income communities and communities of color disproportionately lack access to green space, and transportation remains a significant barrier for many families to reach existing natural resources," said Robert Garcia with the City Project. 89.3 KPCC
POLITICS AND GOVERNMENT
Mayor's race: This map shows where former state Senate leader Darrell Steinberg did well in Tuesday's Sacramento mayoral race. Steinberg won most of the city aside from the North Natomas area, which was represented by opponent Angelique Ashby on the City Council. Sacramento Bee
Not a fan: Any suggestion that Ronald Reagan would be a Donald Trump supporter is an insult to the family, according to the son of the late president. "If my father were anything like Donald Trump, Nancy never would have married him, let alone vote for him," said Michael Reagan. BuzzFeed
Keeping his job: An Orange County judge who was censured for having sex in his chambers won reelection Tuesday. Scott Steiner beat out a veteran prosecutor to keep his job. Los Angeles Times
On the ballot: California developers are using the initiative process to circumvent environmental reviews of projects. "Once 15 percent of eligible voters have signed a petition, a project qualifies for the ballot, and local elected officials can call a special election or accept the proposal without negotiating changes." New York Times
CRIME AND COURTS
Tech support: Jay Leiderman is the Ventura-based attorney you call if you get busted for a cyber crime. "Most days, he can't even have an IRL conversation about his biggest cases. Which is a shame, because Jay Leiderman really loves to talk." BuzzFeed
Blame it on the alcohol: The Stanford student convicted of sexually assaulting an unconscious woman blamed alcohol and peer pressure for his crime in a letter to the judge. "I know I can impact and change people's attitudes towards the culture surrounded by binge drinking and sexual promiscuity that protrudes through what people think is at the core of being a college student," Brock Turner wrote. The Guardian
BUSINESS
Extracting lithium: How valuable was Simbol Materials in the Coachella Valley? Tesla's Elon Musk was willing to pay $325 million for it. That was cash Simbol desperately needed, but in the end, the deal went south for the company and Imperial County. Desert Sun
CALIFORNIA CULTURE
Here kitty, kitty: It's happening: Los Angeles is getting a cat café. And if you can't wait, CatCon will be in town at the end of the month. LAist
Love triangle: This wild L.A. love story involves a husband, a wife and a lover who lived in the attic. Atlas Obscura
Back on Pico: Food critic Jonathan Gold may have found the best hangover cure on Pico Boulevard: gamjatang. It's a pork-neck chowder. "The sputtering-hot soup certainly feels soothing, thick with potatoes, bathed in dusky chile heat," he writes. Los Angeles Times
CALIFORNIA ALMANAC
Sacramento will be mostly sunny with a high of 87. San Francisco will have low clouds and a high of 66. Los Angeles will have low clouds as temperatures reach 78 degrees. It will be partly sunny and 91 in Riverside. San Diego will have low clouds and a high of 72.
AND FINALLY
Today's California Memory comes from Jerry Lynne Treinen:
"When I was a teenager in the 1950s, my mom and I took a day trip to Los Angeles and stopped for lunch at a downtown delicatessen. When sandwiches were served, I reached for a small glass jar of white sauce on the table as mom said, 'Be careful, that's horseradish!' Paying little attention and not knowing horseradish from mayonnaise, I spread it knee-deep on my sandwich and took a big bite. I'll never forget that moment with my sinuses burning and eyes watering and, through it all, Mom watching with a slight smile on her face."
If you have a memory or story about the Golden State, share it with us. Send us an email to let us know what you love or fondly remember about our state. (Please keep your story to 100 words.)
Please let us know what we can do to make this newsletter more useful to you. Send comments, complaints and ideas to Alice Walton or Shelby Grad.
---