Newsletter: Trump's travel ban suffers a defeat in court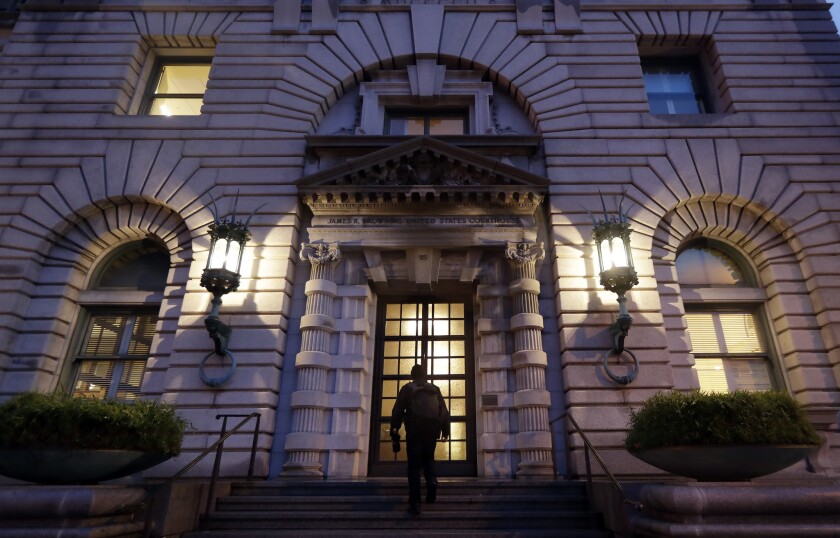 Good morning. It's Friday, Feb. 10, and here's what's happening across California:
TOP STORIES
Court won't reinstate travel ban
A three-judge panel of the U.S. 9th Circuit Court of Appeals has refused to reinstate President Trump's executive order blocking travelers from seven mostly Muslim nations from entering the United States. The decision said that a Seattle federal judge's earlier restraining order on the new policy should remain in effect while the judge further examines its legality. Los Angeles Times
Charting the undocumented
Los Angeles and Orange counties are home to 1 million people here illegally, according to a new study. Based on 2014 data, the Pew Research Center reports that nearly 10% of the country's 11.1 million immigrants who live in America illegally reside in these two counties. Los Angeles Times
Plus: Arrests made by federal immigration officials in Southern California this week have sparked concerns and outrage that the actions might be part of a promised crackdown by President Trump on people in this country illegally. While immigration advocates said they believed about 100 people were arrested, immigration officials downplayed the activities as fairly routine. Los Angeles Times
Retirement security fight
The most direct confrontation between California and a GOP-led Congress emboldened by President Trump could be over an ambitious state law that is intended to help create retirement security for low-income workers. Los Angeles Times
L.A. STORIES
LAX encampment: A planned rental car facility and parking lot near Los Angeles International Airport will push out an encampment of homeless people who live in the 20 square blocks of Manchester Square. But those living there say they have no place to go. Los Angeles Times
Help wanted: There are headhunters for every industry — even the marijuana industry. "Founded in 2012, this cannabis-specific recruitment agency based in the San Fernando Valley focuses on matching some of the top retail, wholesale, pharmaceutical and medical marijuana businesses in the country, with the dankest of employees." LA Weekly
Beware of the air: A new health study from USC finds that air pollution is tied to an increased risk of diabetes. KPCC
POLITICS AND GOVERNMENT
Central Valley talk: In a sea of Clinton-supporting blue, California's Central Valley went as red as President Trump's beloved ties. But now, as Trump follows through on his commitment to crack down on immigrants who are here illegally, there's a fear that the region's rural voters will stop supporting the president. The New York Times
Garcetti gets going: Mayor Eric Garcetti has been blessed with a thriving Los Angeles as he attempts to win a second term. "He's pretty darn lucky," said Christopher Thornberg, a Los Angeles economist. "This city has been in the midst of a renaissance." Los Angeles Times
Becerra is running: California Atty. Gen. Xavier Becerra just assumed office this month, but on Thursday he formally announced his bid to run for election to the post in 2018. Becerra told supporters he's ready to battle the Trump administration when he thinks the president is trampling on rights. Los Angeles Times
CRIME AND COURTS
FBI in Fresno: The FBI continues to investigate the Fresno Unified School District's use of no-bid contracts. Fresno Bee
Animal cruelty: A man is facing animal cruelty charges after throwing his pitbull mix off a hillside in an East Los Angeles neighborhood, prosecutors said. The episode was caught on tape. Los Angeles Times
No meth giveaway: A flier has been circulating in Santa Cruz that says the city is giving free meth to homeless people so they can stay awake. Of course, this isn't true. Mercury News
Pay-to-play? The L.A. city attorney's office has filed criminal charges against 25 people who own, operate or work with five casting workshop companies. The allegation: That they have violated the Krekorian Talent Scam Prevention Act by requiring actors to pay illegal fees for auditions. Los Angeles Times
DROUGHT AND CLIMATE
Drought is not gone: Severe drought conditions exist in only 11% of California, and just 47% of the state still faces a drought. A year ago 83% was in the U.S. Drought Monitor's second-most severe category. San Francisco Chronicle
Climate change fighting: Social justice issues like reducing local pollution and creating job opportunities are the central focus of California lawmakers as they begin to reshape the state's climate change policies. Los Angeles Times
Drama at Lake Oroville: The spillway of one of America's largest dams may have to be used for the first time due to heavy rain. Sacramento Bee
Beware of sinking land: A new NASA study says the San Joaquin Valley continues to sink at an alarming rate because of groundwater pumping and irrigation. Los Angeles Times
CALIFORNIA CULTURE
Nothing to see here: Just a coffin-shaped bus. A California man and his quixotic road trip against death. New York Times
Partly gone: Whole Foods has announced its highest number of store closures since 2008. Two will close in California. Bloomberg
Hockey history: Remember the California Seals? For those who don't, they were a professional hockey team that started in the 1960s, and columnist Helene Elliott writes that a new documentary about the team "is educational for those who aren't familiar with the Seals' history and entertaining for those who remember the colorful green, gold and white uniforms that club owner Charles O. Finley ordered them to wear." Los Angeles Times
Listen while you commute: When Bay Area residents are priced out of the region's city centers, where do they move? Here's a new podcast that tries to answer that question. KQED
But don't crash: The most disproportionally common physical injury diagnosis in California based on insurance claims won't surprise anyone. It's motor vehicle accidents. STAT
Miller time: The hills of Echo Park can be treacherous. Check out this video of a stranded semi full of Miller Lite in the neighborhood. The Eastsider
CALIFORNIA ALMANAC
Los Angeles: rain Friday and Saturday. San Francisco and Sacramento: partly cloudy Friday, sunny Saturday. San Diego: cloudy Friday, chance of showers Saturday. More weather is here.
AND FINALLY
Today's California memory comes from Anthony Hall Berry:
"In 1964, as I graduated from Crespi Carmelite High School in Encino, my family and I moved to the Coachella Valley. Palm Desert, to be precise. I felt like I had been banished to some furnace-like hinterlands. (Well, it was a dry heat…) After a sweltering summer of cleaning swimming pools, working on golf carts, and playing pick-up basketball on the outdoor asphalt courts of Indio, I enrolled as a freshman at College of the Desert. The campus was like an Aztec oasis in the middle of all the golf courses, date palm groves, and barren sand dunes. Long story short, I made the basketball team and made some lifelong friends there, as well. When I return now, to visit family, I am amazed at the growth of the desert valley."
For the record: In Wednesday's newsletter, your Essential California authors wrote that batteries being made at a factory in Vernon would be used in Teslas. That's not the case. We regret the error.
If you have a memory or story about the Golden State, share it with us. Send us an email to let us know what you love or fondly remember about our state. (Please keep your story to 100 words.)
Please let us know what we can do to make this newsletter more useful to you. Send comments, complaints and ideas to Benjamin Oreskes and Shelby Grad.
---