How will California battle climate change? A new proposal revs up debate over cap-and-trade program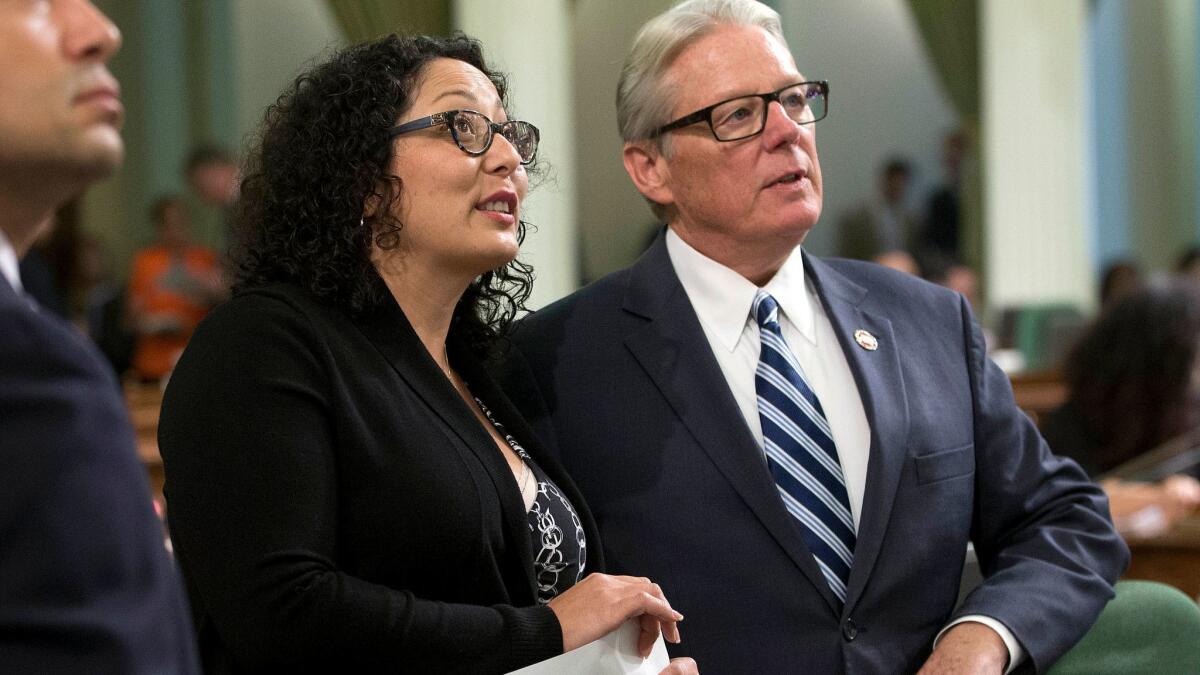 Reporting from Sacramento —
California lawmakers are moving to reshape the state's climate change policies by focusing on social justice issues such as alleviating local pollution and creating job opportunities, laying down a marker in conversations about the future of the cap-and-trade program.
The new measure, which will be introduced on Thursday by Assemblyman Eduardo Garcia (D-Coachella) and Assemblywoman Cristina Garcia (D-Bell Gardens), represents another step by Latino lawmakers to tie environmental policies to community-level concerns. The approach was a key part of last year's successful effort to set a new, tougher goal for reducing greenhouse gas emissions by 2030.
Now lawmakers are preparing for a wide-ranging debate over how the state should hit that target and keep California on the front lines of the battle against global warming at a time when President Trump has promised to step back from the fight.
But the new legislation could lead to a confrontation with Gov. Jerry Brown, who has asked lawmakers to reauthorize the cap-and-trade program, which requires companies to purchase permits to release greenhouse gases into the atmosphere.
He wants a two-thirds vote in both houses of the Legislature, the threshold for approving taxes, to safeguard the program against legal challenges and preserve an important source of money for building the bullet train from Los Angeles to San Francisco. Brown has pledged to hold back cap-and-trade revenue, which is generated when the state auctions off pollution permits, until the vote happens.
However, the lawmakers behind the legislation, who also include Assemblyman Chris Holden (D-Pasadena), are not committing to cap and trade at this point. The legislation would allow regulators to pursue a "market-based compliance mechanism," a phrase often used to describe a system such as cap and trade, but they're not yet asking their colleagues for a two-thirds vote to ensure revenue keeps flowing.
"Everything is on the table right now," Cristina Garcia said. "This is the first step."
The legislation will likely be fleshed out more as negotiations continue. At this point, it would direct state regulators to pursue policies that specifically help polluted communities, she said, "not just with cleaner air, but with more jobs, or more immediate investment that they can feel."
Eduardo Garcia said conversations around the measure will give lawmakers a greater say in how regulators pursue climate policies, a perennial sore point for the Legislature.
"We need to be part of those developments," he said.
This will be the second measure introduced involving cap and trade; the first came from a cadre of business-friendly Democrats who called the program "an important tool" for the state. They're aiming to extend cap and trade into the future with a two-thirds vote.
Democrats have the supermajorities they need to pass the legislation without Republican help, but putting together the necessary coalition would still be a challenge.
"That's going to be the test of cap and trade — what is this going to do for my community?" said V. John White, director of the Center for Energy Efficiency and Renewable Technologies and a veteran of the state's environmental debates.
The debate will be closely watched outside of California. Gina McCarthy, who led the U.S. Environmental Protection Agency under former President Obama, encouraged state leaders to keep cap and trade during a visit to Sacramento on Wednesday.
"It has been a huge signal, not just in this state and in this country, but internationally," she said.
Cap and trade remains controversial four years after it began operating. Some industries fear the program will become too restrictive, especially when wielded in conjunction with other environmental regulations.
Meanwhile, environmental justice advocates believe the system doesn't do enough to help neighborhoods — particularly those that are home to mostly low-income residents and people of color — alleviate pollution.
"The system, the way it is, is untenable," said Parin Shah, senior strategist at the Asian Pacific Environmental Network.
Senate President Pro Tem Kevin de León (D-Los Angeles), one of the Legislature's biggest advocates for climate policies, pointedly said in a recent interview that he's "never been a fan of cap and trade."
"Let's look at this," he said. "How can we do a better job?"
However, shifting the state away from cap and trade — perhaps by levying a direct tax on carbon emissions, a favorite idea of some activists — could be politically difficult, not to mention the logistics of winding down a major initiative that California has touted as an international model. The state is holding joint auctions of pollution permits with the Canadian province of Quebec and is scheduled to do the same with Ontario next year.
"Whether you like cap and trade or not, you're riding that horse," said Andre Templeman, who tracks California's program for the consulting firm Alpha Inception. "If you shoot it, you're in a lot of trouble."
National environmental organizations are eager to safeguard California's policies, especially now that the state has already set a goal for slashing emissions in the coming years.
"With dark winds blowing westerly from D.C., the moment for California's leadership has never been more urgent," said Alex Jackson, a San Francisco-based lawyer for the Natural Resources Defense Council. "With the stakes as high as they are, and with the target already in statute, we hope and expect there to be broad support for continuing one of our most effective tools for reaching that milestone."
Twitter: @chrismegerian
ALSO:
As the White House changes course on climate change, California stubbornly presses forward
Trump's EPA pick poised to survive Senate fight, but his brewing battle with California will be harder to win
Updates on California politics
Updates from the campaign trail
---
UPDATES:
3 p.m.: This article has been update to include additional details about the legislation.
8:40 a.m.: This article has been updated to include Assemblyman Chris Holden as one of the lawmakers behind the legislation.
This article was originally published at 12:05 a.m.
Get our Essential Politics newsletter
The latest news, analysis and insights from our politics team.
You may occasionally receive promotional content from the Los Angeles Times.