Newsletter: Essential California: Zuckerberg's apology tour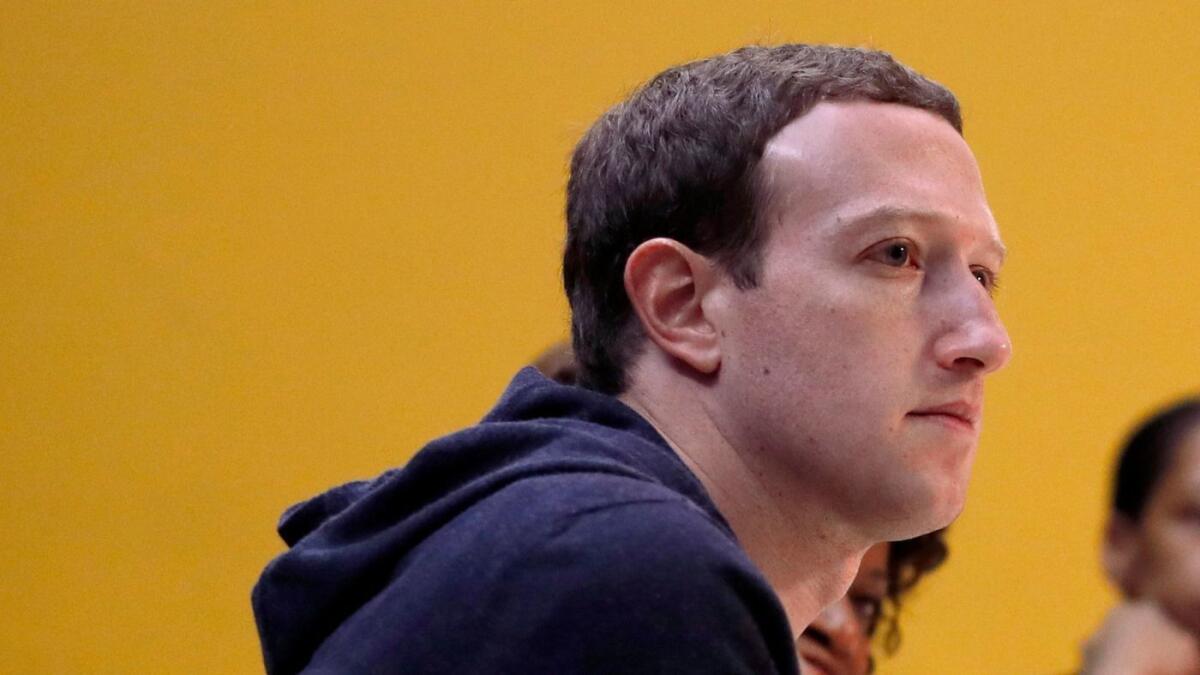 Good morning, and welcome to the Essential California newsletter. It's Tuesday, April 10, and here's what's happening across California:
TOP STORIES
Washington is ready for what many expect to be the Mark Zuckerberg apology tour as he testifies on Capitol Hill today. Will it be enough? And is it actually the start of improvements for the tarnished social media powerhouse? Los Angeles Times
-- Will the Facebook scandal's move to Washington end up hurting President Trump? Washington Post
-- Mission One for the Facebook chief: Staying cool. Wall Street Journal
-- And who is more powerful? Zuckerberg or Congress? Vox
-- Oh, and about the biggest Black Lives Matter Facebook page. Never mind. CNN
No criminal charges
Writer-director James Toback, who has been accused of sexual misconduct by scores of women over his decades in Hollywood, will not face criminal charges in five investigations into his conduct because the allegations are beyond the statute of limitations. Authorities, however, are still actively investigating allegations against Harvey Weinstein and others. Los Angeles Times
Equal pay ruling
Employers should not base a worker's wages on his or her past salary because that could exacerbate unequal pay between men and women, a federal appeals court decided Monday. The U.S. 9th Circuit Court of Appeals, overturning last year's decision by a three-judge panel in the case, ruled unanimously in favor of a Fresno math consultant who was paid less than men for equal work because her prior salary was lower. Los Angeles Times
Get the Essential California newsletter »
L.A. STORIES
A look at the numbers: L.A. County's new budget focuses on a safety net for the most vulnerable, starting with the homeless. Los Angeles Times
Unleashing her power: Personal empowerment guru Tony Robbins told an audience in San Jose last month that women who accuse men of sexual harassment are simply making themselves "significant" by making someone else "wrong." He was chastised by audience member Nanine McCool, who has become an instant star. Los Angeles Times
Danger zone: Fridays at 4 p.m.: Not the greatest time to drive on L.A. freeways. Crosstown Traffic
CRIME AND COURTS
YouTube complaint: Child advocates and consumer groups are asking the Federal Trade Commission to investigate and impose potentially billions of dollars of penalties on Google over allegations that the firm violated young children's online privacy and allowed ads to target them. Los Angeles Times
In Sacramento: Dist. Atty. Anne Marie Schubert was met with boos, applause and chants of "Stephon Clark" Monday at the state Capitol as she joined several law enforcement officials who were honored for their work in public safety at a crime victims rally. Los Angeles Times
Plus: Clark's brother, after two weeks of sometimes bizarre behavior, is seeking medical help. Sacramento Bee
GOVERNMENT AND POLITICS
Choices to be made: California versus Trump — beyond the political differences, there is really a serious fork in the road about where America should go. The New Yorker
Stormy weather: How Trump's one-night stand became a legal nightmare. New York Times
Big questions: A "miracle drug" from a San Diego company is tied to deaths, raising questions about why regulators approved it. CNN
Tech paradise, hiring nightmare: "The Bay Area is broken," say some who are locating tech outside California and in places like Boise, Idaho. Is this a threat to Silicon Valley? Mercury News
THE ENVIRONMENT
Key decision: The big vote on the future of the delta tunnel is going to be a nail-biter. Los Angeles Times
Grape fight: The Napa Valley has always had strict laws protecting vineyards. Now there is a move that could bring more development, and it's causing quite the uproar. San Francisco Chronicle
Disappointing sequel: It's wildflower season in Southern California, but don't expect any superblooms. San Gabriel Valley Tribune
CALIFORNIA CULTURE
An emotional fight: How Airbnb has created a gold rush in Lake Tahoe, for better and worse. Reno Gazette Journal
No escaping the past: For victims of the wine country fire, the mental anguish seems to never end. Press Democrat
Dance craze: Looking back to a very different time — the 1960s — when an L.A. man helped start the go-go movement, and a strange type of feminism. Wall Street Journal
Yes, comrade: In China's Hollywood, everyone is seeing red. Los Angeles Times
Plus: Can upscale seats and fancy food keep struggling movie theaters alive? Wall Street Journal
CALIFORNIA ALMANAC
Los Angeles area: mostly sunny and 85. San Diego: partly cloudy and 78. San Francisco area: scattered showers and 59. Sacramento: scattered showers and 66. More weather is here.
AND FINALLY
Today's California memory comes from Dorothy Sundbye:
"Reading about Ojai and its charms reminds me of my great-grandparents migrating to the place, then called Nordhoff, from St. Louis. They apparently were caught up in the illustrious advertising to buy property, sight unseen, in California, where they could plant orange trees and live a fabulous life. They were an adventurous couple with two daughters and would add a son and another daughter while living in Nordhoff. They planted orange seedlings on their rocky soil, irrigating them from a nearby stream. They worked hard, dreaming of the rewards. However, there were no legal water rights in the 1880s. A woman who lived upstream resented the newcomers using the water, so she built a dam. The result was the loss of all the saplings and the end of the dream of living in beautiful Nordhoff. They returned to St. Louis.
"There is an epilogue. About 1906, Great-Grandpa died. My great-grandmother gathered up her family, took the train to Los Angeles and settled them in the small town of Glendale, where some our family still lives. Grandma's quote is, 'I hope the good Lord gives me a break for the seven years I lived on the ranch.' "
If you have a memory or story about the Golden State, share it with us. Send us an email to let us know what you love or fondly remember about our state. (Please keep your story to 100 words.)
Please let us know what we can do to make this newsletter more useful to you. Send comments, complaints and ideas to Benjamin Oreskes and Shelby Grad. Also follow them on Twitter @boreskes and @shelbygrad.