Newsletter: Essential California: A very different kind of Golden Globe Awards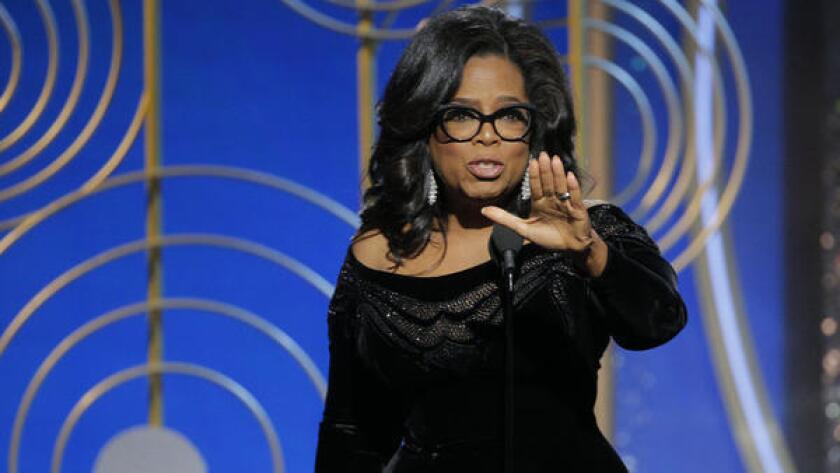 Good morning, and welcome to the Essential California newsletter. It's Jan. 8, and here's what's happening across California:
TOP STORIES
A different Golden Globes
In a Golden Globes show defined by Hollywood's controversies and hot-button political issues, "Three Billboards Outside Ebbing, Missouri" was a surprise winner in several categories on Sunday, while Oprah Winfrey's impassioned speech upon receiving the Cecil B. DeMille Award ignited excited speculation about her political aspirations. This year's outcry over sexual harassment produced some powerful and uncomfortable moments, Times TV critic Lorraine Ali writes. Los Angeles Times
And: Oprah Winfrey for president was something of a running theme throughout the Golden Globes, beginning with Seth Meyers' opening monologue. So is she running? "Okaay!" Los Angeles Times
Read it: Winfrey's full speech. Los Angeles Times
More:
-- On the television side, "Big Little Lies" was a big winner, and the show's success had a special resonance, with The Times' Josh Rottenberg writing: "Everything — from the black dresses women wore on the red carpet in solidarity to the jokes and speeches to the winners themselves — seemed freighted with meaning." Los Angeles Times
-- Coming off a year where the stories of bad men in Hollywood captured the headlines, many wondered whether it was right for comedian Meyers to be hosting. He addressed the elephant in the room immediately. Los Angeles Times
-- Here are all the winners. Los Angeles Times
-- Hollywood's new era of power dressing on the red carpet at the 75th Golden Globes. Los Angeles Times
At Rancho Venada
The thought lingered with Jerry Brown, perhaps sustained through the years by an old black-and-white photograph in his state Capitol office. The image is a man with a long, white beard feeding his sheep in a rustic 19th century setting. California's longest-serving governor told himself that one day he should do something special with all of that rolling Northern California acreage that once belonged to his great-grandfather August Schuckman, the man in the photo. Now, as Brown rides off into sunset on his governorship, he has big plans for the land, which will be his home once he leaves office. Los Angeles Times
Circling back on Toback
"Last week, the Los Angeles County district attorney's office announced that it was reviewing five investigations into accusations of sexual misconduct against filmmaker James Toback. Coincidentally, it was the first week in more than three months that I hadn't heard from a woman alleging that Toback had harassed her — or worse," writes Times reporter Glenn Whipp. Over several months, he spoke with 395 women who shared stories of the writer-director approaching them on the streets of Manhattan and Los Angeles, on trains and airplanes. In most of these accounts, Toback told them that he wanted to cast them in a movie, which often led to a range of unwanted sexual advances and actions. Los Angeles Times
Out in the West Covina
Hollywood loves to use Southern California's swaying palm trees and beaches in movies and TV, but it often fails to capture the nuance of its geography or the diversity of the county's 88 cities. And West Covina, one of the more lesser-known municipalities in the county, has rarely, if ever, been the setting for a television show. But "Crazy Ex-Girlfriend" has been welcomed by some West Covinans, who say it portrays the cheery banality and casual diversity of life in Southern California's suburbs. Los Angeles Times
L.A. STORIES
Weather warning: Southern California is bracing for the first significant rainstorm to hit the region in nearly a year, beginning Monday and with the heaviest rain expected in some burn areas, forecasters said. Los Angeles Times
Why the rain is so dangerous: In the mountains above coastal Santa Barbara County, the vegetation is typically so deep and lush that it can soak up a half-inch of rainwater before it flows downhill. But that was before the Thomas fire swept through in December, burning those trees and brush to the ground. Now, the rain has no buffer, and that is cause for alarm. Los Angeles Times
Trash hacks: L.A.'s commercial-trash customers have filed more than 28,000 reports of missed collections since July, the latest sign of a turbulent roll-out for the city's new recycling program. Los Angeles Times
A long fall: Paul Gonzales was the pride of East L.A. when he won Olympic gold. Now, he's accused of molesting young boxers. Los Angeles Times
IMMIGRATION AND THE BORDER
Big Monday deadline: Since 2001, about 262,000 other Salvadorans — including nearly 30,000 in Los Angeles — have been allowed to live and work in the U.S. under a program known as temporary protected status. The Trump administration appears headed toward decreeing an end to it on Monday. Los Angeles Times
Eyes on July: "The election of the former mayor of Mexico City as president could be disastrous for Trump and his administration, creating an even more charged relationship between the two countries that could reduce cooperation on border security, trade and immigration." Politico
POLITICS AND GOVERNMENT
Duking it out: The fight between California and the Trump administration "has metastasized into what could be the greatest contest over values between a White House and a state since the 1950s and 1960s, when the federal government moved to end segregation and expand civil rights." New York Times
Clearing them out: There's an unprecedented crackdown on homeless camps along the San Diego River right now. San Diego Union-Tribune
Remember that gas leak? Two years after the gas leak above Porter Ranch, here's what's changed — and what hasn't. Los Angeles Daily News
CRIME AND COURTS
Scoop: A Los Angeles County sheriff's patrol vehicle, which was involved in a fatal crash last fall, didn't have its siren on, official says. Los Angeles Times
Problems in the jail: A San Diego County jail inmate who was supposed to be in protective custody was intentionally placed into a cell with a general population detainee who later assaulted him, a citizens' review board has found. San Diego Union-Tribune
THE ENVIRONMENT
Checking in: The Trump plan to expand oil and gas leasing in the West draws, for the most part, a big yawn from industry. Los Angeles Times
Wow: "Sonoma County's coastal cliffs, softened by rain and pounded by ocean waves, are receding by as much as a foot a year and will surrender an area the size of Sebastopol by the end of the century, experts say, as climate change prompts sea levels to continue rising." The Press Democrat
CALIFORNIA CULTURE
Rams lose: "For the first NFL playoff game in the Coliseum in more than two decades Saturday night, a loud and loving Los Angeles showed up in force. The Rams, not so much," writes Columnist Bill Plaschke about the team's loss Saturday to the Falcons. Los Angeles Times
More awards season: The Producers Guild of America reaffirmed what we already know — it's a wide-open race this year for best picture. Los Angeles Times
Very interesting: San Francisco historian John Templeton called a meeting Saturday to discuss African Americans in city policy that became a lively discussion on the black history surrounding the Jonestown massacre. San Francisco Chronicle
A complicated system: "Most Californians with an urge to smoke a joint will enter the state's legal marijuana marketplace through a single doorway — at a retail shop. But out of view of those day-to-day sales, the state is ushering in a sprawling, untested system to move pot from place to place that will also serve as a collection point for taxes, a gateway for testing and a packaging center for the plant's fragrant buds." Associated Press
CALIFORNIA ALMANAC
Los Angeles area: Showers, 64, Monday and Tuesday. San Diego: Cloudy, 69, Monday. Showers, 62, Tuesday. San Francisco area: Showers, 58, Monday and Tuesday. Sacramento: Showers, 57, Monday and Tuesday. More weather is here.
AND FINALLY
This week's birthdays for notable Californians: Nicolas Cage (Jan. 7, 1964), former Rep. Loretta Sanchez (Jan. 7, 1960) and former Rep. Lois Capps (Jan. 10, 1938).
If you have a memory or story about the Golden State, share it with us. Send us an email to let us know what you love or fondly remember about our state. (Please keep your story to 100 words.)
Please let us know what we can do to make this newsletter more useful to you. Send comments, complaints and ideas to Benjamin Oreskes and Shelby Grad. Also follow them on Twitter @boreskes and @shelbygrad.
---