L.A.'s new recycling program has more than 28,000 complaints for missed trash pickup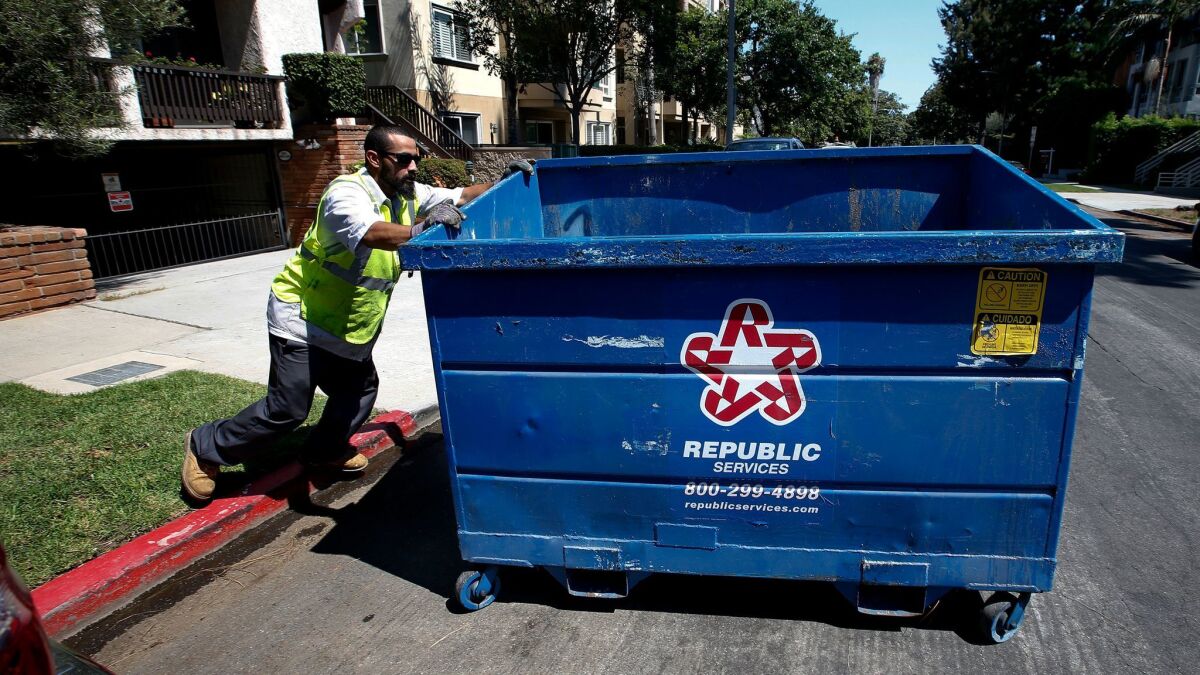 L.A.'s commercial-trash customers have filed more than 28,000 reports of missed collections since July, the latest sign of a turbulent roll-out for the city's new recycling program.
The numbers, compiled by the Bureau of Sanitation and provided to The Times, show that RecycLA has been seeing significant month-to-month increases in garbage pickup complaints.
Since its debut, Mayor Eric Garcetti has promoted the program — which gives seven companies the exclusive right to pick up trash and recycling at roughly 70,000 businesses, large apartment buildings and condominium complexes — as a way to boost recycling, take high-polluting trash trucks off the road and improve conditions of refuse workers.
At the same time, however, trash bills have soared for some customers, many of whom are being charged extra when haulers open locked gates or pull bins longer distances to the curb. City inspectors have identified hundreds of inaccurate charges. And refuse company executives have been at odds with sanitation officials over how trash bills are calculated.
The high volume of missed collection complaints has not come as a surprise to landlord Larry Rubenstein, who owns eight apartment buildings in Los Angeles. Every one of those properties, he said, has experienced missed collections — a problem he puts squarely on Garcetti and the City Council, which approved the program in 2012.
"With all the time they took to design this, they were completely unprepared," Rubenstein said. "It was a disaster. If I did this with my buildings, I wouldn't have any tenants."
Sherman Oaks resident Aaron Metchik voiced similar frustrations, saying recycling materials repeatedly have gone uncollected at the condo complex where he lives. "It's not just us," he said. "At the next building over, the same thing is going on — just heaps and heaps of recycling and trash."
According to property owners, the uncollected garbage has made the bins more inviting to rodents and roaches.
A Garcetti spokesman on Friday expressed disappointment with the latest complaint data, saying city officials did not expect to see such service disruptions under RecycLA.
Starting Feb. 1, haulers will face financial penalties if they fail to address missed collections within the proper time frame. Companies that receive a complaint before 2 p.m. must address it by 6 p.m, according to sanitation officials. Haulers that are told of a missed collection after 2 p.m. must resolve it by 10 a.m. the next day.
"The waste haulers need to do their jobs, and we will hold them accountable for providing the services our residents and businesses are paying for," Garcetti said in a statement.
Under the program, each hauler was assigned a specific section of the city for 10 years. Month by month, each company has been taking on a larger number of customers.
According to the Bureau of Sanitation, two of those seven haulers — Waste Management and Republic Services — have been responsible for nearly two-thirds of the missed collection complaints. The two companies cover four of the 11 zones set up under RecycLA, including the entire San Fernando Valley.
"Of course it's troubling," Doug Corcoran, director of public sector services for Waste Management, said of the complaints. Neither the city nor Waste Management had an accurate understanding of how much trash would need to be picked up under the new program, he said.
Corcoran said the company has reassigned truck drivers, trainers and supervisors from across the country in order to address the problems in Los Angeles. And, he acknowledged, there have been "way too many service issues."
"I wish I could go to every one of our customers and say, 'Man, I'm so incredibly sorry you had to deal with this.' And I promise we're going to get there. We are working day and night."
At the same time, executives with Waste Management and Republic Services contend that the city has overestimated the number of complaints generated by their companies. In some cases, they said, their firms are being held responsible for problems caused by other haulers — those who were phased out under RecycLA last year.
Once the program began, some of the companies that lost the right to pick up trash in Los Angeles abandoned their customers ahead of schedule, said Dave Hauser, Republic's market area vice president.
"This was wholly unfair to the customers, and we are working diligently to make it right," he said in an email.
City officials have acknowledged that their complaint data are imprecise, noting that it includes anyone who called the city's sanitation hotline about a missed collection. For example, a single missed collection at an apartment complex could have generated multiple complaints.
Still, there are some who believe the city's numbers are too low.
Sanitation staffers have been so ineffective at resolving trash pickup problems that a number of property owners have stopped calling them altogether, Rubenstein said.
"It's a waste of time to call the city, and everyone's learned that," the landlord said. "So that 28,000 is nothing."
Officials overseeing RecycLA said they had identified 900 inaccurate customer bills as of Friday, triple the number tallied in mid-December.
The Bureau of Sanitation is examining every bill in which more than 40% of the cost has been consumed by special charges, such as a "clicker fee" — using a remote control to open a locked gate, spokeswoman Elena Stern said. The city says that type of charge is prohibited, a position disputed by several haulers.
After reviewing roughly 1,400 accounts, the bureau's "billing review strike team" concluded that nearly two out of three had at least one incorrect charge. Officials are now in the process of sending letters to the trash haulers seeking corrections to those bills, Stern said.
Twitter: @DavidZahniser
---
The stories shaping California
Get up to speed with our Essential California newsletter, sent six days a week.
You may occasionally receive promotional content from the Los Angeles Times.