Newsletter: Essential California: Going beyond the greenhouse gas headlines
Good morning, and welcome to the Essential California newsletter — the first one written from the Los Angeles Times' new home in El Segundo! It's Tuesday, July 24, and here's what's happening across California:
TOP STORIES
California hit its target to reduce greenhouse gas emissions four years early — a milestone regulators and environmentalists are cheering as more proof that you can cut pollution while growing the economy. But a closer look shows planet-warming emissions aren't declining across the board. While emissions from electricity generation have plunged, other key industries are flat and transportation pollution is rising. Los Angeles Times
Plus: The Trump administration will seek to revoke California's authority to regulate automobile emissions — including its mandate for electric-car sales — in a proposed revision of Obama-era standards, according to three people familiar with the plan. Los Angeles Times
Rodriguez pleads guilty
Dogged by accusations of political money laundering, Los Angeles school board member Ref Rodriguez pleaded guilty Monday to a felony count of conspiracy and resigned from office. Rodriguez, 47, who had no previous criminal record, will avoid jail time. Instead, he will get three years' probation and 60 days of community service. His resignation was effective immediately. As part of an agreement with prosecutors, Rodriguez also pleaded guilty to three misdemeanor counts of assumed-name contribution. Los Angeles Times
It's gonna be a scorcher
Health officials issued a heat alert for Los Angeles County's inland valleys Monday, warning that a multiday heat wave expected for Southern California this week will put the community's most vulnerable residents at risk. Temperatures aren't expected to be quite as blistering as they were during a heat wave that shattered records two weekends ago, but the one expected this week will last longer and reach from the San Gabriel Valley and high desert to the coast, the National Weather Service said. Los Angeles Times
Get the Essential California newsletter »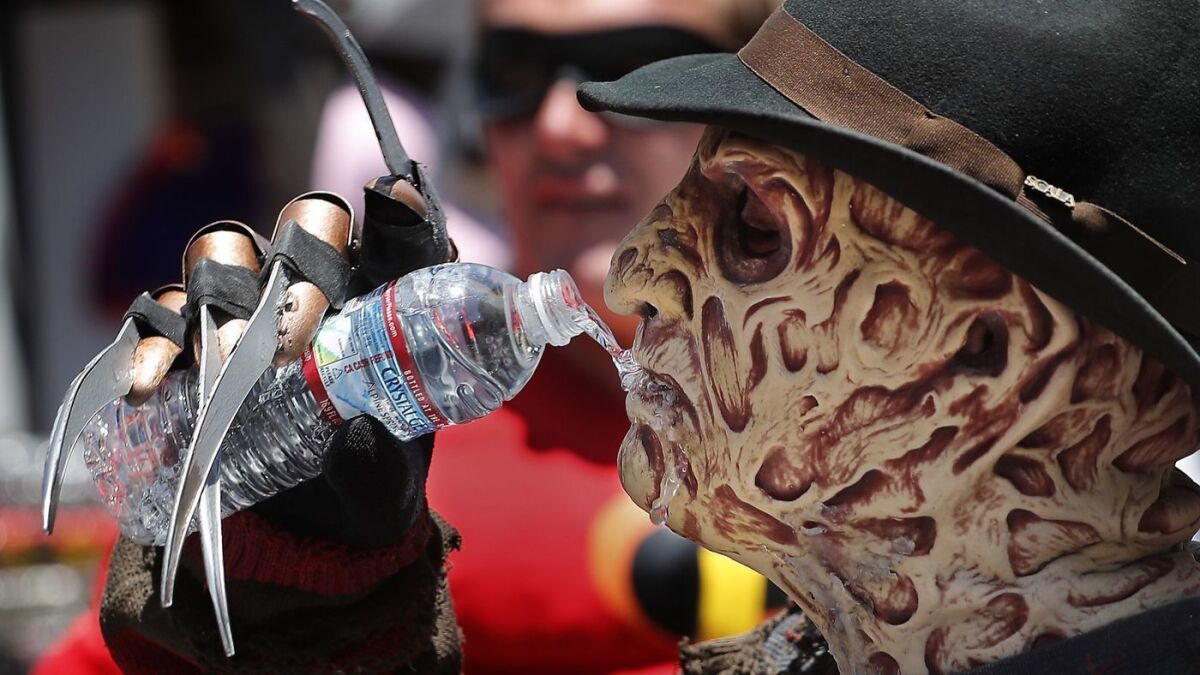 L.A. STORIES
The lawsuits keep piling up: As more lawsuits are filed against USC for its handling of a campus gynecologist accused of sexually abusing patients, the chair of the university's board of trustees said he wanted to see the litigation resolved "as quickly as possible." Los Angeles Times
The Trader Joe's shooting: The LAPD is searching for surveillance video and witnesses to the deadly shootout at the Silver Lake store. Los Angeles Times
RIP: Tell us how Times restaurant critic Jonathan Gold shaped your L.A. experience. Los Angeles Times
Great story! "The beach bus is rolling again between East L.A. and Santa Monica this summer." The Eastsider
IMMIGRATION AND THE BORDER
A migrant's story: "She was stalked and attacked in Guatemala and could be sent back. This is the story of one local asylum seeker." LAist
POLITICS AND GOVERNMENT
More on that private beach: Outraged by a deal between wealthy landowners and state officials that bars the public from accessing Hollister Ranch by land, a coalition of activists on Monday took a final shot at opening a secluded stretch of the California coast. Los Angeles Times
Making a move: Oakland Rep. Barbara Lee is the second Californian to announce a bid to be the House Democratic Caucus chairwoman. If selected, she would be the first black woman in House leadership. Los Angeles Times
On the move: Los Angeles Mayor Eric Garcetti left Monday for a 10-day trade mission to Japan, South Korea, Vietnam and Hong Kong, a trip focused on bringing jobs and investment to L.A. and boosting tourism in the city, his office said. Los Angeles Times
Cleaning up: "Inside the wildfire debris removal job that cost taxpayers $1.3 billion." KQED
Pension problems: "California's public schools have enjoyed a remarkable restoration of funding since the bone-deep cuts they endured during the recession, but many are now facing a grave financial threat as they struggle to protect pensions crucial for teachers' retirement." CalMatters
CRIME AND COURTS
Murder trial concludes: A former Palos Verdes High School student has been acquitted in a South L.A. shooting that left a 21-year-old man dead in October. Los Angeles Times
Horrific: "The stabbing Sunday night on a BART train in Oakland that killed an 18-year-old woman and injured her sister was the second — and possibly the third — homicide on the transit system in five days." San Francisco Chronicle
Plus: Police in the Bay Area have arrested a 27-year-old man who they say committed the stabbing. Los Angeles Times
THE ENVIRONMENT
SCOTUS nom talk: Supreme Court nominee Judge Kavanaugh could give conservatives the vote they need to rein in EPA rules on climate change. Los Angeles Times
Interesting: Interior Secretary Ryan Zinke has met with a group that's seeking to drain the San Francisco Reservoir. Wall Street Journal
CALIFORNIA CULTURE
From Comic-Con: The myths and realities of the toxic "Star Wars" fanbase. Los Angeles Times
Great profile: "How 'Black Panther' breakout star Letitia Wright finally took control of her career by saying 'no.' " W Magazine
Eesh: There may be traces of radioactive particles from Fukushima in your California red wine. CNN
Collateral damage: "As the San Francisco Board of Supervisors prepares to vote on an ordinance banning plastic straws, hundreds of small-business owners could be impacted by one problem: bubble tea." San Francisco Chronicle
CALIFORNIA ALMANAC
Los Angeles area: Sunny, 92, Tuesday. Sunny, 93, Wednesday. San Diego: Partly cloudy, 83, Tuesday. Partly cloudy, 85, Wednesday. San Francisco area: Partly cloudy, 67, Tuesday. Sunny, 68, Wednesday. San Jose: Sunny, 84, Tuesday. Sunny, 86, Wednesday. Sacramento: Sunny, 100, Tuesday. Sunny, 104, Wednesday. More weather is here.
AND FINALLY
Today's California memory comes from Kathy Petesch Stanton:
"I worked for Mexicana Airlines (one of North America's original airlines, now sadly defunct), transferring from DFW to LAX in 1983. We were in the Western Terminal (also now gone). I remember driving the freeways and seeing green ivy growing up along the sides. That seemed so extraordinary to me, since all I'd ever seen before was concrete. It took a few years at least to take the daily blue skies and palm trees for granted."
If you have a memory or story about the Golden State, share it with us. Send us an email to let us know what you love or fondly remember about our state. (Please keep your story to 100 words.)
Please let us know what we can do to make this newsletter more useful to you. Send comments, complaints and ideas to Benjamin Oreskes and Shelby Grad. Also follow them on Twitter @boreskes and @shelbygrad.
---