Newsletter: Essential California: A step toward greater police transparency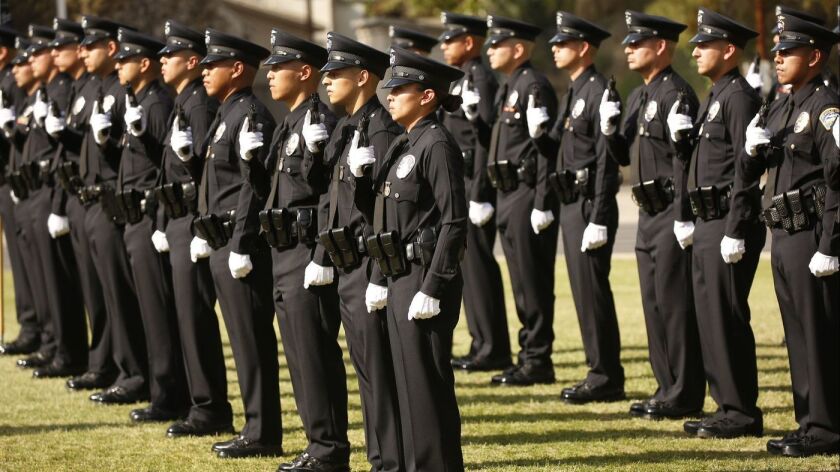 Good morning, and welcome to the Essential California newsletter. It's Monday, Sept. 3 — Labor Day — and here's what's happening across California:
TOP STORIES
Endorsing a dramatic departure from decades of secrecy surrounding policing in the state, California lawmakers have moved to undo some of the nation's strictest rules keeping law enforcement records confidential, particularly involving officer killings of civilians. The bills would give public access to internal investigations of police shootings statewide, and another would allow the release of body camera footage of those incidents. Los Angeles Times
-- The Times' series on how secret police misconduct records can subvert the criminal justice system in California. Los Angeles Times
-- In another dramatic criminal justice reform, California is poised to do away with cash bail. Bail companies would need to spend around $3 million for a referendum asking state voters to rescind the newly passed law. It's estimated that the industry generates perhaps 30 times that amount every year. Los Angeles Times
-- A topsy-turvy week for the American Civil Liberties Union in California. San Diego Union-Tribune
More from the wildfires' aftermath
Gov. Jerry Brown must now decide what to do with a collection of proposed laws to bolster fire prevention efforts and the readiness of residents, along with a plan in which utility companies could pass some wildfire-related costs onto customers. Consumer groups and large industrial stakeholders were enraged by provisions in SB 901 that will offer financial help to utility companies to pay for the liability costs of fires. Pacific Gas & Electric is facing potential bankruptcy from the costs of wine country fires. Los Angeles Times
-- Why PG&E ratepayers will end up with higher bills. Wall Street Journal
-- Secret rooms. Beloved vistas. A onetime library of Patty Hearst scholarship. Things lost in the Redding fire. Redding Record Searchlight
Get the Essential California newsletter »
L.A. STORIES
Monorails, affordable homes, maybe personal blimps? Is greater Los Angeles getting better or worse? Columnist Steve Lopez asked. Many of you answered. The responses "were as far apart as Inglewood and Indio: It's hell on earth. No, wait, it's paradise and getting better all the time." Los Angeles Times
Plus: Here is the blueprint to make L.A. better. Los Angeles Times
Online furor: An attorney appears to mock Asians in Orange County. And she gets mocked in return. Orange County Register
"The whole street is the canvas": A mile-long museum of African American life could be coming to Crenshaw Boulevard. Los Angeles Magazine
A Valley tradition: Secession. Now, a part of Woodland Hills wants to become something new, with the world "walnut" in it. Los Angeles Daily News
Fight, fight, fight: The Chip Kelly era at UCLA begins, well … Los Angeles Times
CRIME AND COURTS
In Moreno Valley: Authorities say street racing may have contributed to a horrific crash that killed four people in the Inland Empire. If so, it would be part of a growing death toll. Los Angeles Times
Officer-involved shooting: A sheriff's deputy on Sunday shot a man who appeared to be firing a weapon into the air outside a gate leading into a scheduled Ice Cube concert at the Del Mar Racetrack. San Diego Union-Tribune
Head-on collision: A man from New Zealand drove on the wrong side of the road in Northern California. SFGate
Mob thefts: What's behind the rash of thefts at Apple stores? Why can't the company do more to stop them? San Francisco Chronicle
POLITICS AND GOVERNMENT
In tribute: In the week since his death, flags all over Orange County's Little Saigon have flown at half-mast for Arizona Sen. John McCain. They celebrated McCain for fighting alongside the South Vietnamese and for championing political detainees. Los Angeles Times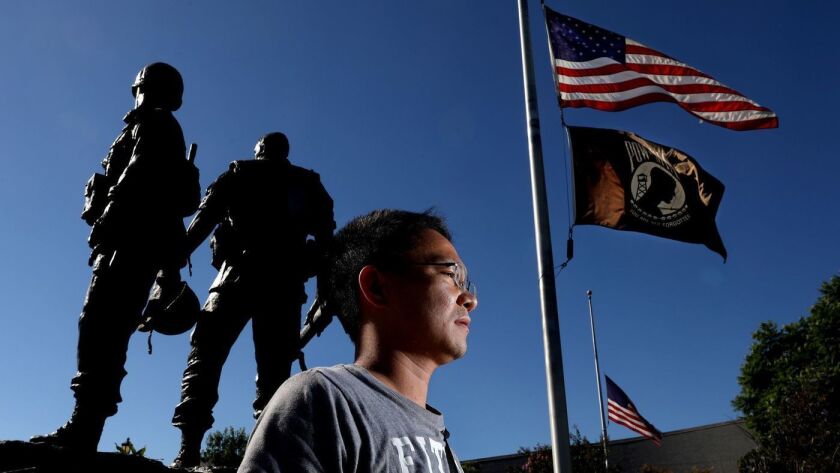 Umm: Is giving someone a noogie ever a good idea? Los Angeles Times
Confirmation time: Sens. Dianne Feinstein and Kamala Harris have their agendas as the Supreme Court nomination fight heats up. San Francisco Chronicle
Who knew? Wine country grape workers could be getting more pay, thanks in part to competition for labor from pot growers. Santa Rosa Press Democrat
THE ENVIRONMENT
North of Lake Havasu: A night on the Colorado River turned tragic when two boats crashed and sank, casting 16 passengers into the rushing water. Four people — three women and one man — were still missing Sunday night, officials said. Los Angeles Times
CALIFORNIA CULTURE
Farm living is the life ...: For years, a Santa Monica couple dreamed of starting their own farm, but in the way so many of us do — romantically fantasizing about giving up the urban sprawl for a simpler life. Then they actually purchased 130 acres of land in Moorpark. In true Hollywood style, their story is now a movie. Los Angeles Times
Why is this so difficult? TV writers rooms are not particularly diverse places. Some in Hollywood want to change that. But finding non-white writers has proven difficult. Or has it? New York Times
Lessons for Hollywood: Sequels still rule, pure comedies are in trouble, documentaries are having a moment (again). Los Angeles Times
Out with a roar: One last ride on the Jurassic Park ride at Universal Studios. LAist
And: Bye bye to the bugs at Disneyland. San Gabriel Valley Tribune
Life after 55: More older Californians than ever have to work well past retirement age to make ends meet. Finding work at a certain age can be depressing. San Diego Union-Tribune
Shooby dooby to Chapter 11: Tough times for iconic Southern California diner chain Ruby's. Wall Street Journal
CALIFORNIA ALMANAC
Los Angeles area: Partly cloudy, 80, Monday. Sunny, 80, Tuesday. San Diego: Partly cloudy, 76, Monday. Partly cloudy, 77, Tuesday. San Francisco area: Sunny, 67, Monday. Partly cloudy, 67, Tuesday. San Jose: Sunny, 84, Monday and Tuesday. Sacramento: Sunny, 94, Monday. Sunny, 93, Tuesday. More weather is here.
AND FINALLY
This week's birthdays for those who made a mark in California: lawyer Robert Shapiro (Sept. 2, 1942), singer Beyoncé (Sept. 4, 1981) and comedian Bob Newhart (Sept. 5, 1929).
If you have a memory or story about the Golden State, share it with us. Send us an email to let us know what you love or fondly remember about our state. (Please keep your story to 100 words.)
Please let us know what we can do to make this newsletter more useful to you. Send comments, complaints and ideas to Benjamin Oreskes and Shelby Grad. Also follow them on Twitter @boreskes and @shelbygrad.
---