Column: Among UCLA faithful, Chip Kelly's debut had to hurt
The Chip Kelly Era marched into the Rose Bowl on Saturday and was heartily welcomed by ghosts of Bruins past.
It looked like the Jim Mora Era, only worse.
It looked like the Rick Neuheisel Era, only duller.
It looked like the Karl Dorrell Era only, well, honestly, it was pretty much exactly like that.
It was the same old UCLA, only this new era is costing the university $23.3 million, so maybe just a little more was expected in a 26-17 loss to two-touchdown-underdog Cincinnati?
There was a blown 10-point lead. There was a fumble that led to Cincinnati's go-ahead safety. There was a goal-line penalty that led to the Bearcats' clinching touchdown.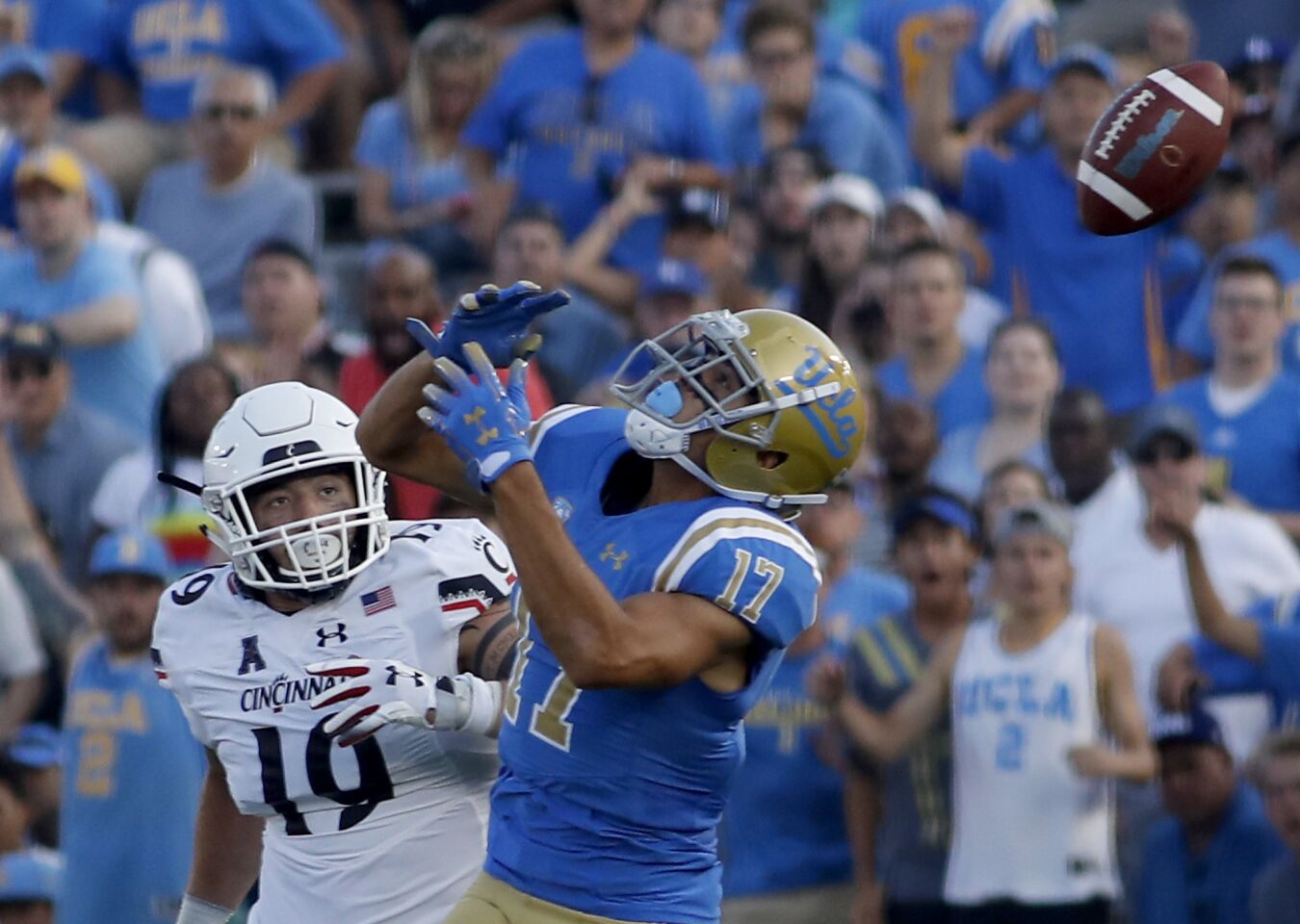 UCLA wide receiver Christian Pabico can't find the handle on a pass as Cincinnati's Ethan Tucky defends in the third quarter at the Rose Bowl in Pasadena on Saturday.
(Luis Sinco / Los Angeles Times)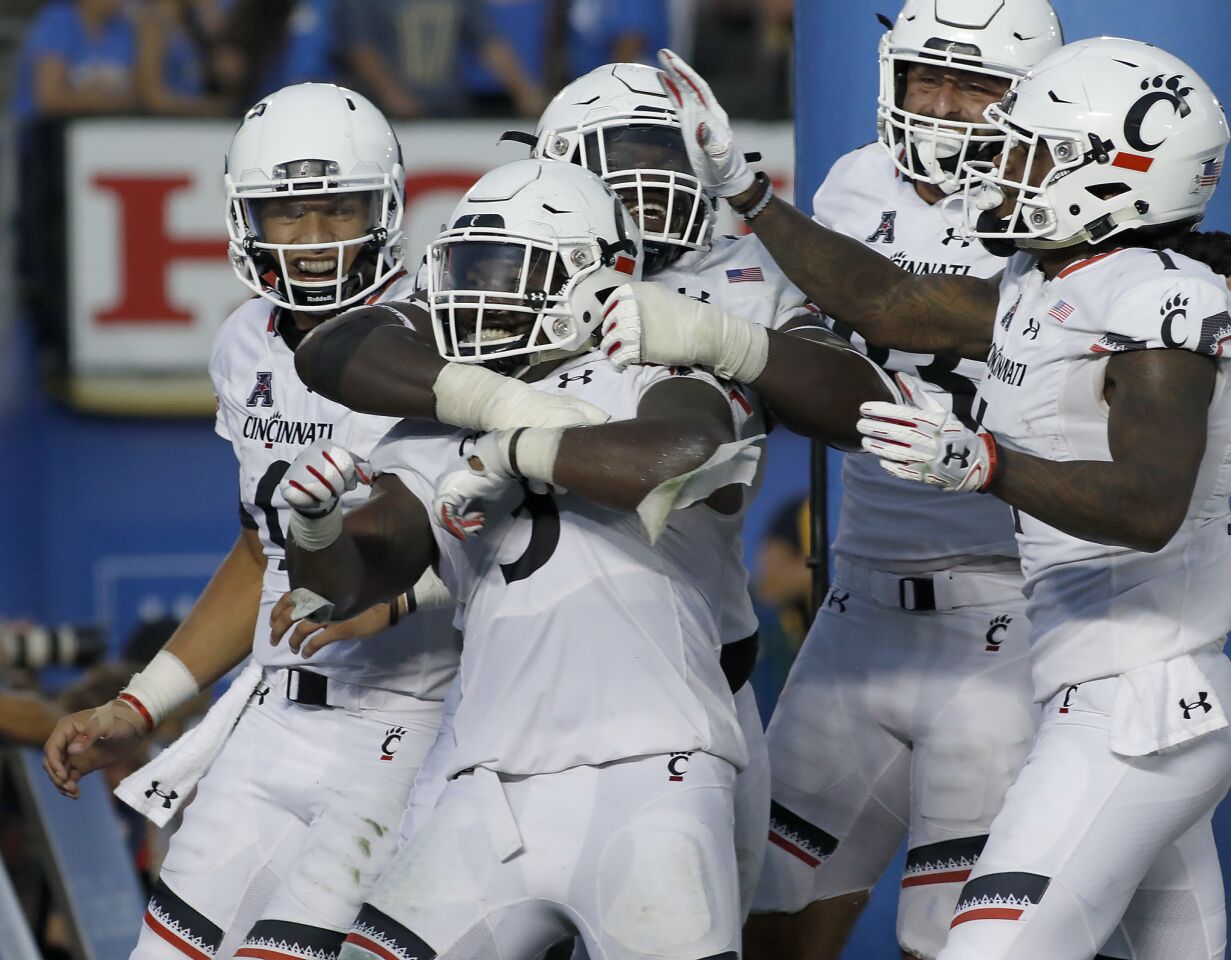 Cincinnati running back Michael Warren II is congratulated by teammates after scoring a touchdown against UCLA late in the fourth quarter at the Rose Bowl on Saturday.
(Luis Sinco / Los Angeles Times)
Cincinnati quarterback Desmond Ridder escapes the grasp of UCLA linebacker Jaelen Philips in the first half at the Rose Bowl on Saturday.
(Luis Sinco / Los Angeles Times)
UCLA defensive back Darnay Holmes breaks up a pass intended for Cincinnati wide receiver Kahlil Lewis in the third quarter at the Rose Bowl on Saturday.
(Luis Sinco / Los Angeles Times)
UCLA quarterback Dorian Thompson-Robinson scrambles out of the pocket against Cincinnati in the fourth quarter at the Rose Bowl on Saturday.
(Luis Sinco / Los Angeles Times)
Cincinnati running back Michael Warren II splits the defense of UCLA's Martin Andrus Jr. (44) and Quentin Lake (37) in the fourth quarter at the Rose Bowl on Saturday.
(Luis Sinco / Los Angeles Times)
Chip Kelly works the sideline in his first game as UCLA's head coach at the Rose Bowl in Pasadena on Saturday.
(Luis Sinco / Los Angeles Times)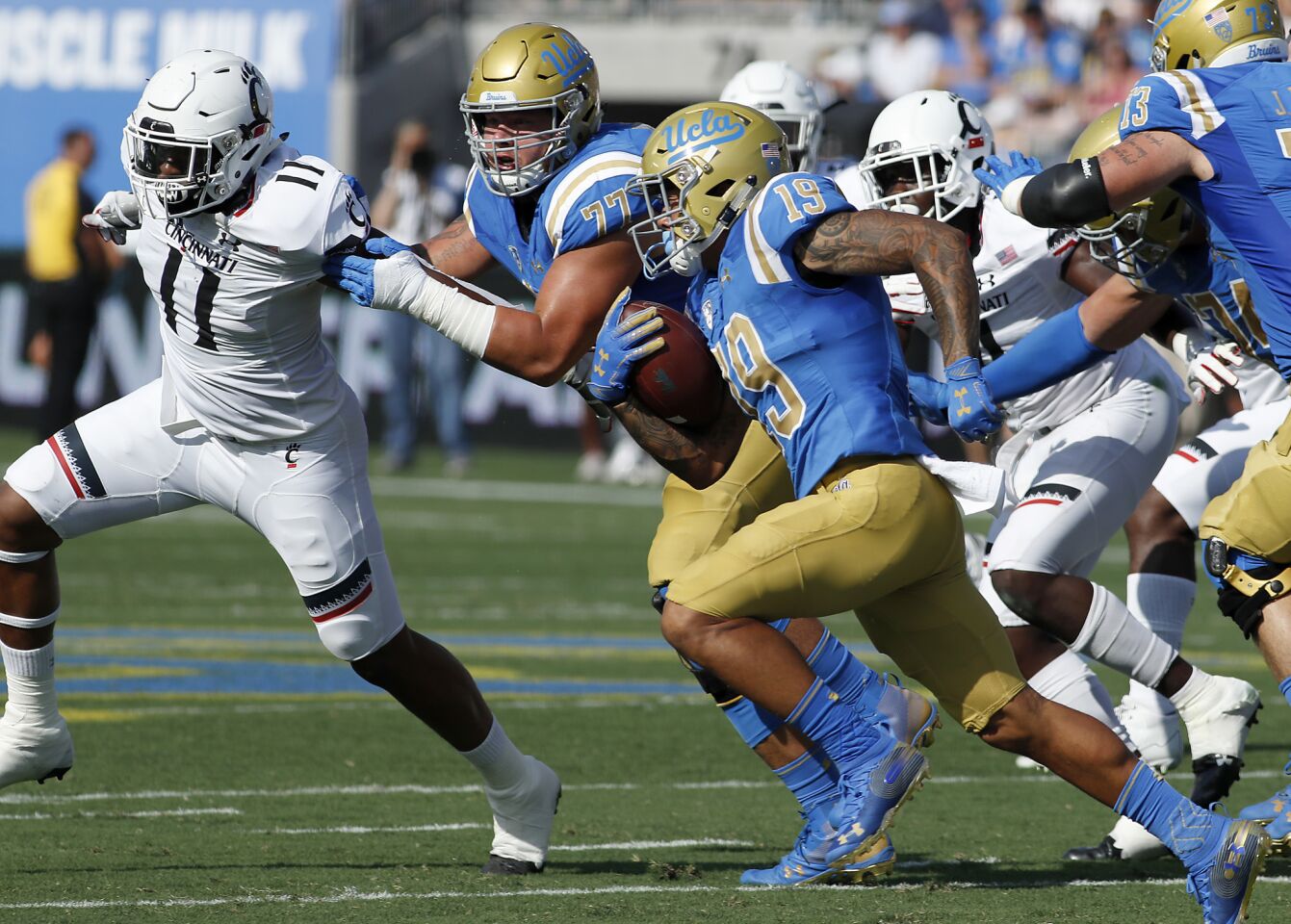 Bruins running back Kazmer Allen greaks off a big gain against Cincinnati in the first quarter at the Rose Bowl on Saturday.
(Luis Sinco / Los Angeles Times)
Fireworks were promised, and fireworks were delivered ... but only after both teams had left the field, in a postgame display that exploded above fans filing out of the half-filled Rose Bowl with grumbles and frowns.
"Are we disappointed? Yeah," said Kelly afterward. "Anytime you put the amount of time we do into something, that hurts."
It truly hurt. Surely, for many UCLA faithful who have been celebrating since Kelly arrived last November as the school's first celebrity football savior, it was more than three hours of flat disillusionment.
Yes, they played 11 true freshmen, and there were six players missing because of suspensions, and everyone knew this rebuilding project would take time, thus the five years on Kelly's UCLA record contract.
But even when understanding the enormity of the task that began with promising questions about the impact of Kelly's legendary fast-paced football culture ended with a string of deflating answers.
What do these new Bruins look like? They look like they've looked the last two seasons, minus Josh Rosen.
They were smashed in the mouth by a team that won eight games in the previous two seasons combined. They allowed 194 rushing yards, they couldn't mount a consistent rushing attack, and they actually ran nine fewer plays that the plodding Bearcats.
"Just too many mistakes, to be honest with you," said Kelly.
Did these new Bruins run wild as expected? Only once. It happened at the start of the second half, on a 74-yard touchdown sprint up the middle by true freshman Kazmeir Allen.
Yet Allen only carried the ball two more times after that, and no other Bruin running back had a run of longer than nine yards all day. Even after heralded freshman Dorian Thompson-Robinson replaced injured Wilton Speight in the second quarter, the offense often seemed to sputter aimlessly.
"It is a younger team with not a lot of experience; that's not an excuse, that's just the reality," Kelly said. "It is going to be a baptism under fire for them."
Were these new Bruins breathlessly exciting as they hurried up and down the field, just like Kelly's Oregon teams? Only once. It happened midway through the first quarter, after Bolu Olorunfunmi rushed to the Bearcat one-yard line. The Bruins hustled back to the line so quickly, Cincinnati was forced to call a timeout, after which Olorunfunmi scored on a one-yard run for the game's first score.
But on ensuing drives, it seemed like every time the Bruins would gear up, something would shut them down, a dropped pass, a penalty, a missed block, confusion.
"The competitive part of you is disappointed, but you have to correct it and fix it because nobody is feeling sorry for you," said Kelly. "What do you do about it? So what, now what, what do you do next? That's what our operation is, that's how you grow."
Kelly willingly took the postgame heat and heaped blame on himself, specifically for two late-game mishaps that cost the Bruins a chance at a comeback.
With the Bruins trailing, 19-17 and less than six minutes remaining, their offense faced a fourth-and-one from their own 36-yard line. Instead of punting and trusting a defense that had stifled the Bearcat offense on seven previous drives, Kelly went for it, and Thompson-Robinson threw a pass out of the reach of Dymond Lee.
"I thought we had a good shot at them, I knew we needed a spark, and had a little bit of momentum going, and tried to sustain it," said Kelly. "You make them, they're good calls, you don't make them, they're bad calls, and it was a bad call by me."
Bad became worse a few minutes later after Cincinnati drove to the UCLA two-yard line and prepared to attempt a field goal. But on that play, the Bruins were penalized for having 12 men on the field. Given an extra yard, the Bearcats went for the touchdown, and clinched the victory with a touchdown rush by Michael Warren.
"That's on the coaches," said Kelly. "We called for a block, but didn't communicate right, that's on the coaches, that's on us, that's something we have to fix."
There are many things these Bruins have to fix, and there's no time to fix them. They play at powerful Oklahoma next week, then host Fresno State, then travel to Colorado before hosting Washington in completing an early five-game gauntlet.
This first game was the one game everyone thought UCLA would win. This was going to be Chip Kelly's welcome gift. Instead, he's stumbled awkwardly through the front door and what do we all make of this?
On one hand, Kelly seemed much calmer than a post-loss Mora, much more thoughtful, and maybe that's what the young Bruins need.
"I've been around people in the locker room and you yell and rant and scream and kick over tables … well, heck, we should have used all that energy in the game," Kelly said.
"The one thing we can control; we can control our attitudes and we can control our effort. I thought they played with great effort. I thought they had great attitudes going in and they will continue to have great attitudes."
Yet, on the other hand, this was Kelly's first college-coached game in more than five years, and it looked like it. From sideline miscommunications to strange play calls to rookie mistakes, few on the Bruins sideline or field really seemed ready for this.
The Chip Kelly Era has only begun, but these beginnings could be far harsher than expected for everyone.
Including the coach. Especially the coach.
Get more of Bill Plaschke's work and follow him on Twitter @BillPlaschke
---
Get our high school sports newsletter
Prep Rally is devoted to the SoCal high school sports experience, bringing you scores, stories and a behind-the-scenes look at what makes prep sports so popular.
You may occasionally receive promotional content from the Los Angeles Times.