Newsletter: Essential California: Anger in the carpool lanes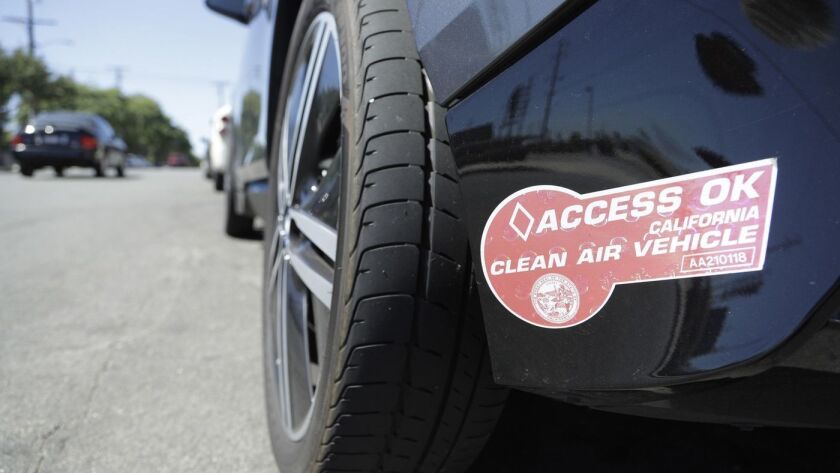 Good morning, and welcome to the Essential California newsletter. It's Tuesday, Sept. 18, and here's what's happening across California:
TOP STORIES
For some California commuters, cutting down on carbon emissions isn't a sexy enough reason to buy an electric car. But the ability to bypass freeway traffic without having to carpool — that's another story. So there is grumbling in high-occupancy-vehicle lanes across California these days. On Jan. 1, the owners of as many as 220,000 low- and zero-emission vehicles stand to lose the white and green clean-air decals that allow them to drive solo in the diamond lanes. Los Angeles Times
TV's big night
HBO's "Game of Thrones" and Amazon Prime Video's "The Marvelous Mrs. Maisel" captured the top honors in drama and comedy at the 70th Primetime Emmy Awards, while a tie between HBO and Netflix for most wins demonstrated just how splintered — and wide open — the television landscape has become in the era of streaming services. Los Angeles Times
-- While accepting his Emmy for directing for a variety special for his work on "The Oscars," Glenn Weiss went off script and gave the ceremony its first-ever marriage proposal. Los Angeles Times
-- In fact, it was a night of surprises. Los Angeles Times
A right not used
The right to return is a safeguard for renters displaced under the Ellis Act, a state law that allows landlords to evict tenants from rent-controlled units if they are tearing down a building or getting out of the rental business. Under L.A. city rules, if the landlord promptly backs out of those plans and leases the apartments again, former tenants are allowed to return at roughly the same rents. But tenant activists say it rarely works out that way. Los Angeles Times
Fighting the skeeters!
Ryan Amick and his colleagues at the Greater Los Angeles County Vector Control District are fighting the explosion of mosquitoes in Los Angeles this summer with mosquitofish. The small, silvery creatures will be delivered to backyard fountains and ornamental ponds throughout the region to help limit the number of mosquito larvae that grow up to be flying, biting, disease-carrying adults. Los Angeles Times
Get the Essential California newsletter »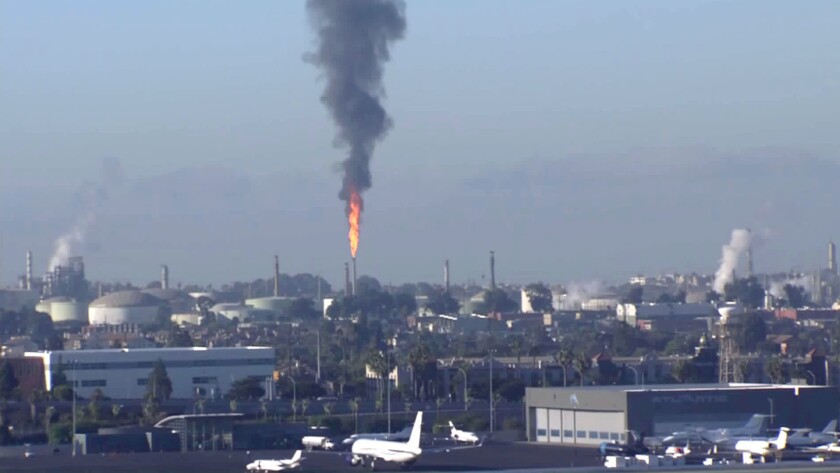 L.A. STORIES
That yuuuge plume: A flare-off at the Chevron oil refinery in El Segundo sent an enormous plume of black smoke billowing above the city Monday morning, fire officials said. Los Angeles Times
Sign of the times: As the opioid death toll worsens, California doctors will soon be required to perform prescription history database checks. Los Angeles Times
A #MeToo spat: Asia Argento and Rose McGowan, the actresses who bonded over shared allegations against producer Harvey Weinstein but later fell out over allegations that Argento sexually assaulted a minor, have continued to spar on Twitter. Los Angeles Times
Yum! "How an East Hollywood delicatessen became L.A.'s 'second Chilean Consulate.' " Los Angeles Magazine
Watch: "Los Angeles County Fire Department's swift water rescue team saved a man trapped in his nearly submerged vehicle in North Carolina this weekend as Hurricane Florence battered the Carolinas." ABC News
IMMIGRATION AND THE BORDER
South of the border: Mexican authorities said Monday that they discovered three cargo trucks packed with 124 parched and undernourished Central American immigrants— nearly half of whom were children. Los Angeles Times
In Tijuana: "You've heard about the family separations. You've heard about the travel ban. But there are dozens of ways the Trump administration is cracking down on immigration across many agencies, sometimes in ways so small and technical it doesn't make headlines." This American Life
Cool story: More and more Mayan immigrants are making their way to Oakland. Mercury News
POLITICS AND GOVERNMENT
In D.C.: Supreme Court nominee Brett Kavanaugh and the California professor accusing him of a decades-old sexual assault will testify publicly Monday about the allegation, throwing his carefully planned Senate confirmation — once seen as a sure bet — into limbo. Los Angeles Times
Mark your calendars: There will be one debate between the two gubernatorial candidates on Oct. 8. San Francisco Chronicle
On the bus: "Crisscrossing longtime Reagan Revolution territory in his 'Big Blue' campaign bus this weekend, Democratic gubernatorial candidate Gavin Newsom — enjoying a comfortable cushion in the polls — has turned his focus to driving the resistance." Politico
DECISION CALIFORNIA
Close race: Republican Young Kim holds a slight edge over Democrat Gil Cisneros in the fiercely contested race to succeed GOP Rep. Ed Royce of Fullerton, according to a poll released Tuesday. Los Angeles Times
Plus: "Can vulnerable California Republicans stay out of Trump's shadow?"FiveThirtyEight
Get more midterm election coverage on our Decision California page.
CRIME AND COURTS
Wild: Actor-comedian Tom Arnold filed a report with the Los Angeles Police Department on Monday accusing "The Apprentice" TV executive producer Mark Burnett of battery at a pre-Emmy party in dispute over the comedian's pursuit of information on President Trump for a TV show. Los Angeles Times
Attacks on the homeless: Three homeless men were brutally beaten with a baseball bat while they slept on downtown Los Angeles streets early Sunday morning, and authorities were warning people in homeless encampments to be on alert for a possible predator. Los Angeles Times
Weed delivery: Police chiefs from across the state are warning that there will be increased crime if California allows pot deliveries statewide. Los Angeles Times
THE ENVIRONMENT
Jerry's legacy: California plans to show the world how to meet the Paris climate target. The Guardian
Bear on the loose! "Redding police officers 'pursued' a bear through Redding Monday morning…. Law enforcement said the bear is a male, and is estimated to weigh around 300 pounds." KCRA
CALIFORNIA CULTURE
Delay delay delay: Tesla Inc. Chief Executive Elon Musk acknowledged Sunday that his company has been slow in getting new electric Model 3 cars to waiting customers, calling the problem "delivery logistics hell." Los Angeles Times
Plus: A British diver who helped rescue youth soccer players trapped in a cave in Thailand is suing Musk, alleging that Musk falsely accused him of being a pedophile. Los Angeles Times
From Syria to Southern California: "Refugees seek care for the wounds of war." California Healthline
Great story: The former Green Beret who inspired Colin Kaepernick to kneel instead of sit during the anthem would like to clear a few things up. Los Angeles Times
Sold! Marc Benioff, the billionaire co-founder of software maker Salesforce.com Inc., is making a play to project his influence far beyond Silicon Valley with the purchase of Time magazine. Bloomberg
Homesick in NYC? If you're ever in New York City and missing California, here's where you should go eat. Eater LA
From the LAT to a screen near you: "Eric Bana is the perfect Dirty John in the first teaser of the podcast-turned-TV show." Vanity Fair
CALIFORNIA ALMANAC
Los Angeles area: Sunny, 80, Tuesday and Wednesday. San Diego: Partly cloudy, 76, Tuesday and Wednesday. San Francisco area: Partly cloudy, 63, Tuesday. Sunny, 68, Wednesday. San Jose: Partly cloudy, 73, Tuesday. Sunny, 80, Wednesday. Sacramento: Partly cloudy, 80, Tuesday. Sunny, 89, Wednesday. More weather is here.
AND FINALLY
Today's California memory comes from Shirley Stuart:
"Way back in 1967, one summer Sunday, I went to San Francisco's Golden Gate Park, not to participate in a love fest, nor to hear Big Brother and the Holding Company or any of the other hot bands of the time, but to see my then-current boyfriend play the clarinet in the Golden Gate Park Band, which has given free Sunday concerts in the park since September 1882.
"Most of the audience was made up of old-time San Franciscans, some dressed in their Sunday best, but I was wearing a favorite outfit of the time, a bright red cotton knit mini-dress that wasn't much longer than a T-shirt, and black fishnet stockings. The weather was not the usual chilly, foggy weather, but a smashingly beautiful sunny day. I was seated in the front row for the whole two hours of the concert.
"When I got home that evening and took off my fishnets, there were tiny red diamonds of sunburn all over my legs. I didn't know whether to laugh or cry."
If you have a memory or story about the Golden State, share it with us. Send us an email to let us know what you love or fondly remember about our state. (Please keep your story to 100 words.)
Please let us know what we can do to make this newsletter more useful to you. Send comments, complaints and ideas to Benjamin Oreskes and Shelby Grad. Also follow them on Twitter @boreskes and @shelbygrad.
---