Republican holds slight edge in House race to replace Ed Royce, poll finds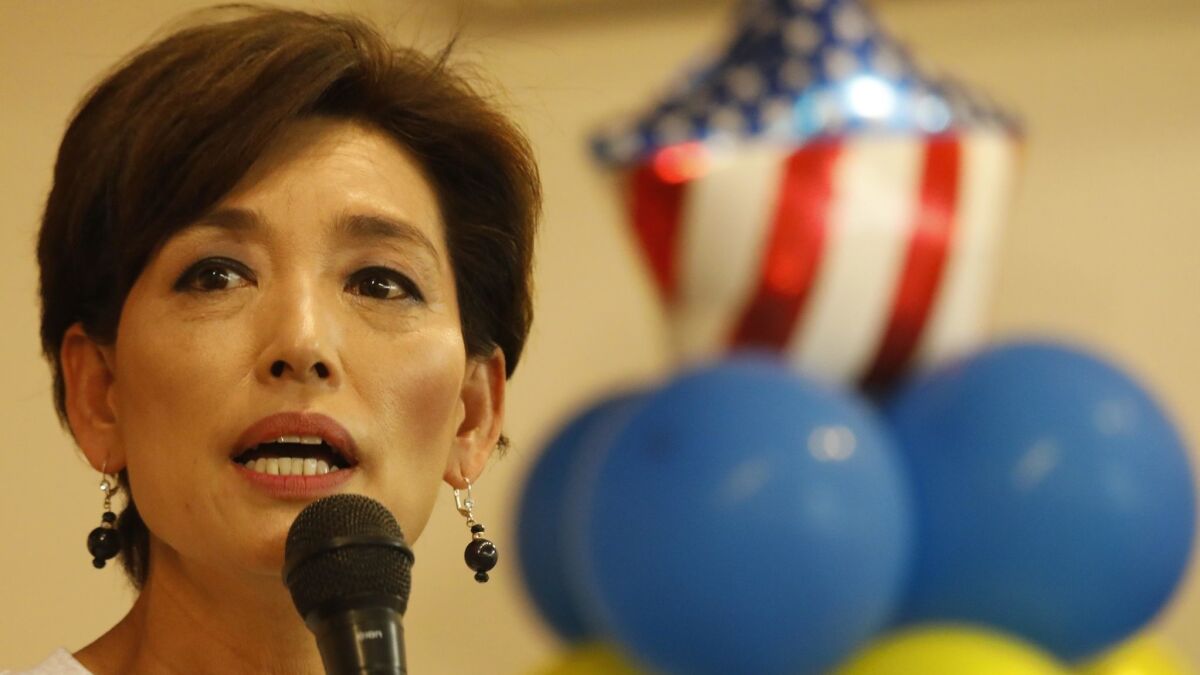 Republican Young Kim holds a slight edge over Democrat Gil Cisneros in the fiercely contested race to succeed GOP Rep. Ed Royce of Fullerton, according to a poll released Tuesday.
But Kim's lead among potential voters, 46% to 42%, falls within the margin of error in the nonpartisan Monmouth University survey, and the poll included some worrisome findings for the Republican.
The closeness of the race in a district that used to lean strongly Republican underscores the party's difficulties in a midterm election campaign driven largely by the unpopularity of President Trump.
Like Cisneros, 47, a onetime Frito-Lay shipping manager who won a $255 million lottery jackpot, Kim is not well known. A majority of voters had no opinion of either candidate, the poll found.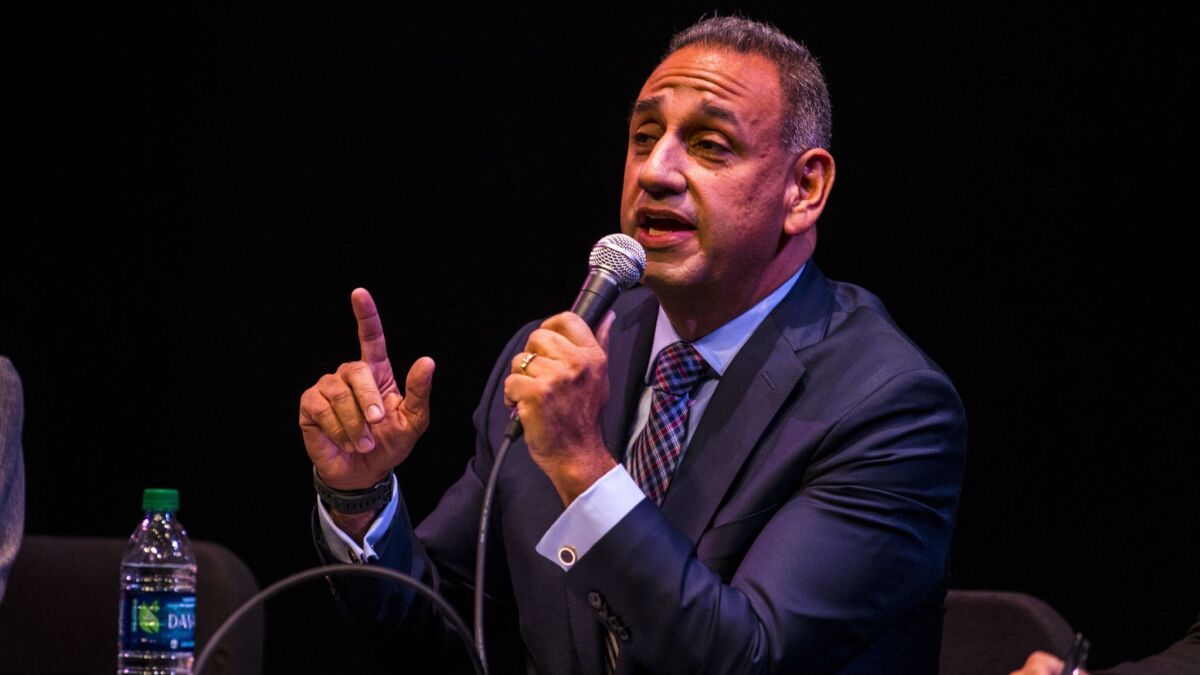 A longtime Royce aide, Kim, 55, won a state Assembly seat in 2014, but was ousted by a Democrat two years later.
Nearly 4 out of 5 voters in the district said it was important that their vote in the House contest reflect their opinion of Trump.
Voters were evenly split on whether they approve of Trump's job performance. But in a sign of potentially robust Democratic turnout, those who strongly disapproved of Trump outweighed those who strongly approved. That fits a national pattern that has alarmed Republicans from coast to coast.
Royce is one of more than three dozen Republicans in Congress who have declined to seek reelection. Historically, it's easier to win an open seat than oust an incumbent.
Republican registration in the district has been edging downward in recent years while the share of Democrats and independents has been rising. It is now 35% Republican, 34% Democrat and 31% unaffiliated with either major party.
The district, which includes Fullerton, Diamond Bar and Chino, is also increasingly diverse, with a population now almost evenly split among Latinos, Asian Americans and whites. Just over 2% of its residents are black.
In 2016, Hillary Clinton beat Trump there by 9 percentage points, even as Royce clobbered his Democratic challenger by 14 percentage points. Trump's loss has made Royce's seat one of the top targets in the country for Democrats as they try to seize control of the House; they would need to capture 23 seats now held by Republicans.
But many voters who cast ballots for Democrats in presidential races tend to skip midterm elections.
"The problem for Cisneros is that the strongest anti-Trump voters are also among the least likely to show up in November," said Patrick Murray, director of the Monmouth University Polling Institute.
The random telephone survey of 402 potential voters was conducted from Sept. 13-16. They were drawn from a list of registered voters who cast ballots in at least one of the last four primary or general elections or who have registered to vote since January 2016. The margin of sampling error was plus or minus 4.9 percentage points.
Twitter: @finneganLAT
---
Life is stressful. Our weekly mental wellness newsletter can help.
You may occasionally receive promotional content from the Los Angeles Times.