HBO ties Netflix for most Emmy wins, 23, on the strength of 'Game of Thrones'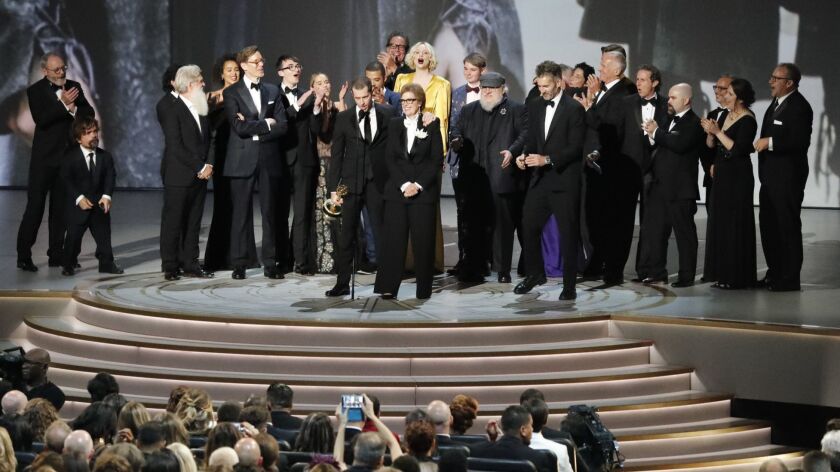 It was a nail-biter until the last award was won.
HBO's "Game of Thrones" and Amazon Prime Video's "The Marvelous Mrs. Maisel" captured the top honors in drama and comedy at the 70th Primetime Emmy Awards, while a tie between HBO and Netflix for most wins demonstrated just how splintered — and wide open — the television landscape has become in the era of streaming services.
When the Emmy nominations were announced in July, Netflix seemed the big winner, dethroning HBO, television's long-reigning tastemaker, with 112 nominations compared to 108. It marked the first time in 17 years that the premium network had fallen short in the tally for TV excellence.
But redemption for HBO came Monday night during the three-hour ceremony televised by NBC. With wins for "Game of Thrones," "Westworld" and "Barry" among others, HBO came away with 23 Emmys, as did Netflix, which picked up trophies in acting categories for "Godless" and British monarchy drama "The Crown."
The complete list of winners at the 70th Primetime Emmy Awards »
NBC came in third with 16; "Saturday Night Live" won for the second year in a row for best variety and sketch series, allowing this year's Emmy producer Lorne Michaels to play a role onstage as well as backstage. FX Networks landed 12 Emmys on the strength of the Russian espionage drama "The Americans," which won its first writing and lead actor awards for its final season, and the limited series, "The Assassination of Gianni Versace: American Crime Story."
Netflix went into the awards show, held at the Microsoft Theater in downtown Los Angeles, seeking affirmation for its the-sky-is-the limit spending strategy. The Los Gatos-based streaming service is shelling out well over $8 billion this year for content in an effort to woo top talent and stock its catalog to keep its subscribers paying each month.
HBO has a smaller programming budget, about $2 billion, but it had plenty to prove too. Telecommunications giant AT&T acquired the premium network, along with CNN, TNT and the Burbank-based Warner Bros. film and television studio in June. And the phone brass in Dallas immediately wanted to know why HBO had failed to score the most Emmy nominations this year.
For much of the night, Netflix stayed slightly ahead of HBO in the win column. The race wasn't decided until the final award of the night, which went to HBO's cinematic "Game of Thrones" in the drama series category. The big-budget swords-and-dragons drama sat out of the competition in 2017, when HBO won 29 awards.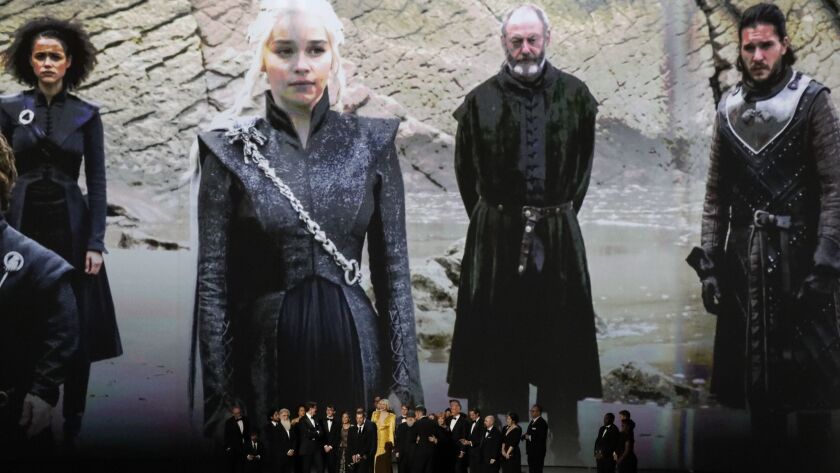 PHOTOS: Emmys 2018 | Show highlights »
But this year, it proved crucial to HBO's Emmy night success. HBO had already grabbed 17 statuettes last weekend at the Creative Arts Emmy Awards, which recognizes excellence in such fields as cinematography, visual effects, music supervision and costume design. Seven of the awards came from technical achievement for "Game of Thrones," and the program captured two more on Monday.
"HBO, there is no better place to work," "Game of Thrones" executive producer David Benioff said as the large cast and crew gathered on stage to collect the top prize.
Benioff's pronouncement was something of a throwdown in the battle for talent that has been waging across Hollywood in recent years. Executives with HBO, Fox, NBC and other legacy networks have struggled to persuade top show producers to remain in the fold rather than defect to the deep-pocketed Netflix, Amazon or Apple Inc. In the last year, such brand-name producers as Shonda Rhimes, Kenya Barris and Ryan Murphy have abandoned their longtime homes at ABC and Fox in favor of lucrative deals at Netflix.
Netflix increased its total over last year by three awards.
Amazon, meanwhile, swept through the comedy categories, becoming the first streaming service to win the award for comedy series. "The Marvelous Mrs. Maisel" won eight Emmys, including for actress, supporting actress, directing, writing and comedy. It was a satisfying end to a tough year, which saw a shakeup of the studio's management last fall — several top executives were ousted amid the #MeToo movement, in part, because of a perception that they were fostering a culture that was hostile to women. "Mrs. Maisel," in which a young married mother suddenly has to stand on her own two feet, was not just redemptive for the studio, it also provided a sweet victory for the show's creators Amy Sherman-Palladino and Daniel Palladino, who generated a cult following for their WB series "Gilmore Girls," but that never translated into much love at the Emmys.
FULL COVERAGE: 2018 Emmy Awards »
While always important to those in the television industry, the Emmys have recently become very big business. Netflix spent lavishly — well over $15 million, according to industry insiders — to promote its shows, more than double what HBO, cable network FX and others individually spent on their Emmy campaigns. It certainly paid off in the very crowded acting categories, with Claire Foy pulling a surprise win for her portrayal of Queen Elizabeth II in "The Crown" and Regina King winning for her lead role in "Seven Seconds;" Jeff Daniels and Merritt Wever winning for "Godless."
Beyond the prestige they bring, nominations have a financial benefit too. Touting "Emmy nominated" shows helps Netflix, Amazon and Hulu market their services. A decade ago, winning an Emmy barely moved the needle on DVD sales but now the honor is the ultimate way to distinguish yourself in a crowded landscape, to help viewers figure out what to watch amid the sea of 450 original series being produced this year.
In years past, Television Academy voters were known for getting stuck in a rut, handing statuettes to the same stars and programs year after year. Think "Cheers," "Frasier," "Saturday Night Live" and "The Simpsons." But with a few exceptions, the entrance of streaming services have made the awards more scattershot.
Last year, Hulu's dystopian series "The Handmaid's Tale" won big, and became the first drama to win for a streaming service. But this year, it went without any major awards. Last year HBO cleaned up with "Veep" and "Big Little Lies," which won the limited series category. This year, HBO did not field a limited series, and though "Barry" scored two acting awards for Bill Hader and Henry Winkler, the absence of "Veep" certainly didn't hurt "Mrs. Maisel's" chances.
Though the popular NBC series "This Is Us" was shut out of the major categories, multiple networks captured Emmys, which underscored just how wide open the field is for viewers' attention.
"The nominations — and wins — really do point to the changing television landscape. It's a seismic shift," said Richard Licata, a longtime TV public relations executive who helps manage Emmy campaigns, including the campaign for "Mrs. Maisel."
"We are seeing more selections — and more diversity — than we were 10 or 20 years ago," he said.
Twitter: @MegJamesLAT
---
Inside the business of entertainment
The Wide Shot brings you news, analysis and insights on everything from streaming wars to production — and what it all means for the future.
You may occasionally receive promotional content from the Los Angeles Times.