Newsletter: Essential California: A shaky earthquake warning system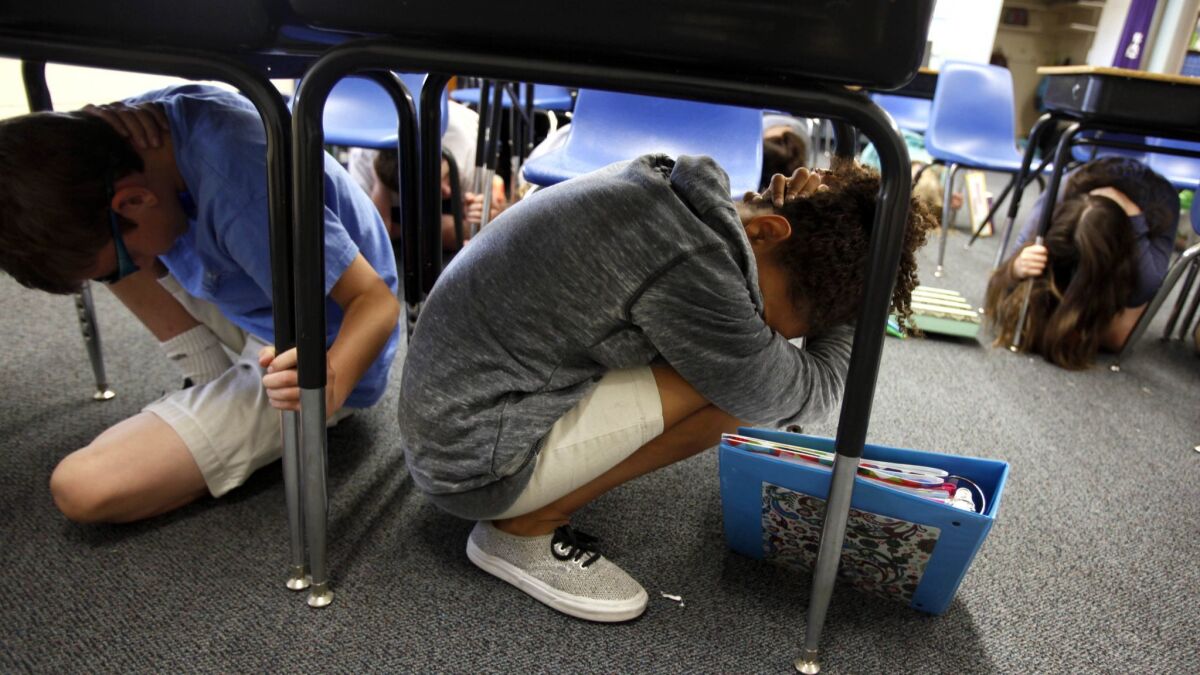 Good morning, and welcome to the Essential California newsletter. It's Thursday, Oct. 11, and here's what's happening across California:
TOP STORIES
California is getting closer to what officials say will be the world's most sophisticated earthquake warning system. But the new system is expected to bring its own questions and frustrations. As residents of Japan, Mexico and other places that already have the alerts have learned, the systems come with false alarms and missed warnings. There are also concerns that wireless services might not be fast enough to send out the alerts to the public before the shaking begins. Los Angeles Times
Disney vs. Anaheim
The Walt Disney Co. has canceled plans to build a 700-room luxury hotel near its Anaheim resort, citing the city's elimination of a tax rebate agreement that would have saved the media giant $267 million over 20 years. The cancellation of the hotel — which would have been the fourth at the resort — highlights growing tensions between the Burbank company and the city of Anaheim, once considered a reliable business partner for Disney. Los Angeles Times
Plus: Business leaders and union organizers clashed at a crowded Anaheim City Council meeting Tuesday night as the city attorney delivered his legal opinion that the Disneyland Resort won't be subject to a Nov. 6 ballot measure requiring certain hospitality businesses to pay workers a "living wage." Los Angeles Times
Sipping from the Colorado River
After years of talks, the states that take water from the drought-plagued Colorado River are nearing an agreement on how to share delivery cuts if a formal shortage is declared on the river. Under a tentative proposal, California would reduce its Lake Mead withdrawals 4.5% to 8%. Los Angeles Times
Get the Essential California newsletter »
L.A. STORIES
Happening in Hollywood: As a new CEO takes the reins, Time's Up leaders look to Christine Blasey Ford for inspiration. Los Angeles Times
Filing suit: Three women filed a federal lawsuit against Huntington Memorial Hospital and one of its longest serving obstetricians Wednesday, alleging that the physician subjected them to unwanted sexual remarks during exams in the 1990s. Los Angeles Times
What's up in Maywood? After being convicted of criminal charges related to the death of a pit bull named Hershey, the mayor of Maywood is mounting an unusual two-pronged defense as he tries to avoid jail time. Los Angeles Times
LA 2028: A grass-roots organization called NOlympics LA released poll results Tuesday stating that 45% of respondents from Los Angeles County and 47% from across California oppose bringing the 2028 Summer Games to Los Angeles. Los Angeles Times
Watch: It's been a crazy year for the news business in Southern California. This documentary explains why. KCET
IMMIGRATION AND THE BORDER
Coalition comes together: Health officials, physician groups, hospitals and patient advocates across the country are strongly condemning the Trump administration's proposal to restrict immigrants' access to green cards if they use the healthcare safety net, warning of risks to public health and government finances. Los Angeles Times
A wow story: "Three men who were on the scene when a Border Patrol agent shot and killed a 20-year-old Guatemalan woman near the U.S.-Mexico border in May are expected to be deported soon." BuzzFeed
POLITICS AND GOVERNMENT
Crunching the numbers: Eliminating California's inheritance tax break for vacation houses and rental property and restricting its use to primary homes could raise $2 billion a year in property taxes over time, according to a new analysis. Los Angeles Times
On the ballot: California is an economic powerhouse. Will a new governor be able to keep it that way? New York Times
In Santa Clarita: When a California town's newspaper got troubling new owners, critics started their own. Columbia Journalism Review
Trying to help: "The San Francisco school board took a small step toward increasing access to the academically elite Lowell High School, allowing all qualified applicants from a predominantly black middle school to automatically earn admission." San Francisco Chronicle
CRIME AND COURTS
Ugh: Vandals defaced the Old Mission Santa Barbara, scrawling "rape" on several pillars and misspelling the word "genocide" with red paint on the stone front of the historic building, police said. Los Angeles Times
Not allowed! An L.A. antiques dealer has been convicted of illegally selling ivory narwhal tusks, City Atty. Mike Feuer's office said Tuesday. Los Angeles Times
Russian meddling: "A federal judge on Wednesday sentenced a California man to six months in prison and six months of home confinement after he pleaded guilty to a felony identity fraud charge tied to Russian troll activity that rocked the 2016 presidential campaign." Politico
THE ENVIRONMENT
Amazing visuals: Watch science and art in action in these award-winning microscopic videos. Los Angeles Times
CALIFORNIA CULTURE
A man in the news: After 30 years in Rupert Murdoch's empire, Peter Rice faces new challenges in Disney's kingdom. Los Angeles Times
Megan Ellison mystery: What's going on at Annapurna Pictures? The Hollywood Reporter
A jack in the fight: A group of Jack in the Box's franchisees is calling for the ouster of Chief Executive Leonard Comma, claiming the San Diego quick-service restaurant brand is not spending enough to support them. San Diego Union-Tribune
Tsk, tsk: Los Angeles is the "worst bike city in America." Bicycling Magazine
CALIFORNIA ALMANAC
Los Angeles area: partly cloudy, 70, Thursday; sunny, 81, Friday. San Diego: partly cloudy, 71, Thursday; partly cloudy, 75, Friday. San Francisco area: sunny, 64, Thursday; sunny, 72, Friday. San Jose: partly cloudy, 72, Thursday; sunny, 81, Friday. Sacramento: sunny, 80, Thursday; sunny, 86, Friday. More weather is here.
AND FINALLY
Today's California memory comes from Mark Hastings:
"My cousin graduated from college, bought a new convertible and got a job in Santa Ana teaching. She ended up in Laguna Beach, where my brother and I were invited. I was 12 years old, my brother was younger, and both of us were ready for adventure, away from parents. Dressed in surfer shirts and feeling cool, we soon found California had it all: frozen bananas, an ocean and bikinis, modest by today's standards. Oh, and Disneyland, where we spent an entire day and at sundown saw fireworks. We were exhausted, to this day 50 years later. Wow. California, here I come."
If you have a memory or story about the Golden State, share it with us. Send us an email to let us know what you love or fondly remember about our state. (Please keep your story to 100 words.)
Please let us know what we can do to make this newsletter more useful to you. Send comments, complaints and ideas to Benjamin Oreskes and Shelby Grad. Also follow them on Twitter @boreskes and @shelbygrad.
The stories shaping California
Get up to speed with our Essential California newsletter, sent six days a week.
You may occasionally receive promotional content from the Los Angeles Times.