Newsletter: Play Next: The story behind a podcast's original music
Good morning, I'm Paige Hymson, a podcast producer here at The Times. Let's talk about music. This week we're giving you an inside look at the beauty of music in audio storytelling.
As you listen to the latest episodes of "Man in the Window," you'll notice a musical score throughout the series. Music helps make stories more engaging and intimate. It's a tool that captivates listeners and propels audiences through storytelling. We wanted to learn more about the creative process behind composing music for podcasts, so we went behind the scenes with the composer who created the original score for this podcast. We asked her about how she was able to envision and execute a composition for such a dark and disturbing story.
But first, if you haven't already, make sure you download and subscribe to the "Man in the Window" podcast. Episode 5 was released today, and the next episode will be available on July 2.
Download and listen to the podcast now, and subscribe wherever you listen to podcasts »
Q&A
We spoke with Allison Leyton-Brown, who composed original music for the "Man in the Window" podcast, about her vision and what influenced her creative choices.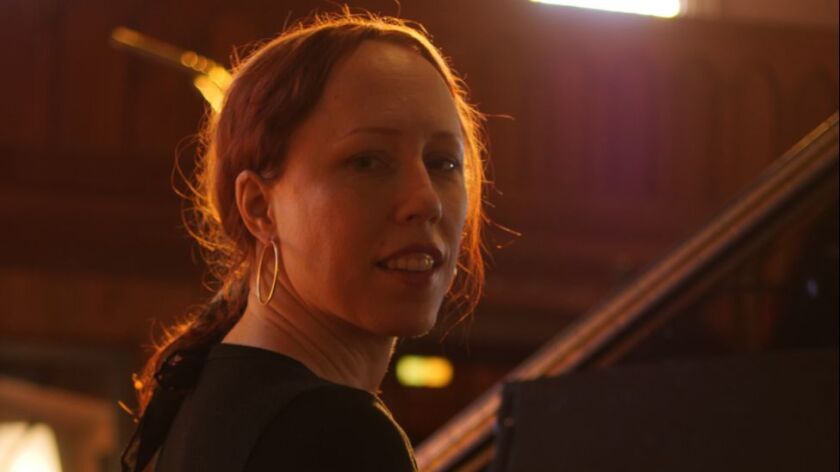 Describe the music you composed for "Man in the Window."
The score for "Man in the Window" is intimate, creepy and atmospheric. It's based around a small chamber ensemble of classical instruments — woodwinds, cello, piano and upright bass. I really wanted the texture and tone of each instrument to speak clearly and the score to give room for each instrument to be featured. Additionally, there are synths and processed elements used to juxtapose the organic sounds and take us to some really dark places.
How did you develop a specific tone to fit such a dark story?
I was inspired by the idea of each instrument "speaking" for the various main characters in the story. Joe, for example, is described as heavily breathing, and so the sound of breath became a jumping-off point for my use of woodwind instruments like the contralto clarinet and the flute. When we recorded them, attention was paid to the mic placement so that the sound of the great Stuart Bogie's breath became interwoven with the musical lines. We also played in the studio with effects created by each of the instruments that felt otherworldly and highly unnerving. Ashley Bathgate (cello) and John Murchison (bass) are two incredibly creative and capable players. Their sense of freedom and experimentation in the studio was inspiring. And they made some incredibly creepy and cool sounds.
How much of the story did you hear before you began to compose?
I was familiar only with the main points of the story before I dove in. I prefer to initially approach a score from a wider lens. It allows me to enter the world of the story rather than getting caught up in the details too early. When I can access the main emotions and broader story arcs, the ideas start to flow. Later on, once the main themes are there, I'll read or listen to an episode and refine my vision to highlight the details.
Can you describe your creative process when asked to compose original music?
I generally start by defining the palette I will use for each score. As I explore the world of the piece, I make choices about the kinds of instruments I will use to tell the story. From there, I begin experimenting with textures and melodic motifs that will become the main themes of the score. The main themes are later broken into variations and interwoven to create a unified and immersive experience for the listener.
What does music do for audiences to enhance their listening experience?
Music takes us to other levels of understanding and experience, beyond what words are capable of. It can reach parts of our being that are purely experiential, triggering emotion or memory. Music frees us to enter a moment or a story from a nonlinear, non-literal place and thus a purely honest one.
Do you have any favorite scores in other podcasts that you've heard?
I quite liked the score to "S-Town." I'm always on the lookout for more great music.
Do you listen to other podcasts regularly?
I have composed for so many podcasts in the last several years that I find myself working on podcasts more than listening to them for pleasure! That said, there are various podcasts I absolutely love and come back to. Usually, if I have time to just put something on, I like to listen to story shows like "The Moth" where each individual story can spark inspiration for me.
What advice do you have for aspiring musicians?
Others will inspire us, but the voice that matters the most is your own. Attempting to sound like someone else is just an exercise and not the true work of an artist. Trust your instincts and allow yourself the freedom to try and fail. Great ideas are born from moments we either take leaps or sit in the stillness and listen to our own hearts. Both are equally valid and thrilling. There is room for all of us and all of our music in this world!
Subscribe to the Play Next podcast newsletter »
Do you have questions or comments for us? Email us at podcasts@latimes.com
Picks of the week
Each week, different Times staff members will share their personal podcast recommendations with you. Here's what Katie Cooper, a podcast producer for the L.A. Times, is listening to now:
"In the Dark" Season 2, APM Reports: Host Madeleine Baran and her team investigate why a white district attorney in Mississippi, Doug Evans, has repeatedly prosecuted Curtis Flowers, a black man, for the killings of four people in 1996. Over the course of 11 episodes, Baran systematically and stunningly chips away at the case against Flowers — who's been incarcerated for more than two decades. The podcast also raises questions about Evans' motives and tactics. While the focus is on the Flowers case, the racial disparities in the criminal justice system hang over the show.
"Trump, Inc.," WNYC and ProPublica: In a sea of news related to President Trump, this in-depth investigative podcast keeps its eye on the business dealings of the president and his family, as well as other people around them. The chatting between reporters and hosts, including Andrea Bernstein, Ilya Marritz and Heather Vogell, breaks down details in an understandable way as the podcast looks at potential conflicts of interest, the possible relationship between Trump's policy decisions and his profits, as well as the sources of his income before sitting in the Oval Office. Some of the extensively researched episodes are on the biggest Trump stories of the moment, while others are on Trump business deals that have happened below the radar.
"One Heat Minute," Blake Howard: There are two things to know about this podcast: Host Blake Howard loves Michael Mann's 1995 film "Heat," starring Al Pacino and Robert De Niro, and he wants to talk about it minute by minute — literally, all 170 minutes of it. Howard, who lives in Sydney, Australia, obsesses over details, analyzes the characters' motives and reflects on other roles that many of the actors have had. But Howard's romance with "Heat" is infectious, and you're likely to start longing to watch (or re-watch) the Los Angeles-based heist film before long. The podcast started with Howard talking to friends, but he's gradually added more prominent guests, and its finale will feature Mann himself. On The Times' "The Reel" podcast, host Mark Olsen talks with Howard for the episode scheduled to drop on July 5.
Special thanks to Camila Victoriano of the L.A. Times Studio for helping to develop this newsletter.
Coming Up
Next time on "Man in the Window": The hunt for the rapist and killer continues. Investigators and police officers must face the reality that they may never catch the person they've been searching for. But some refuse to give up on the investigation, and eventually new technology and DNA testing changes everything.
Don't know what to listen to after you finish "Man in the Window"? You're in luck! We have a brand-new podcast coming up in July. It starts in 1960s Los Angeles, after the catastrophic Watts riots, where an outsized character emerged — one who found an unexpected way to unite people across race and class. From the Los Angeles Times, "Larger Than Life" is a documentary podcast reported, written and hosted by Times staff writer Daniel Miller and produced by the L.A. Times Studio. In the meantime, join the "Larger Than Life" Facebook group here where we'll be sharing parts of the story and discussing it with members of the group.
Have a smart home device? Ask to hear "Los Angeles Times" news briefs every weekday for all the latest updates. Here's how.
Thank you for reading this newsletter from the Los Angeles Times.
Invite family, friends and colleagues to sign up here.
Not a subscriber? Get unlimited digital access to latimes.com. Subscribe here.
---