Newsletter: Today: Will the Senate Get to the Bottom of Russiagate?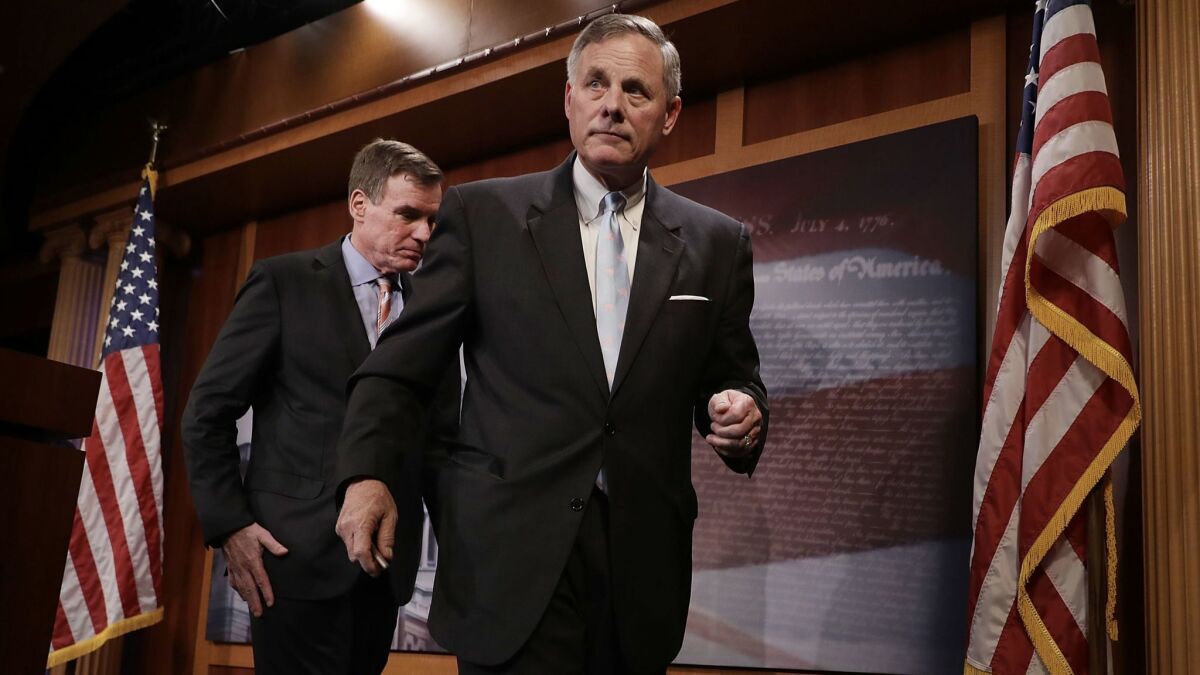 The U.S. Senate is gearing up for "one of the biggest investigations" in years. I'm Davan Maharaj, editor-in-chief of the Los Angeles Times. Here are some story lines I don't want you to miss today.
TOP STORIES
Will the Senate Get to the Bottom of Russiagate?
With the House investigation stalled and the FBI's wall of relative silence, the Senate Intelligence Committee will take the spotlight today when it holds its first public hearing in its probe of Russian election meddling and any potential ties to Donald Trump's campaign. Avoiding the House's partisanship, at least for now, senators have vowed to take the high road to go "wherever the intelligence leads us," as Chairman Richard Burr said, with ranking Democrat Mark Warner at his side.
In a Trade Fight With Trump, Mexico Has a Corn Bargaining Chip
In Iowa, where the tall corn grows, farmers are looking on with concern as President Trump threatens Mexico with drastic changes on trade. Iowa exported about 75% of its corn to south of the border last year, but Mexican leaders are weighing a boycott of U.S. corn, considering Argentina and Brazil as suppliers and talking of becoming self-sufficient in the long run.
More Politics
-- A federal judge in Hawaii has extended his order blocking Trump's revised travel ban.
-- GOP lawmakers in North Carolina say they have a deal with the Democratic governor to resolve a standoff over the state's "bathroom bill."
-- Ivanka Trump is taking on a more formal White House role with a title but not a paycheck. The move is meant to quell ethics concerns.
-- Seattle has filed a lawsuit against the Trump administration over its threat to cut off funds to so-called sanctuary cities.
Islamic State or Not? Check the List
Thousands of civilians are still fleeing Mosul as Iraqi forces try to retake the city from Islamic State. That poses some extreme vetting challenges. Before being allowed to enter a camp for displaced people, men must turn in their IDs, which are checked against a spreadsheet containing names of more than 40,000 Islamic State suspects. Sometimes unreliable informants come into play, as do tensions between the fleeing Sunnis and the mostly Shiite government.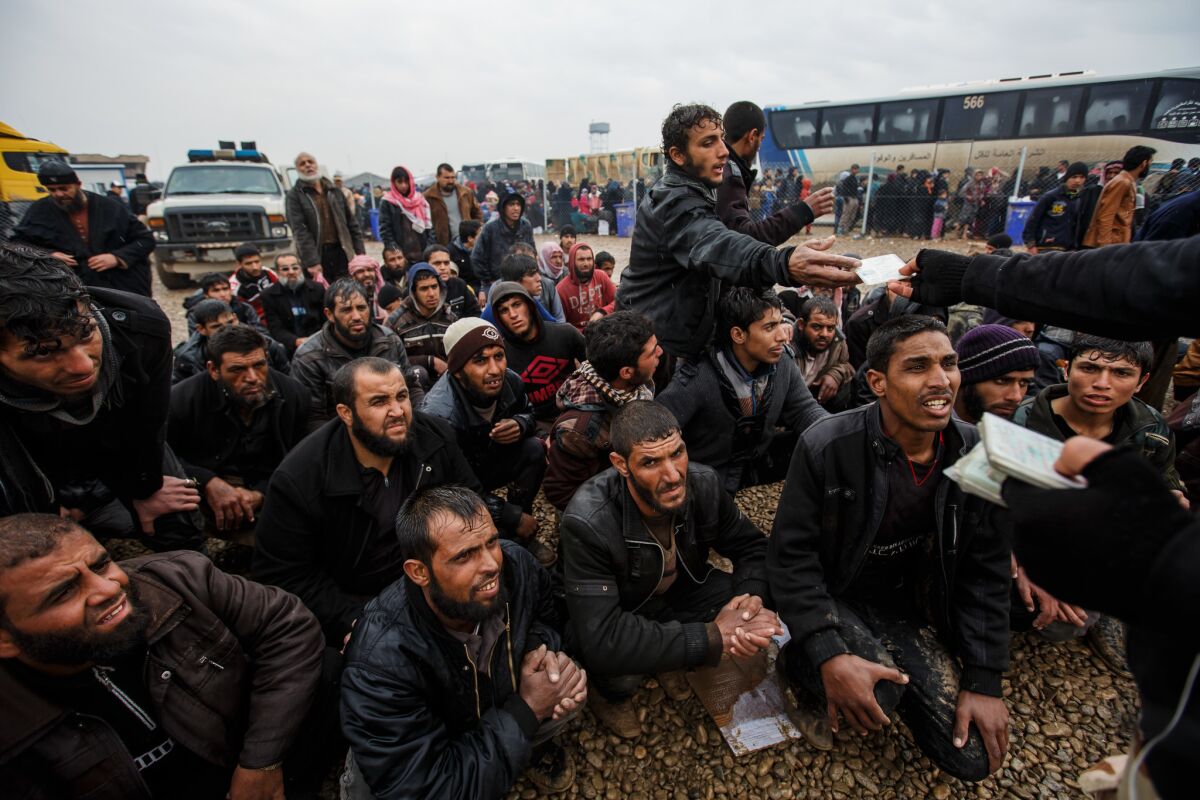 No Need to Wait for Trump to Fix California's Roads, but ...
Are you willing to pay 12 cents a gallon more for gas and a new yearly vehicle fee to fix California's roads and increase mass transit? That's what Gov. Jerry Brown and other Democrats are proposing, and they're not waiting to find out how much President Trump's infrastructure plans might give the state. But with many Republicans in opposition, it's not clear if they'll get the two-thirds vote needed in both houses of the Legislature to proceed.
How Did That Civil Servant Get the Fancy Wheels?
At Compton City Hall, workers said they noticed one colleague always had the newest cellphone, paid for office parties and drove a black Audi sedan. How did Salvador Galvan, a former deputy city treasurer, do it? Prosecutors allege he skimmed more than $3.7 million over the last six years off parking tickets, trash bills and other municipal fees.
CALIFORNIA
-- Pomona leaders are wrestling with a homelessness dilemma: Enforce or assist?
-- Federal agents in San Diego have arrested the attorney general for the Mexican state of Nayarit on charges that he conspired to smuggle drugs into the U.S.
-- The Santa Monica City Council has approved the nation's most extensive seismic retrofitting effort, which will require safety improvements to as many as 2,000 buildings.
-- Legal experts say the state's prosecution of two antiabortion activists on felony charges of invasion of privacy appears to be on solid ground, but it will test some limits.
HOLLYWOOD AND THE ARTS
-- Cheech Marin, a singular Renaissance man, talks about comedy, pottery, pot, art and his new memoir.
-- "Absinthe," the naughty circus from Las Vegas, is now at L.A. Live. It's a bit like Cirque du Soleil on Red Bull and vodka.
-- The Classic West rock festival has announced its lineup and ticket prices (and no, they're not exactly cheap).
-- Frank Gehry's archives are headed to the Getty.
CLASSIC HOLLYWOOD
"Shall we dance?" The Rodgers and Hammerstein musical "The King and I" opened on Broadway this week in 1951. Five years later, the lavish film version came out. Yul Brynner would win a Tony and an Oscar for playing the King of Siam.
NATION-WORLD
-- A longtime State Department employee was charged with lying about her contacts with Chinese businessmen who allegedly paid to receive inside economic policy information.
-- Now that the clock is running on "Brexit," here's what you need to know.
-- A federal judge ordered the release of a Seattle man who is thought to be the first "Dreamer" swept up in the Trump administration crackdown on immigration violators.
-- In Mumbai, university students from African countries have been advised to stay indoors after attacks by roving Indian mobs.
-- Interviewed in jail, Philippine Sen. Leila De Lima remains defiant and critical of President Rodrigo Duterte, a man who once suggested that she "just hang herself."
-- What gives the kingsnake the edge in snake-to-snake combat?
BUSINESS
-- SpaceX hopes to hit a milestone today by launching a recycled rocket. Can it cut the turnaround to a couple of days?
-- Gender-neutral figures, a mermaid and a T. rex are among the new emoji coming soon.
SPORTS
-- After the Rams, Chargers and Raiders, what is the NFL's next move?
-- While the Dodgers' roster is nearly set, the Angels are still examining their options heading into today's Freeway Series.
OPINION
-- Felony charges for the duo behind the Planned Parenthood sting videos are a disturbing overreach.
-- How news outlets smear black victims of crime.
WHAT OUR EDITORS ARE READING
-- Black women at work, white men apologizing (or not). (The Atlantic)
-- The complicated narrative around the "Charging Bull" and "The Fearless Girl" statues on Wall Street. (Artnet)
-- Ideas for living a meaningful life beyond work. (Science of Us)
ONLY IN CALIFORNIA
State bird? The California quail. State gemstone? Benitoite. State dinosaur? If Assemblyman Richard Bloom of Santa Monica has his way, it will be Augustynolophus morissi — a duck-billed dinosaur from 66 million years ago. The dino already has its own Twitter feed too: "Vote for me!!! I've been starved for recognition eons!!" Remind you of anyone?
Please send comments and ideas to Davan Maharaj.
If you like this newsletter, please share it with friends.
---