Newsletter: Today: A 'Big Nothingburger' Loaded With Beef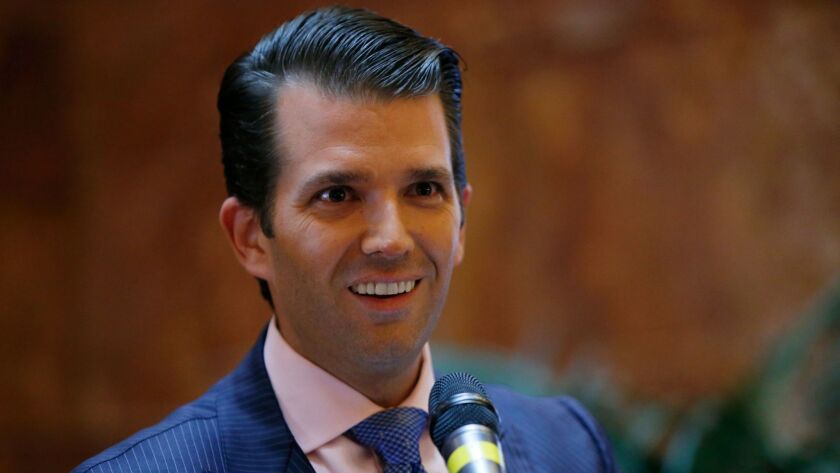 Today's lineup: Russia, "nothingburgers" and more explanations from the Trump camp. I'm Davan Maharaj, editor-in-chief of the Los Angeles Times. Here are some story lines I don't want you to miss.
TOP STORIES
A 'Big Nothingburger' Loaded With Beef
President Trump's supporters have called it "a big nothingburger" and "a big yawn," but it's the big story that won't go away. Time after time, Trump's closest advisors and immediate family have denied dealings with Russia, only to be forced to alter their accounts of meetings. Donald Trump Jr. is the latest to be caught in this cycle, as the White House continued to deny any Trump campaign officials colluded with the Russian government and as another New York Times article focused on what the younger Trump knew before his meeting with a Kremlin-connected Russian lawyer.
More Politics
-- Deputy White House Press Secretary Sarah Huckabee Sanders says Trump's conversation with Vladimir Putin included a discussion of sanctions, a statement that seemed to contradict a Trump tweet.
-- Senate Republicans announced plans to vote next week on their Obamacare repeal, hoping that a push from President Trump and backing from conservative groups will do the trick.
-- Trump took another shot at former FBI Director James B. Comey in a Monday morning Twitter message that misstated a key element of a story published in a Capitol Hill newspaper.
Slow Burn
At the G-20 summit, Trump's stance on climate change got a chilly reception. At home, his administration's efforts to remove Obama-era restrictions on the release of methane gas are getting the cold shoulder too — from the courts, the public and even Republicans in Congress. Things aren't so hot for its plans to remove national monument protection for some public lands, either. Meanwhile, California is moving ahead with a proposal to reauthorize its cap and trade program, the centerpiece of the state's efforts to battle climate change.
Trump's Budget Could Wipe Out Tsunami Warnings
Scientists are concerned about the potential damage from a huge West Coast tsunami, and they point to a detection system made up of 39 sensors on sea floors around the world as a key way to minimize the death and destruction. But now the $12-million system is facing cuts under Trump's proposed budget, cuts that could lead to its shutdown. The reasoning: It's not seen as part of "national security and core government functions."
Note to 'People Doing Stupid Things': You Can Prevent Wildfires
The weather is hot. The vegetation is plentiful, after a drought-busting winter. Already, fires up and down California are taking a toll, with more than two dozen structures destroyed. By the looks of things, we're in for another brutal wildfire season. But experts say it's more complicated than that. Says one: "You've got to have the right combination of people doing stupid things on a hot day, an ignitable source of fuel and the winds."
When Coffee Gives You Life
Take this with a grain of salt — or cream and sugar, if you prefer — but two large studies have found that the more coffee a person drinks, the lower his or her risk of early death from heart disease, diabetes and cancer. Even if it's decaf.
MUST-WATCH VIDEO
-- The town of Cheran in Mexico's Michoacan state has thrown out politicians, cops and the mayor to relieve itself from violence and illegal logging.
-- The Gay Men's Chorus shares stories and songs about faith at Disney Hall.
-- The rooftop pool at the Dream Hotel in Hollywood.
CALIFORNIA
-- DWP officials are investigating the exact cause of an explosion that caused a big blackout over the weekend, but it's almost certainly due to the city's aging infrastructure.
-- An Air Canada plane touching down at San Francisco International Airport almost landed on a taxiway crowded with four other planes, a near-catastrophe that is now under federal investigation.
-- Members of an obscure L.A. city commission voted to give L.A. Board of Education members a 174% raise.
-- AT&T and Verizon want free rein to put up new wireless transmitters and, as columnist George Skelton writes, that could be right in front of your house.
HOLLYWOOD AND THE ARTS
-- Even though it's been altered many times over the years, the Pirates of the Caribbean ride anchors a Disneyland on the brink of great change.
-- The photographer behind the Tupac Shakur pictures used on shirts sold in Kendall and Kylie Jenner's online store has sued them.
-- In the fall, more than 60 Southern California museums and other cultural institutions will come together to produce exhibitions and events related to Latin American and Latino art.
-- "Curb Your Enthusiasm" finally has a return date: It's coming back Oct. 1.
CLASSIC HOLLYWOOD
Yul Brynner played the starring role in "The King and I" for more than 30 years. "I would have liked to play Henry Higgins in 'My Fair Lady,' " he once told The Times, "but I couldn't because of my accent and looks. Unless I did it with an Outer Mongolian touring company." Brynner was born on this date in 1920, and though he long claimed it was on an island off Japan, his son found out it was in mainland Russia.
NATION-WORLD
-- A U.S. military plane crashed into a field in rural Mississippi, killing at least 16 people aboard.
-- The FBI says an active-duty soldier based in Hawaii pledged his allegiance to Islamic State and helped purchase a drone for it to use against American forces.
-- Secretary of State Rex Tillerson has launched an invigorated mission in Kuwait to defuse a crisis between Qatar and its Persian Gulf neighbors.
-- As Iraqi forces drive Islamic State from Mosul, rescue crews are looking to save civilians and pull bodies from the rubble.
-- This abandoned chimp was chained to a tree for two years in Angola, before a visitor engineered her escape.
BUSINESS
-- Consumer advocates are celebrating a move by the Consumer Financial Protection Bureau to prevent credit card companies and other financial firms from impeding customers' class-action lawsuits, but columnist David Lazarus says it will be short-lived.
-- A recently built Wilshire Boulevard apartment complex has sold for more than $80 million, as residential development spreads west into the L.A.'s historic Westlake district.
SPORTS
-- Warm, dry weather in London is making the grass courts at Wimbledon all the more challenging.
-- There a many predictions that baseball teams will spend billions on free agents, but they rely on increasingly fragile cable-TV deals for all that money.
OPINION
-- Why can't the Trumps get their stories straight?
-- A onetime advisor on North Korea says the U.S. should lead with confidence, not fear, in dealing with Pyongyang.
WHAT OUR EDITORS ARE READING
-- Do politics in Texas portend the future of America? (The New Yorker)
-- You can't make this up, Part 1: Here's how a high school student landed an interview with James Mattis and what the secretary of Defense said. (Mercer Island High School Islander)
-- You can't make this up, Part 2: Donald Trump appeared in a 2013 music video featuring a Russian singer represented by the man who reportedly set up the Trump Jr. meeting with a Russian lawyer. (Billboard)
ONLY IN L.A.
Barbecues, beachgoing and baseball are three quintessential elements of summer in Los Angeles, but do you know their historic origins? Author D.J. Waldie looks back at each of these and more, including how L.A. stopped worrying and learned to love sunbathing — so much so that the L.A. Times once reassured readers a tan was a sign of "stored-up sun energy and vitality."
Please send comments and ideas to Davan Maharaj.
If you like this newsletter, please share it with friends.
---