Newsletter: Today: Born in the USA — for as Much as $100,000?
Federal authorities have arrested the owners of some tourist agencies accused of "birth tourism" in the Los Angeles area.
TOP STORIES
Born in the USA — for as Much as $100,000?
Local officials in Southern California have struggled for years with how to respond to a surge in outfits bringing expectant mothers to the U.S. to give birth. Now, federal authorities have filed criminal charges against the owners of companies accused of "birth tourism," alleging crimes such as immigration fraud, money laundering and identity theft. The arrests and indictments represent another facet of the Trump administration's immigration policies and, even though they stem from raids carried out in 2015, have an odd connection to President Trump: One operator allegedly told clients they would have a better chance of slipping past immigration officers by telling them they intended to stay at the Trump International Hotel in Honolulu.
The Latest From Washington
-- Sen. Cory Booker (D-N.J.) is running for president.
-- Trump telegraphed flexibility about his deadline for resolving the trade war with China, saying that the disputes could be settled only by another face-to-face meeting with President Xi Jinping.
-- Experts say Islamic State could exploit simmering ethnic and religious tensions to forge a comeback once the U.S. withdraws from Syria.
-- California Sens. Dianne Feinstein and Kamala Harris are vowing to fight Trump's picks to fill three vacancies on the U.S. 9th Circuit Court of Appeals in California, saying the White House dismissed their objections.
Quick on the Draw
Gavin Newsom won the governorship in part by touting his aggressive stance on gun control. Less than one month in office, he's already proposed to seize guns from thousands of people who are ineligible to possess firearms because of criminal convictions or mental illness — and to beef up a unit responsible for enforcing laws on gun sales. Gun rights advocates are less than pleased.
What Led to a Fire Marshal's Exit?
L.A. Fire Marshal John Vidovich was at the peak of his career in 2015. He ran the city's Fire Prevention Bureau, oversaw more than 150 employees and won awards from Mayor Eric Garcetti. But when Vidovich clashed with a group of fire inspectors working for him, he was transferred out. The subsequent legal fight has exposed threats of paybacks and accusations of backroom deals involving top officials at City Hall and a powerful public employee union.
Bitter Ramifications
The Rams will meet the New England Patriots in the Super Bowl on Sunday at 3:30 p.m. Pacific. Though it's the first time in more than three decades that a team from Los Angeles will play in the big game, the excitement is tinged with real-life worries in Inglewood, where a gleaming stadium will begin to host the Rams and Chargers in the 2020 season. The local restaurants are facing huge rent increases, and for many longtime mom-and-pop operations, the clock is ticking.
More About the Super Bowl
-- Why did President Trump suddenly stop bashing the NFL and its players? Insiders point to this trade deal.
-- Columnist LZ Granderson says we should see what Maroon 5 does with the halftime show before shaming them.
-- Podcast: Staff writer Gary Klein goes behind the scenes in the Rams' Super Bowl quest.
-- How Walter Payton's Super Bowl ring ended up in a college kid's couch.
Sign up to get Today's Headlines delivered to your inbox. »
YOUR WEEKEND
-- Not watching the Super Bowl? Here's the complete list of museums that are free this weekend in Southern California.
-- Tartine's massive Manufactory is opening in downtown L.A. It includes two restaurants, a market, a coffee roastery, a walk-up window and a 7,000-square-foot bakery.
-- Gardening classes, workshops and more in Southern California.
FROM THE ARCHIVES
The space shuttle Columbia was the world's first reusable spaceship. No single machine at the dawn of the 21st century was so complex. On this date in 2003, while returning from its 28th mission, it disintegrated with a rolling rumble of sonic booms across Texas and Louisiana, killing all seven crew members. A six-part Times series later that year examined the investigation into what went wrong.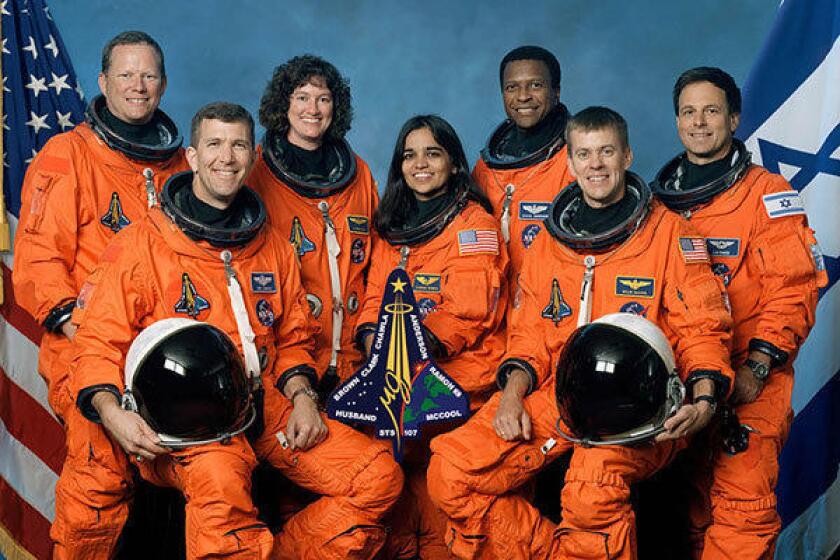 CALIFORNIA
-- The first of three rainstorms forecast for Southern California pummeled the region Thursday, but the worst of them should arrive tonight.
-- Los Angeles recorded its highest level of reports of hate crimes in a decade, with a nearly 13% increase in 2018 over the year before.
-- State officials allege a woman working as a pharmacist at three Walgreens stores in the Bay Area for more than a decade wasn't a licensed pharmacist.
-- The child of Weather Underground parents is running for the top prosecutor job in San Francisco.
HOLLYWOOD AND THE ARTS
-- What if you kept dying at your own birthday party? In the Netflix series "Russian Doll," that's the darkly comic premise.
-- Film critic Justin Chang says four movies directed by women remind that the Sundance Film Festival is a place to discover and reassess diverse talent with distinct voices.
-- If Marie Kondo wants to tidy something, she should start with the Netflix queue, writes columnist Mary McNamara.
NATION-WORLD
-- The cold weather holding much of the Midwest in a historic deep freeze sent temperatures plunging to record lows, but a dramatic swing of as much as 80 degrees is expected within days.
-- Mexican President Andres Manuel Lopez Obrador says he has deployed federal troops to Tijuana to combat the city's spiraling violence.
-- Venezuela's self-proclaimed interim president said that police had descended on his home in the capital, the latest provocation in the fight for power in the country.
-- The fascinating backstory of the periodic table, which is about to turn 150 years old.
BUSINESS
-- Spectrum is planning a 20% fee increase for local channels as the number of pay-TV customers dwindles.
-- Cutbacks at Stratolaunch, SpaceX and Virgin Galactic show the space industry is entering a second stage.
SPORTS
-- At long last, LeBron James returned from a groin injury to lead the Lakers to an overtime victory over the Clippers.
-- Meanwhile, the Lakers and New Orleans Pelicans have initiated conversations regarding All-Star forward Anthony Davis, who has requested a trade from the latter team.
OPINION
-- L.A. County Sheriff Alex Villanueva's vision for his department is as dangerous and backward as we feared.
-- High-tech helmets won't solve the NFL's concussion problem.
WHAT OUR EDITORS ARE READING
-- Trump says he has all but given up on negotiating with Congress over his border wall and will proceed without lawmakers' consent. He also dismissed any suggestions of wrongdoing in the investigations that have ensnared his associates. (New York Times)
-- An asylum seeker's quest to get her daughter back. (The New Yorker)
-- First food, now book covers? Instagram is again changing the way things in the real world look. (Vulture)
ONLY IN L.A.
If you've been in downtown L.A.'s Arts District and wondered where a giant wooden mailbox, a concrete pill bottle and the "flames" on an old fire station came from, wonder no more. They're the work of artist S.C. Mero, whose conceptual sculptures employ humor to shed light on pressing urban issues such as gentrification, drug addiction and homelessness.
If you like this newsletter, please share it with friends. Comments or ideas? Email us at headlines@latimes.com.
---