Jennifer Kent's 'The Nightingale' and Joanna Hogg's 'The Souvenir' bring boldly personal visions to Sundance
Film Critic
Reporting from Park City, Utah —
Times film critic Justin Chang is keeping a regular diary over the course of a week at the 2019 Sundance Film Festival. He will be writing about the movies he's seeing, the trends he's observing and what it all means for an event that officially kicks off the year in new independent cinema.
The day may come when one no longer feels compelled to single out the number of excellent movies by female directors in a given year, let alone a given festival. But since that day has yet to arrive, you'll forgive me for shouting from the rooftops that Sundance — which last year premiered exceptional, criminally under-appreciated new work by Tamara Jenkins ("Private Life"), Debra Granik ("Leave No Trace") and Jennifer Fox ("The Tale"), among others — continues to be an essential trailblazer in this regard.
When the festival unveiled its 2019 lineup — its first under newly appointed director of programming Kim Yutani — it announced that 45 (or 40%) of the 112 features in its program were directed by women. These encouraging figures stood in contrast to the dismal news that only 8% of the top-grossing 250 films of 2018 were directed by women, according to the latest industry study by Martha M. Lauzen, executive director of San Diego State University's Center for the Study of Women in Television and Film.
Those inclined to get defensive whenever discussion of gender parity arises may dismiss this as an apples-and-oranges comparison: Sundance is not Hollywood, after all. But it is an important Hollywood pipeline, and the kind of talent that it feeds into that pipeline matters. It's heartening, then, to see Sundance lead the way for women filmmakers on the international as well as domestic front, as evidenced by four of the strongest movies I've seen in this year's edition.
The Australian writer-director Jennifer Kent had her pick of several U.S. projects following her thriller "The Babadook," which premiered at Sundance in 2014 before going on to become a critical and cultural sensation. Few expected her to deliver something like "The Nightingale," which is easily the most brutal picture I've seen at this year's festival and also one of the best.
A tale of unspeakable tragedy and bloody retribution, shot in a square aspect ratio and set in the 19th-century Tasmanian outback, "The Nightingale" is horrifying but not, strictly speaking, a horror movie. It's a western, a period piece and, at nearly 2½ unrelenting hours, something of an endurance test. The first walkouts happened early at my screening, right after a hideously violent scene in the first half-hour. "Nope!" one of them muttered loudly as she left. I didn't blame her.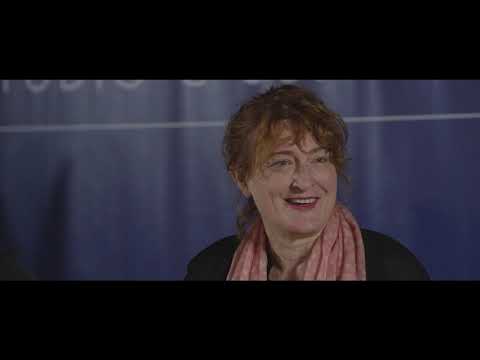 Director Jennifer Kent and actor Aisling Franciosi discuss the making of their film, "The Nightingale" at the LA Times Studio at Chase Sapphire on Main.
Clare (Aisling Franciosi), an Irish woman convicted of a petty crime, has been banished to the Tasmanian island colony then known as Van Diemen's Land. Even after completing her sentence, she continues to suffer terrible abuse at the hands of a British lieutenant named Hawkins (Sam Claflin), who eventually robs her of everything she holds dear and leaves her for dead. With a fierce determination that brings to mind an older, angrier Mattie Ross, Clare sets out to exact retribution, accompanied by an Aboriginal guide named Billy (Baykali Ganambarr).
For either a white woman or a black man, traveling alone through this unsettled wilderness would be terribly ill-advised; even traveling together, Clare and Billy are not much safer. Over the course of their perilous journey, they will become natural symbols of the oppressed rising up again; we learn about, among other things, the campaign of genocide being inflicted on Aboriginal people by white male colonialists. As a story of two unlikely companions learning more about the bigoted world they inhabit, "The Nightingale" is a movie to thrust in front of anyone gassing on about how much they loved and learned from "Green Book."
Both a canny fulfillment and a skillful subversion of the conventions of the revenge thriller, the picture becomes a touch overextended in its final stretches but is nonetheless sustained by the coherence and intense muscularity of its filmmaking. Although Kent is a long way from the jolts of "The Babadook," "The Nightingale" unfolds in a mode of mud-and-blood realism that easily accommodates the occasional foray into surreal nightmare. It is also very much a portrait of male barbarism from a woman's perspective, in front of the camera as well as behind, which I think explains why it has made so many viewers, specifically male viewers, so uneasy.
Screened in Sundance's Spotlight program, "The Nightingale" first premiered at last year's Venice International Film Festival, where it won two prizes from a Guillermo del Toro-led jury that also honored "Roma" and "The Favourite." Before that, however, Kent's movie drew a rude reception from some members of the festival press, most notoriously an Italian male journalist who was heard to shout "Whore!" at the screen as the end credits were rolling. That Kent was the only female director selected to compete at Venice only made the incident more embarrassing, and revealing.
Nobody hurled any sexist slurs at "The Nightingale" in Park City, as far as I could tell. Still, I couldn't help but overhear the loud cluck of several disapproving male tongues in the lobby after the screening, propelled by a kind of audibly gendered disgust at Kent's ambitions: It wasn't just that the movie was bad, which would have been a defensible (if incorrect) view, but that it was too crude, too gratuitous, too misguided, clearly the work of a director — a female director — in over her head. I couldn't disagree more. Jennifer Kent knows precisely what she's doing, and even her detractors should be smart enough to recognize it.
READ MORE: Justin Chang's 2019 Sundance Film Festival diary »
Another filmmaker who knows what she's doing, even if it may take the viewer a bit longer to figure out: Joanna Hogg, the British writer-director whose exquisitely filigreed cine-memoir, "The Souvenir," made its world premiere in Sundance's international dramatic competition. Hogg's work is not well known in American art-house theaters — her previous three features, "Unrelated," "Archipelago" and "Exhibition," received minimal U.S. distribution — but her new work, an upcoming A24 release that will be the first installment of a planned two-part project, stands to expand her following significantly.
A satire, a self-portrait, a romance and a heartbreaker, "The Souvenir" unfolds at a deliberate clip, with a sharp eye for peripheral detail. Hogg shoots in gray, muted, precisely composed images; she likes to show us the rooms and worlds her characters inhabit, the way they situate themselves in space. It's a style that feels well suited to her younger alter-ego, Julie (Honor Swinton-Byrne), the kind of protagonist who tends to stay at the edges of the frame. Julie is a film student in early 1980s London, and she's about to make her graduation project, a grotty working-class drama set in the coastal city of Sunderland.
Julie's experience, while firmly rooted in Hogg's own, speaks potently to the questions of artistic intent and responsibility haunting our cinematic present. Does she have the right to tell the story of a community so different from her more privileged background? Like Julie, the movie takes that question seriously. But it also ensures that we take note of the steady trickle of condescension that Julie receives from her film professors and collaborators — the unsurprising fate of a female filmmaker quietly trying to assert her independent vision in a male-dominated field. (Plus ça change.)
But industry sexism isn't the movie's only, or even principal, subject. One of the pleasures of Hogg's movie is how sneakily it takes shape, and how carefully it avoids the obvious beats to which storytellers often resort for the sake of dramatic expedience. Julie meets Anthony (Tom Burke), a man-of-the-world type who seems wholly insufferable at first, with his lofty opinions about art (including Julie's) and superior attitude, but who gradually becomes the other half of a quietly piercing, entirely credible love story.
I'm loath to say much more; the sly delicacy of Hogg's narrative design demands similar discretion on my own part. Suffice to say that Burke and Swinton-Byrne give beautifully harmonized performances, catching the slightly askew rhythms of a fatally lopsided relationship. And if you were wondering, yes, Swinton-Byrne is the daughter of Tilda Swinton, who gives a brief but memorable supporting performance here as Julie's mother.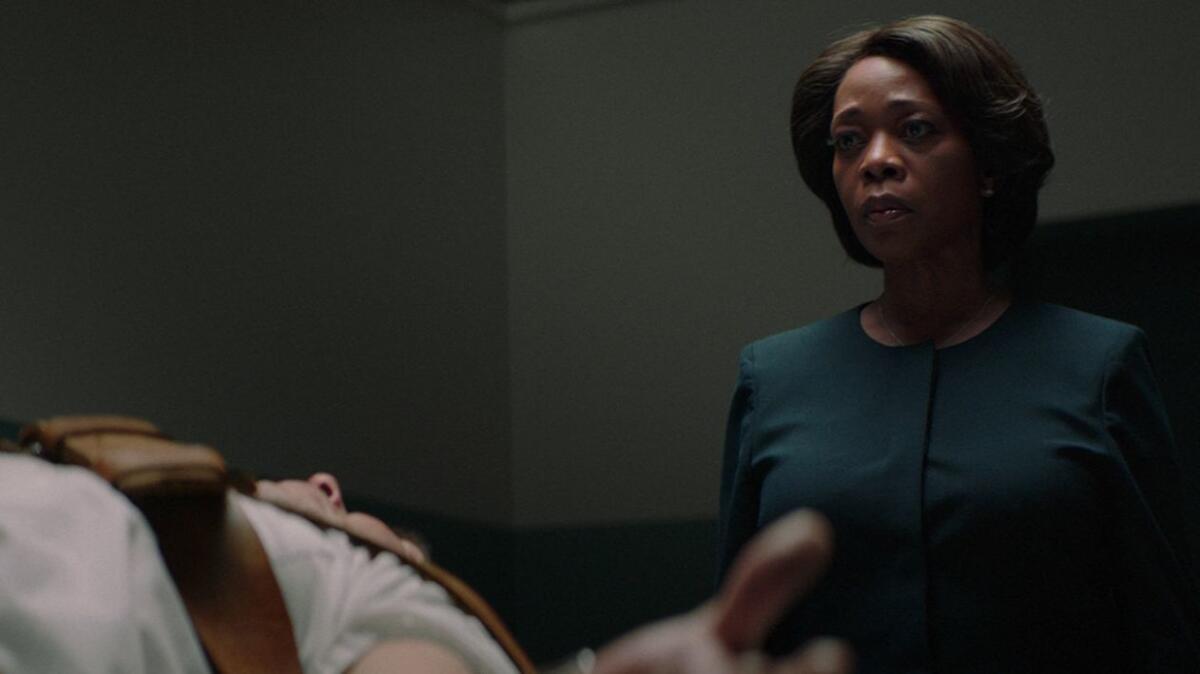 The quality of intelligent restraint you encounter in a movie like "The Souvenir" can sometimes be interpreted, rightly or wrongly, as remoteness. But I don't think anyone could watch "Clemency," Chinonye Chukwu's stark, beautifully composed drama about the implications of the death penalty, and accuse it of being chilly or bloodless.
A strong entry in the festival's U.S. dramatic competition, "Clemency" follows a maximum-security prison warden named Bernadine Williams (Alfre Woodard), who, despite having overseen numerous executions during her long career, begins to have serious doubts about what she and her colleagues are doing. We see those doubts play out almost entirely in Woodard's face, as this often under-served actress seizes onto one of the great roles of her career. She is matched, nuance for nuance, by Aldis Hodge as Anthony Woods, a convicted murderer on death row who maintains his innocence, and who has no intention of going gentle into that good night.
With quiet power and austere visuals, "Clemency" captures the unbearable atmosphere of offices and corridors suffused with the stench of death. It is also remarkably attentive to the silent, ritualistic professionalism with which Bernadine and her colleagues go about their preparations for another act of state-sanctioned killing. Are they also killing themselves? Anthony, we soon realize, isn't the only one here in need of deliverance.
On the less dour side of the competition, Lulu Wang's "The Farewell" is a funny, moving, sensitively wrought dramedy based on a real-life episode from the writer-director's own family history. Wang's alter-ego is Billi (Awkwafina), a young New Yorker who flies back to her Chinese hometown to attend a cousin's wedding. The wedding is merely a pretext: Billi's grandmother (Zhou Shuzhen) has been diagnosed with lung cancer and has only months to live, and her family members have decided to keep the truth from her even as they gather around for one last reunion.
The story is billed as being "based on an actual lie," a sly phrase whose full ramifications don't become apparent until the movie's delicious final moments. One of the festival's consensus favorites since it premiered Friday, "The Farewell" is a remarkably cohesive ensemble movie; every member of the family gets a chance to shine, particularly Diana Lin and Tzi Ma as Billi's parents, who initially seem hyper-critical and tradition-bound but reveal increasingly complicated moods, personal histories and emotions with every scene.
But the movie, which A24 acquired mid-festival, belongs to Awkwafina, giving a more subdued, emotionally layered performance than she did with her scene-stealing comic turn in "Crazy Rich Asians." "The Farewell" (or "Crazy Middle-Class Asians," as Wang described it during a Q&A) has as much to say about familial obligation, generational conflict, cultural confusion and the immigrant experience, and in its own modest, enormously appealing way, it feels like no less a representational breakthrough.
FULL COVERAGE: 2019 Sundance Film Festival »
Get our L.A. Goes Out newsletter, with the week's best events, to help you explore and experience our city.
You may occasionally receive promotional content from the Los Angeles Times.