Hate crimes in L.A. highest in 10 years, with LGBTQ and African Americans most targeted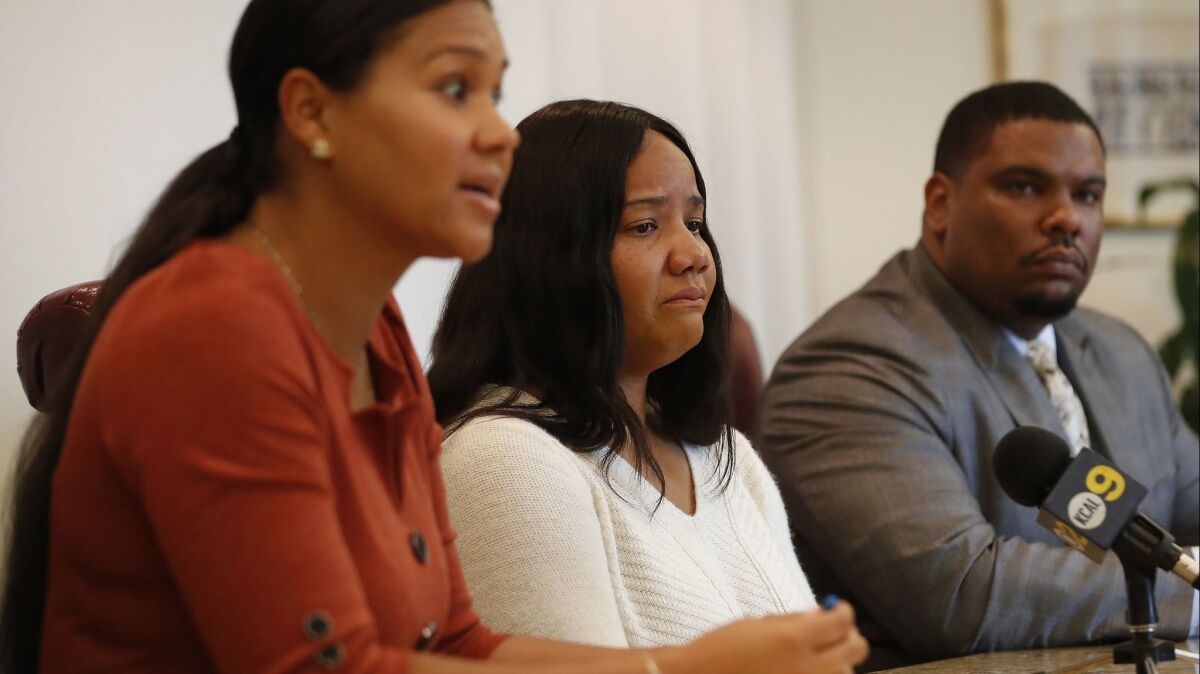 Los Angeles recorded its highest level of reports of hate crimes in a decade, with a nearly 13% increase in 2018 over the year before.
Last year, L.A. tallied 289 hate crimes, compared with 256 in 2017, according to LAPD statistics gathered by researchers at Cal State San Bernardino. Members of the LGBTQ community, African Americans and those of Jewish faith were the most frequently targeted, according to the newly released report by the Center for the Study of Hate and Extremism.
Though the numbers are relatively small compared with other crimes, assaults with hate crime elements in L.A. jumped 45% last year — from 53 to 77. The number of hate crimes driven by race and ethnicity climbed 29%, from 116 to 150, according to the new data.
The LGBTQ community was the target of 73 reported hate crimes, followed by 61 for African Americans and 14 for Jewish people.
Center Executive Director Brian Levin said as Los Angeles' population has shifted, many of the accused perpetrators of hate crimes are not white.
The report comes in a week in which Armenian schools in the San Fernando Valley tightened security after Turkish flags were hung on two private campuses. The Los Angeles Police Department is looking for a masked suspect seen hanging a dozen flags on one school's fence. Turkey has long denied the Armenian genocide during the era of the Ottoman Empire.
Meanwhile, a Tarzana synagogue was vandalized with anti-Semitic graffiti Tuesday morning, the same day the Armenian schools were targeted. There was no indication the two incidents were related.
Hate crimes in the country's largest cities increased for the fifth consecutive year in 2018, according to the report. Like L.A., San Francisco, Chicago, Houston, Dallas and Seattle all recorded their highest number of hate crimes in a decade. The continuing uptick came despite police in Los Angeles, Chicago and New York reporting an overall downward crime trend.
Levin said L.A., Chicago, Philadelphia and New York saw a bump in hate crimes near the November midterm elections. New York reported a 6% increase, while Chicago jumped 26%. The statistics are only reported crimes and may not reflect the full extent of hate crimes in a community, Levin said.
The rise in Chicago's numbers are reflected in recent events: Actor Jussie Smollett, an openly gay black actor who stars on "Empire," reported that he was attacked by two men shouting racial and homophobic slurs on the streets of Chicago.
Levin said that in the five largest cities noted in the report, "African Americans were again the most frequent target."
Levin, a former New York police officer, said the continued growth of hate crimes may reflect an increasingly polarized nation.
"The day after the 2016 election was the worst day for hate crimes since 2003," he said.
An FBI report released in November detailing hate crimes across more than 3,000 police agencies showed a more than 17% uptick in 2017, fueled by increases in attacks against religious and racial minorities.
It was the biggest annual increase in reported hate crimes since 2001, when attacks on Muslims surged in response to the Sept. 11 attacks, and the third straight year that hate crimes have gone up.
The count documented 7,175 hate crimes in 2017. The tally was 1,054 higher than the year before. It included a 37% increase in anti-Jewish crimes, a 24% increase in attacks on Latinos and a nearly 16% rise in crimes against African Americans.
In California, hate crimes increased more than 17%, to 1,095, while Los Angeles showed a 16% jump, to 263. Race-driven crimes were the most common in the state, followed by attacks on sexual orientation and religion.
Twitter: @lacrimes
---
The stories shaping California
Get up to speed with our Essential California newsletter, sent six days a week.
You may occasionally receive promotional content from the Los Angeles Times.