Lakers and Pelicans open dialogue on Anthony Davis trade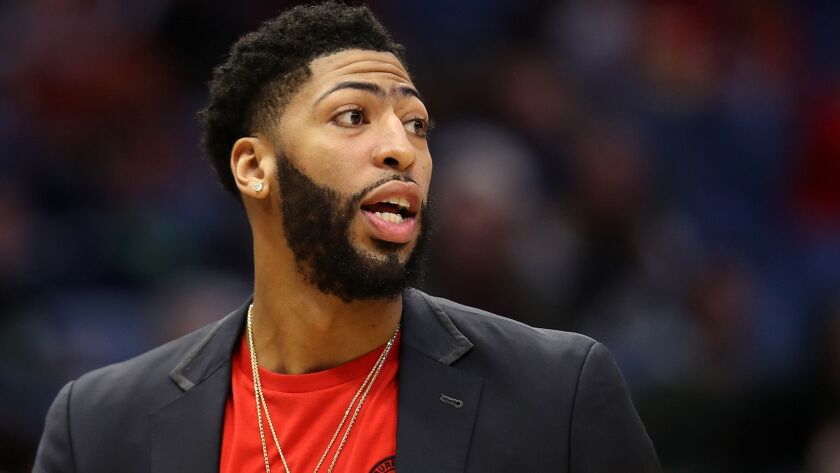 Magic Johnson and New Orleans Pelicans general manager Dell Demps have had conversations regarding All-Star forward Anthony Davis, with Johnson wanting to know how the Lakers should proceed and what the process would take to make a trade, according to sources who spoke on condition of anonymity because they were not authorized to comment publicly on the matter.
Johnson, the Lakers' president of basketball operations, reached out to Demps after Demps landed in Texas for the Pelicans' game Tuesday night against the Houston Rockets and the two talked about staying in touch before the NBA trade deadline next Thursday, the sources said.
Then on Wednesday, the sources said, the Lakers emailed five trade proposals to Demps.
Other than LeBron James, who played against the Clippers on Thursday night after sitting out 17 games because of a groin injury, no Lakers are untouchable, according to one source.
The Pelicans have interest in Lakers point guard Lonzo Ball to spearhead the deal, according to multiple sources.
Knowing this, the Lakers had one trade scenario that packaged Ball with forwards Kyle Kuzma and Brandon Ingram as well as center Ivica Zubac and a first-round draft pick, the sources said.
Demps has not gotten back to the Lakers since they made their offers and several sources said the Pelicans are leaning toward waiting until the summer before moving Davis, who has requested a trade.
Sign up for our Lakers newsletter »
The Lakers know that if a deal doesn't get done by the trade deadline, they would probably get into a bidding war with the Boston Celtics this summer.
Though the Lakers "really, really want" Davis, they would be "very hesitant" to try to outbid the Celtics because the Lakers believe they could potentially spend so much time on a deal that might not happen that they could miss out on landing a top free agent this summer, a source said.
"The Lakers have done all they can in trying to get Davis," one source said. "Now all they can do is wait."
Demps has had conversations with Pelicans ownership and has been told to get the best deal possible for the franchise and to not feel rushed, sources said. If a deal gets done by the trade deadline, that's fine, a source said Demps was informed. If it doesn't get done until the summer or until sometime during the 2019-20 season, Pelicans ownership is OK with that as well.
For the deal to work financially, the Lakers would have to add another player to their offer to get within reach of Davis' $25.4-million salary, the sources said.
The combined salaries of Ball ($7.461 million), Kuzma ($1.689 million), Ingram ($5.757 million) and Zubac ($1.544 million) would be close, but it would take the salary from another player such as Michael Beasley ($3.5 million) to make the deal.
Though Ball and his representatives know he has no say over where he might land, he'd like the Lakers to find a third team, such as the Chicago Bulls or Phoenix Suns, as a landing spot for the second-year point guard, according to sources.
Phoenix has interest in becoming the third team in the Lakers and Pelicans trade talks, according to two sources.
Ball's camp has concerns about the crowded backcourt in New Orleans. But sources said the Pelicans view Ball as a player who would become their starting point guard because they don't see current starter Jrue Holiday as a point guard.
"Lonzo is going to be able to do whatever he wants to," one source said. "I think he thinks that Jrue is the starting point guard, but Jrue doesn't want to be a point guard. Lonzo would be the starting point guard and he would play 35 minutes every night. There's no way that he wouldn't. If he wins in New Orleans, he'll be as big of a star as he can be anywhere."
Staff writer Tania Ganguli contributed to this report.
Twitter: @BA_Turner
---
All things Lakers, all the time.
Get all the Lakers news you need in Dan Woike's weekly newsletter.
You may occasionally receive promotional content from the Los Angeles Times.