Amid Super Bowl excitement in Inglewood, local businesses fear they may soon be crowded out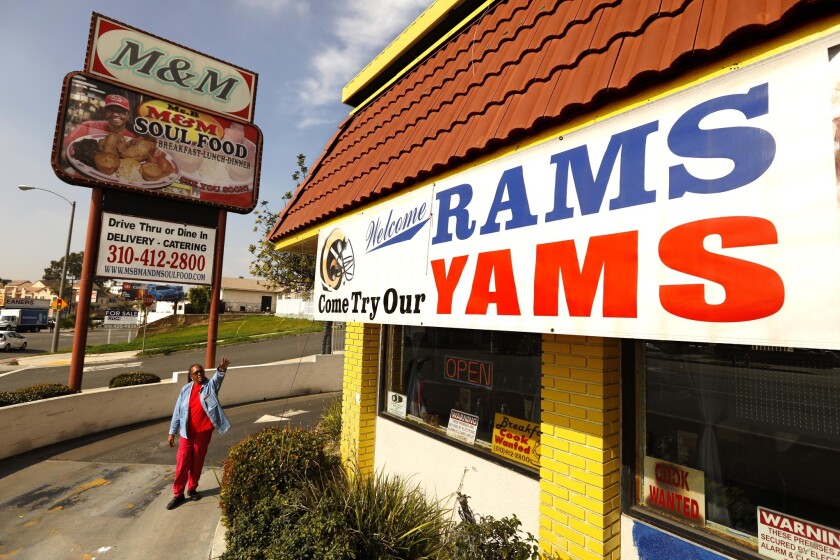 The sadness can wait, and so can the uncertainty and tension. People need to be fed.
The Rams are in the Super Bowl. In the hours leading up to Sunday's game, cars will pull up to Ms. B's M&M Soul Food Restaurant, the one with this banner out front: "Welcome Rams, Come Try Our Yams. Love, Ms. B."
The customers will race in, grab their containers of catfish, short ribs, pork chops, chicken and oxtail, and hustle back home, the better to enjoy the game with authentic Southern provisions. Then the Super Bowl party will start at the restaurant, with the big game on all the televisions. All that good food, plus hot wings.
Everybody wants hot wings on Super Bowl Sunday. So says Ms. B.
There really is a Ms. B. Her name is Beverly Brinson, and the Rams just might put her out of business.
Not this week, certainly. Maybe not this year. But next year the Rams will move into a majestic new stadium rising within walking distance of Ms. B's Manchester Avenue restaurant. Brinson has lived and worked in the Inglewood area since 1974, when she fled an abusive situation in Mississippi and rode the bus here. She was 25, and she carried all she had that was precious.
"Two babies," she said, "and $17 in my pocket."
This is her fourth location in Inglewood. She has dished out soul food and love at this one since 2008. The pictures that cover one wall are not signed portraits of celebrities. They are the faces of her family, and her employees, her second family. Her head cook has been with her for 25 years.
When this location opened, the Lakers and Kings were long gone from the Forum, which had been bought by a local church. The Hollywood Park racetrack was dying.
In 2011, Prince played 16 shows at the Forum, and Brinson celebrated by decorating her restaurant in purple. The concerts came back after the Forum was refurbished, and now the sports are coming back to town too — the Rams and Chargers in 2020, the Clippers planning to follow in 2024.
The people will be coming too, but Brinson might not be there to feed them.
Her landlord has raised rent from $6,282 to $14,000 per month, she said, and her lease has been converted to a month-to-month tenancy. She has failed to find a less expensive spot in Inglewood or the surrounding communities. She has 19 employees, all of whom could be one month from unemployment, and she says she barely sleeps anymore.
"I'm 70 years old," she said. "I used to look like I was 30. Now the stress is getting to me."
"I'm 70 years old. I used to look like I was 30. Now the stress is getting to me."
— Restaurant owner Beverly Brinson on the rising rent in Inglewood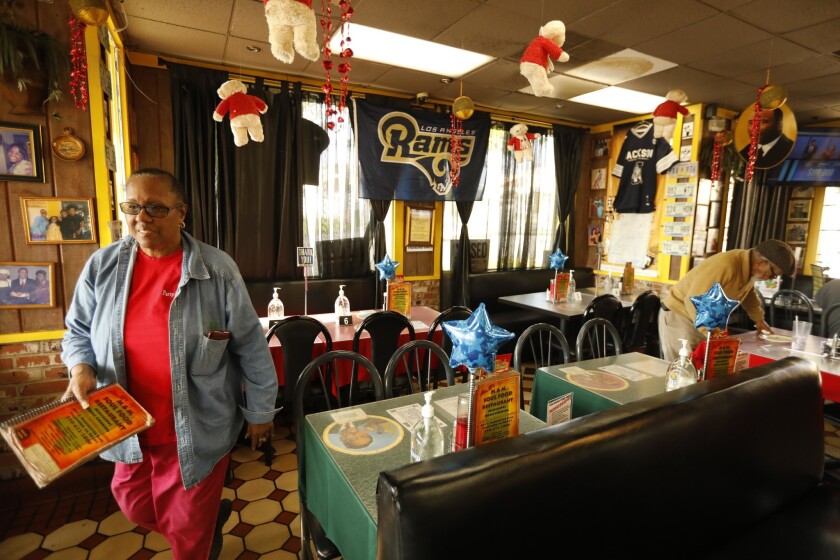 ::
The Super Bowl also will be on the televisions inside Blessed, a cozy Jamaican restaurant at the end of a tired strip mall across Prairie Avenue from the new stadium. Since the Rams qualified for the Super Bowl Jan. 20, not a day has passed without someone parking in the lot of the strip mall and snapping a picture of the almost-built stadium, said Shawn Weir, owner of Blessed.
The menu features oxtail, jerk chicken, curry goat and cow foot, with a fish fry every Friday. The cooler is stocked with Jamaican beers and sodas.
Weir said he just signed a new lease, with a rent increase from $2,650 to $4,250 per month. He isn't sure his business can thrive at the new rent, but he'll give it a shot.
"Life is a risk," he said. "We've been here 11 years. Why go?"
He said he would not risk moving across the street and into the village of restaurants and shops that will surround the new stadium. In that entertainment district, scheduled to open ahead of the 2022 Super Bowl, Weir figures his rent could be at least twice as high.
Brinson might entertain that risk, figuring the millions of visitors each year could make her enough money to offset the higher rent, but she suspects the developers prefer the "big boys" — national chain restaurants — to a mom-and-pop place.
Jason Gannon, managing director of the stadium and entertainment district, said his organization was working with Inglewood, Greater Los Angeles, national and international groups. "We are talking to many people," he said in a written statement, "and interested business people can inquire by reaching out to us."
Said Brinson: "If they give me a chance, I'll knock it out of the ballpark."
Brinson said she has not received help from the city of Inglewood. Christopher Jackson, the city's director of economic and community development, and Melanie McDade-Dickens, the mayor's executive assistant, did not answer inquiries from The Times about whether local businesses faced with closure or stiff rent increases could receive city assistance, either financially or in finding a new location.
Bourbon Street Fish could hardly be in a better location, across Prairie Avenue from the stadium site. The restaurant, a converted gas station, offers a "taste of New Orleans." Inside, flags and banners represent the New Orleans Saints, the team the Rams conquered to advance to the Super Bowl.
Derrick Brown, an owner of Bourbon Street Fish, said he believes the stadium and entertainment district will be good for Inglewood.
It's a positive thing for the community, for the business owners, for the residents.
— Derrick Brown on the NFL stadium being built in Inglewood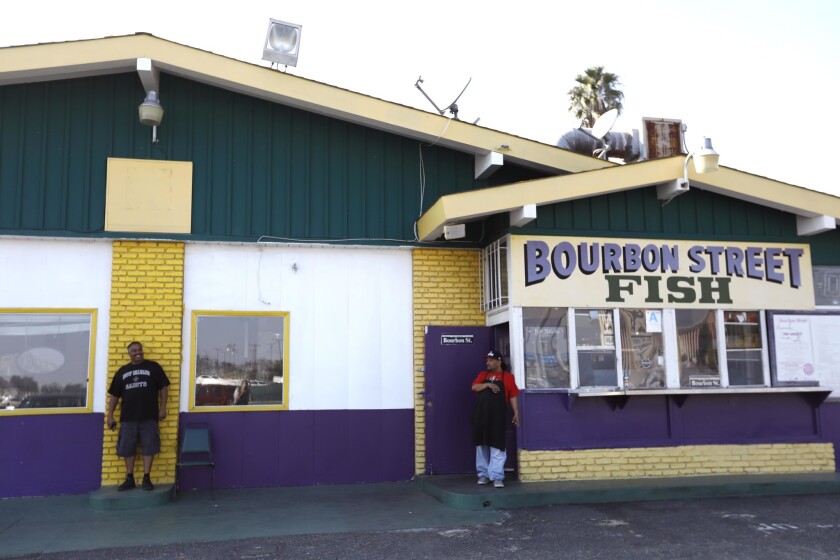 "It's a positive thing for the community, for the business owners, for the residents," said Brown, who wore a Saints T-shirt. "It can only help the community. Hopefully, it will bring jobs."
The city did secure a community benefits agreement from the stadium developers, under which 30% of construction jobs and 35% of post-construction jobs are targeted for local residents. The project includes the stadium, restaurants, shops, offices, a theater, and about 300 hotel rooms and 2,500 residences.
The Clippers' proposed arena would rise across the street from the stadium and entertainment district, along Century Boulevard.
Development in the surrounding area is on the rise, too. So are rents, and not just for Brinson.
In the three years since the NFL approved the Rams' return to Southern California, the median home price in Inglewood has jumped 41% and the median residential rent has jumped 20%, according to a Zillow analysis provided to The Times. In Los Angeles County, the median home price has risen 20% and the median residential rent has risen 11% over the same period.
Brown need not worry about a rent increase. He and a partner own the property upon which Bourbon Street Fish sits.
At first, they considered tearing down the building and replacing it with a two-level structure — a market on one level, perhaps, a sports bar on the other. Now, Brown said, they also are pondering whether profits and operating costs might be more favorable if they just tear down the building and replace it with a parking lot — easy in, easy out, hundreds of events each year right across the street.
He'll stay, either way. He'd like Brinson to stay, too.
"She's been around in Inglewood a long time," Brown said. "That's not right."
This is not just about the beloved Ms. B, he said. He had heard about businesses near his on Prairie that might be forced to close. The gumbo place, for one.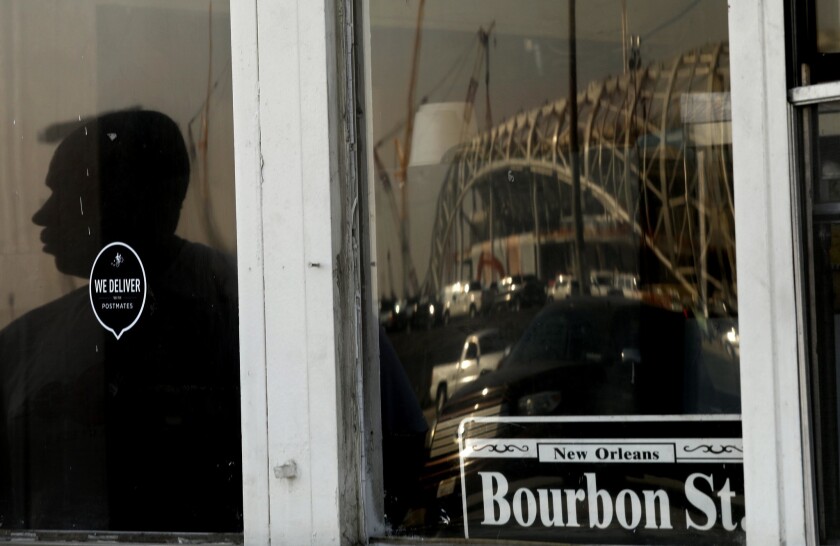 ::
Lawrence Scott is not shy about himself, or his gumbo. His restaurant is called Scottie's Gumbo and Grill. There is a picture on the window out front, an illustration of Scott in chef's regalia, with this slogan: "Best gumbo in town."
Scott wears a yellow cap and a yellow shirt. There is yellow on the booths and on the walls. Yellow stands for sunshine and joy. Scott used to be full of both.
He excuses himself from a booth, then returns with a copy of the San Gabriel Valley Tribune from Jan. 17, 2016, five days after the NFL approved the Rams' move to a new stadium in Los Angeles. Scott is pictured on the front page, in his yellow cap and his yellow shirt, stirring a pot of gumbo. The caption: "Lawrence Scott runs Scottie's Gumbo and Grill across the street from the Rams stadium project and hopes to entice a whole new crowd with his food."
Scott said he spent $3,000 on new equipment for his restaurant.
"I thought, 'Man, this is going to be great,'" he said. "I was looking at lines out the door."
Los Angeles Rams beat writer Gary Klein looks back on covering Pete Carroll during his USC days and during the Super Bowl when Carroll and the Seahawks won the Lombardi Trophy.
This is his fourth restaurant in Inglewood. He points to a picture on the wall, from his first. It opened in 1991, up on La Brea Avenue, three miles to the northwest.
"I came here for my dream," he said.
Scottie's Gumbo and Grill has been here for nine years. Scott and his gumbo could be gone any day now.
First, he said, the city tore up Prairie Avenue outside his front door, and he lost 80% of his business during construction. He had to let go of all but one employee, and he had to work from 5 a.m. to 9 p.m. His health deteriorated, he said, and he lost all of his savings.
The two years of road construction are over. His customers have come back, although not all of them. The Rams move in next year, but Scott probably won't be there to see it.
Sign up for our daily sports newsletter »
His landlord sold the building to a buyer that plans to tear it down. Any day could be the one he receives his eviction notice. He has no plans to retire and no idea what he might do next.
His restaurant is closed on Sundays. He'll go to church this Sunday, then watch the Super Bowl. He'll be rooting for the Rams, even if the opening of their stadium means the closing of his dream.
"I've been in business a long time," Scott said. "Things happen. I'm not blaming anyone. This is the cost of being in business."
Ms. B will be rooting for the Rams, too.
"Definitely," she said, pointing to a counter. "Didn't you see my Rams head up there?"
Follow Bill Shaikin on Twitter @BillShaikin
---
Get our high school sports newsletter
Prep Rally is devoted to the SoCal high school sports experience, bringing you scores, stories and a behind-the-scenes look at what makes prep sports so popular.
You may occasionally receive promotional content from the Los Angeles Times.