Tartine's massive Manufactory is days away from opening
It's the weekend before the nearly 40,000-square-foot Manufactory restaurant and retail complex is set to open at Row DTLA.
The late-morning light filters through the almost floor-to-ceiling windows at Tartine Bianco restaurant, energizing the room. Cooks are roasting rounds of squash, and the air is perfumed with notes of toasted brown butter. Everywhere you look there's bread: flour-dusted country loaves, whole wheat sesame, sprouted rye and baguettes stacked in crates, on baking trays and in bins.
The Manufactory comes to L.A. from San Francisco, where chef Elisabeth Prueitt and Chad Robertson opened Tartine Bakery in 2002; it has been a mainstay in the city since, with lines routinely out the door.
In recent years, Tartine has grown into an international chain. In 2016, the flagship Tartine Manufactory opened in San Francisco's Mission District. There are now three locations in South Korea, a Manufactory food hall at the San Francisco airport's international terminal and two more locations planned for the Bay Area. Bakery locations in Silver Lake, Hollywood and Santa Monica are scheduled to open later this year.
>>The Tartine Group is roasting its own coffee
For the downtown iteration of the multifaceted, colossal operation, the couple brought Chris Bianco, of Phoenix's Pizzeria Bianco, on board.
With two restaurants, a market, a coffee roastery, a walk-up window, a staff of 300 that includes a 19-person pastry team, a production underbelly that feels like an entire city and a 7,000-square-foot bakery outfitted with nine-layer deck ovens and a proofing tunnel likely the size of your first apartment, it is one of the most ambitious restaurant/bakery endeavors the city has ever seen.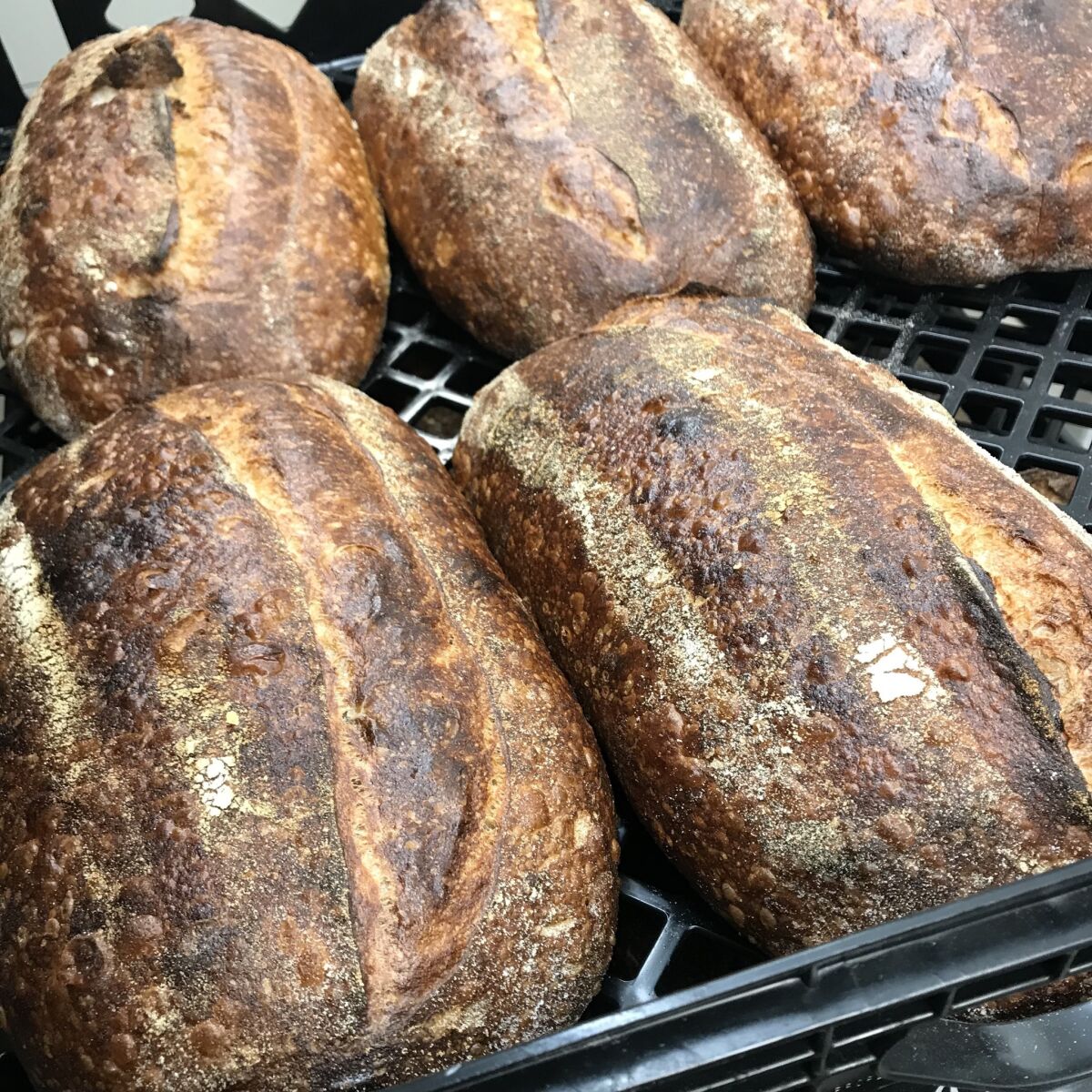 Here's a breakdown of what to expect:
Tartine Bianco: The restaurant, which opens for dinner service Tuesday, will eventually add breakfast and lunch. Here you'll find smørrebrød (topped with things such as smoked trout, cream cheese and pickled shallots); farro and chicory salad; and dishes such as braised pork shoulder with sprouting cauliflower and porridge.
Adjacent to the restaurant is the Market Bar, which is now open . It's a communal dining space with small plates and flatbreads (no Bianco pizzas, though) under giant "Game of Thrones"-style round chandeliers.
Next to that is the Market, where you can purchase cookbooks, ceramics, and the flour milled for Tartine in Washington. This is also where you can order salads, sandwiches and soups, and buy charcuterie and cheese, drinks and ice cream pies to go. The market is scheduled to open in two weeks.
>>Cookbook review: "Tartine All Day: Modern Recipes for the Home Cook"
Farther still is the walk-up window, where you can grab a coffee and a pastry to eat on the tables outside; the window is already open for business.
Walk toward the Row DTLA parking structure (close to the Sunday Smorgasburg market) and you find the Bakery, a giant facility that will turn out bread, croissants and pastries not only for the restaurants on site but for restaurants and cafes across the country.
At the opposite end of the building is the Alameda Supper Club, where Bianco has a more formal dining room and a bar with a patio out back. The menu will lean Italian with fresh pasta but the chef insists that it won't be an Italian restaurant.
On a recent morning, Bianco was standing in the middle of Tartine Bianco, holding a piece of bubble-flecked flatbread up to the light. "It's in a happy place right now," he said before shoving the slice in his mouth.
The flatbread is covered in paper-thin slices of lemon, shaved rounds of red onion and plenty of pecorino. Next, he tried a variation topped with béchamel, charred cauliflower and flecks of thyme. Then there was the tomato-smeared flatbread with a mild melted cheese and big you'll-need-an-Altoid-after-sized nubs of garlic.
"We didn't know what to call it," Bianco said of his flatbread. "I normally hate the word flatbread, but for me, it's an opportunity to incorporate what me and Chad do" — referring to marrying their bread-baking styles — "and elevate it."
>>Q&A: Talking to Chris Bianco about pizza and coming to L.A.
The Manufactory is a marriage of sorts, of too many concepts to count on one hand, of ideas the chefs say were developed over years of friendship, of a network of operations in a building roughly the size of a city block.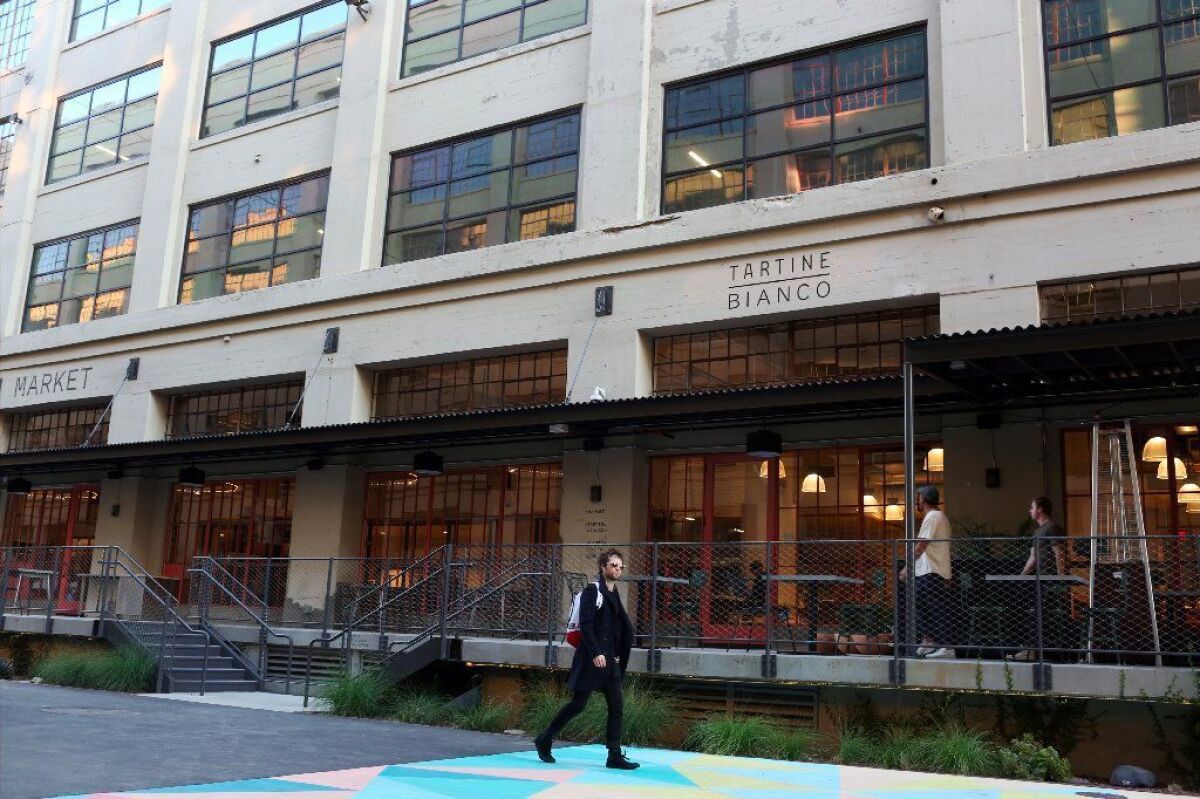 Under the restaurants is an 8,500-square-foot prep kitchen that includes a research-and-development space (meant for future guest chef dinners) and a corner devoted to fermentation. There, buckets of fermenting Brussels sprouts, squash, cabbage, garlic and turnips bubble away. Down the hall are the ice cream room, the seafood room, the coffee roastery and a room for butchery. This ginormous network of walk-ins and kitchens will service the many restaurants upstairs.
"I'm super-proud of the opportunity to be here, in a city that doesn't need me, that's already amazing," Bianco said. "I want to be standing here hunched over years from now and see generations of people coming through."
"This city is inspiring us," Robertson said. "That's why we're here."
757 S. Alameda St., Los Angeles, (213) 375-3315, www.themanufactoryla.com.
Instagram: @Jenn_Harris_
---
Get our L.A. Goes Out newsletter, with the week's best events, to help you explore and experience our city.
You may occasionally receive promotional content from the Los Angeles Times.