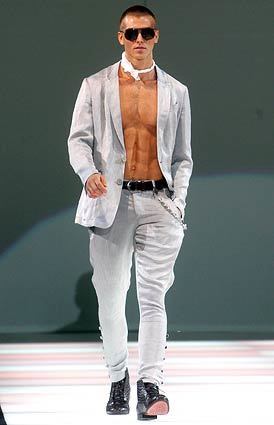 15 Images
Men's Spring/Summer Collections 2008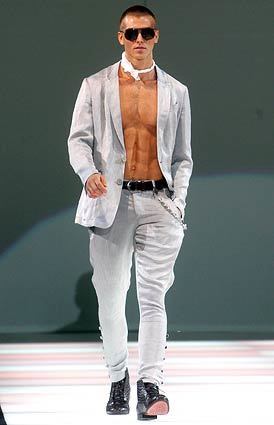 California casual hit the runways this year as the 2008 spring men's collections made their debuts in Milan and Paris. At the Emporio Armani show in Milan, ankle-button trousers, a light jacket and shades give an active-sport feel.
(Matteo Bazzi / EPA)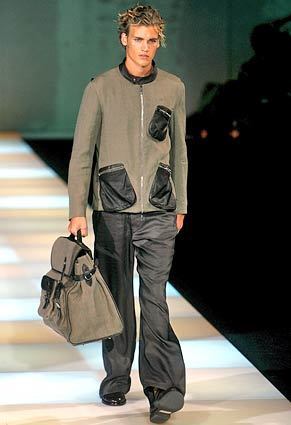 Billowy trousers, leather-patch zip-pockets and a satchel created an updated military style from designer Giorgio Armani in Milan.
(Matteo Bazzi / EPA)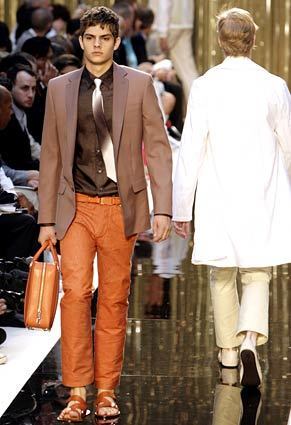 Louis Vuitton's Paris runway was stocked with metallics such as the shimmery holographic tie worn with warm shades of brown and rust.
(Jacques Brinon / AP)
Creative Director Marc Jacobs said the Louis Vuitton "Moon Beach" collection, including this shimmery iridescent suit shown in Paris, was inspired by a space station captain dreaming of Biarritz.
(Jacques Brinon / AP)
Lanvin combined khaki and white for this jacket and shirt, with skinny tie and shrunken collar, in Paris.
(Jacques Brinon / AP)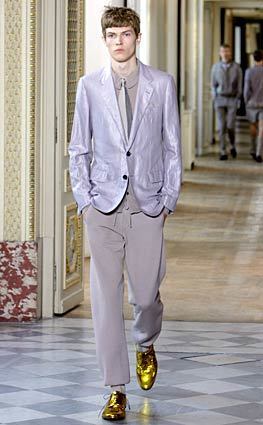 Lanvin stayed in step with the metallics trend for spring, as well as offering a muted color palette and washed-down-looking suits.
(Jacques Brinon / AP)
Jil Sander in Milan continued its signature stripped-down aesthetic with designer Raf Simons at the helm, as reflected in this three-quarter-length trench coat.
(Alberto Pellaschiar / AP)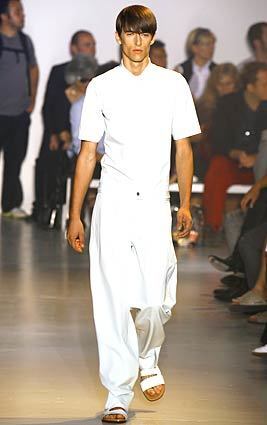 One-piece jumpsuits for men, like this drop-crotch version, paired with strappy sandals for Jil Sander at the Milan show, were a recurring motif on the European runways.
(Alberto Pellaschiar / AP)
Dan and Dean Caten's Dsquared label played with the racing motif in Milan, with racing-style patches on denim and motorcycle jackets.
(Matteo Bazzi / EPA)
A one-piece racing-inspired jumpsuit by Dsquared in Milan was adorned with racing patches and paired with mandals, or man-sandals.
(Matteo Bazzi / EPA)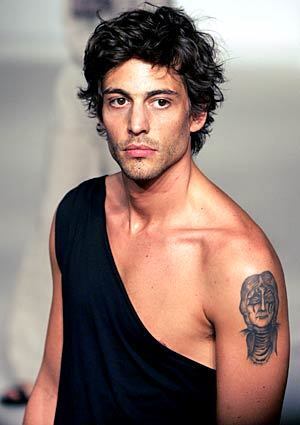 An off-the-shoulder look for men by Agnès B in Paris showed off lots of skin and a shoulder tattoo.
(Francois Mori / AP)
Missoni's Milan show was one of the most colorful of the season. This look paired a solid coral-colored shirt with a striped cardigan with check-print cuffs and waistband.
(Matteo Bazzi / EPA)
Missoni riffed on the theme of nautical adventure in Milan with this sleeveless knit top and bright yellow knee-length shorts, accessorized with a seashell necklace.
(Giuseppe Cacace AFP/Getty Images)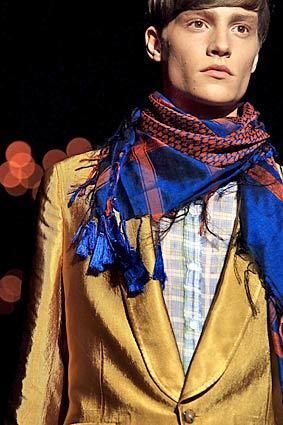 A look from Dries Van Noten's collection in Milan included this lemony metallic jacket and Moroccan-inspired tasseled scarf.
(Matteo Bazzi / EPA)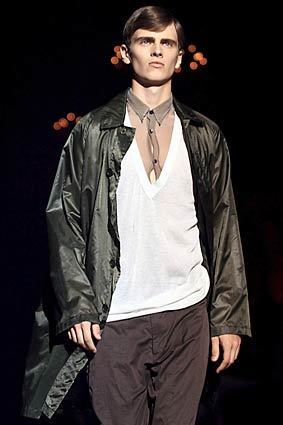 Dries Van Noten's collection in Milan featured sheer shirts, V-neck sweaters and a variety of trench-coat styles.
(Giulio Di Mauro / EPA)