Eddie Money, hit-maker behind 'Two Tickets to Paradise' and 'Baby Hold On,' dies at 70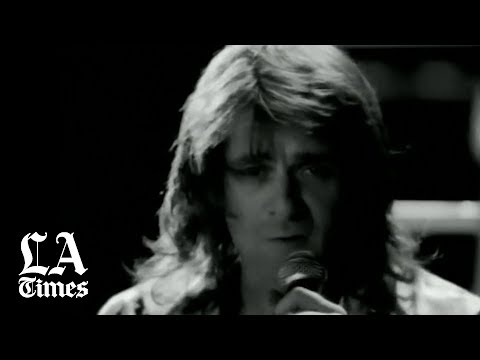 Singer-songwriter Eddie Money, a former New York police officer who became the hit-maker behind 1970s and '80s songs including "Two Tickets to Paradise," "Baby Hold On" and "Take Me Home Tonight," has died. He was 70.
The musician died Friday in Los Angeles, according to his publicist Cindy Ronzoni. Money had Stage 4 esophageal cancer.
"The Money Family regrets to announce that Eddie passed away peacefully early this morning," the family said in a statement. "It is with heavy hearts that we say goodbye to our loving husband and father. We cannot imagine our world without him. We are grateful that he will live on forever through his music."
He had spoken last month about his Stage 4 cancer diagnosis in a video clip from his AXS TV reality series "Real Money."
"I thought I was just going in for a checkup and [the doctor] told me that I got cancer," he said of the doctor visit that came on the heels of a heart-valve replacement procedure he underwent in May, after which he developed pneumonia, forcing him to cancel a summer tour and a planned album release. "It hit me really, really hard. … What I don't want to do is, I don't want to keep the fact that I have cancer from everybody. It's not honest. I want to be honest with everybody. …
"Am I going to live a long time?" he asked in the clip, in which his wife, Laurie, added that the cancer had spread to his liver. "Who knows? It's in God's hands. But you know what, I'll take every day I can get. Every day above ground is a good day."
Money logged many good days during his run as a pop musician, which developed when San Francisco-based promoter and talent manager Bill Graham discovered him in 1976 after he'd moved from New York and taken up residence in Berkeley, dabbling in student activism.
Born Edward Mahoney on March 21, 1949, to a family of New York police officers, he said he was known around Berkeley as "Freddie Foodstamps," which inspired him to change his surname to Money as a joke.
He was arrested in 1969 when police discovered a crop of some 300 marijuana plants in his apartment, which Money said belonged to his roommate. He spent three weeks in jail, then was arrested again shortly after being released for stealing a club soda from a convenience market.
He later came to the aid of the judge who sentenced him in that case, holding a fundraiser a decade later to support the judge's efforts to keep his job in the midst of a recall campaign. "He's a fair man," Money told People in 1980. "I wouldn't want to see him lose his pension after all these years of hard work." He expressed gratitude to municipal Judge Mario Barsotti for sending him to jail because it taught him "a hard lesson: If you play, you pay."
The episode spurred Money to clean up his act, and he began taking voice lessons from a voice coach who had worked with Barbra Streisand and Frank Sinatra. Graham heard him sing at an amateur night performance and took him under his wing. That led to a contract with Columbia Records, which in 1977 released his debut album, "Eddie Money," a collection that reached only No. 37 on Billboard's album chart but eventually sold more than 2 million copies, according to the Recording Industry Assn. of America.
It spawned three hit singles: "Baby Hold On," which reached No. 11 on Billboard's Hot 100 singles chart, followed by "Two Tickets to Paradise" and a low-charting version of Smokey Robinson's "You've Really Got a Hold on Me."
"Two Tickets" peaked at No. 22 but became a staple on FM rock radio in the late '70s and a pop culture staple that earned him a spot singing the song's hook to a bewildered family in a 2012 Geico insurance TV advertisement. His 1978 sophomore album, "Life for the Taking," did better on the charts, rising to No. 17, the highest-charting album among the eight studio albums he released during his 15-year run on the charts.
When MTV emerged in the early '80s, Money's music videos helped usher in his return to the Top 20. In the video for his single "Think I'm in Love," he played a Dracula-like character on the prowl for love. That track was on his album "No Control," which yielded a second hit single and video, "Shakin'," which helped propel the album to No. 20 in Billboard.
Along the way he struggled with substance addiction — Rolling Stone has credited him with being the first rock musician to overdose on the opioid fentanyl, back in 1981 — which contributed to the disappointing follow-up to "No Control," his 1983 album "Where's the Party?," which stalled at No. 67.
"I was so disappointed, I almost quit the business," he told The Times in 1986. "I wasn't going to be Eddie Money any more. I was going back to being Eddie Mahoney."
He decided to get sober, however, and in a short time he returned to the Top 10 with the biggest hit of his career, "Take Me Home Tonight," his 1986 duet with '60s R&B-pop singer Ronnie Spector.
Yet he griped about sobriety in his no-nonsense Brooklyn streetwise way, telling The Times that year, "It's boring. I feel like Peter Pan. … It's a nutty business — up and down, up and down. I've been up and down so much, I feel seasick half the time."
In 1987, he received a Grammy Award nomination for "Take Me Home Tonight."
He charted several more hits over the next half-dozen years, among them his final Top 10 single, "Walk on Water," a 1988 hit, another staple he played as he continued touring over the next three decades.
Last year, AXS TV launched the reality series that followed Money, his wife and their five children — daughter Jesse and sons Joe, Dez, Julian and Zach — in their lives in Southern California, a show that had entered its second season this year. The episode in which he talked about his cancer diagnosis aired Thursday, the day before he died.
He talked to Rolling Stone last year about why he continued touring.
"I don't want to retire, because I get the chance to dress up, I can shave and shower and get a haircut and go out there and do 'Two Tickets to Paradise' and 'Baby Hold On' and the fans love it," he said. "I'm helping my kids out. I got my son back there on drums, my other kid's great on rhythm guitar, my daughter is dancing around like it's her first gig. I feel very fortunate that I'm still doing what I'm doing."
Money is survived by his wife and children.
Sign up for Essential California for the L.A. Times biggest news, features and recommendations in your inbox six days a week.
You may occasionally receive promotional content from the Los Angeles Times.