Joel Schumacher, director of 'St. Elmo's Fire,' 'The Lost Boys' and Batman films, dies at 80
Film director Joel Schumacher, whose varied work included such movies as "St. Elmo's Fire," "The Client," "Batman Forever" and "Falling Down," died in New York City on Monday morning. He was 80.
Schumacher died after a yearlong battle with cancer, according to a representative.
A costume designer turned filmmaker, Schumacher established himself as one of the preeminent mainstream studio directors of the 1980s and '90s, with a stylish visual flair that drew on his background in fashion and a knack for discovering and nurturing young stars like Rob Lowe, Kiefer Sutherland, Matthew McConaughey and Colin Farrell.
Though he was by his own admission never a critic's darling, Schumacher earned positive reviews for such films as the 1993 white-collar-vigilante thriller "Falling Down," which was entered into competition at the Cannes Film Festival, and the 2000 Vietnam soldier drama "Tigerland." Despite a mixed reception from critics, his 2004 adaptation of the Broadway musical "The Phantom of the Opera" earned three Academy Award nominations, including for cinematography and art direction.
But while he delivered a steady stream of hits, including the 1987 teen-vampire movie "The Lost Boys," the 1990 medical thriller "Flatliners" and the 1996 John Grisham adaptation "A Time to Kill," Schumacher also had his share of duds, one of which nearly derailed his high-flying career.
Taking over the Batman series from departing director Tim Burton, he pushed the franchise in what many deemed an overly cartoonish and campy direction with 1995's "Batman Forever" and 1997's "Batman & Robin." The latter film, which notoriously introduced nipples to George Clooney's bat suit, was lambasted by critics and fans alike and underperformed at the box office. Schumacher — who was often unflinchingly candid about his own work as well as his past struggles with drugs and alcohol and his sexuality — later apologized for having steered the venerable comic-book property into a creative ditch.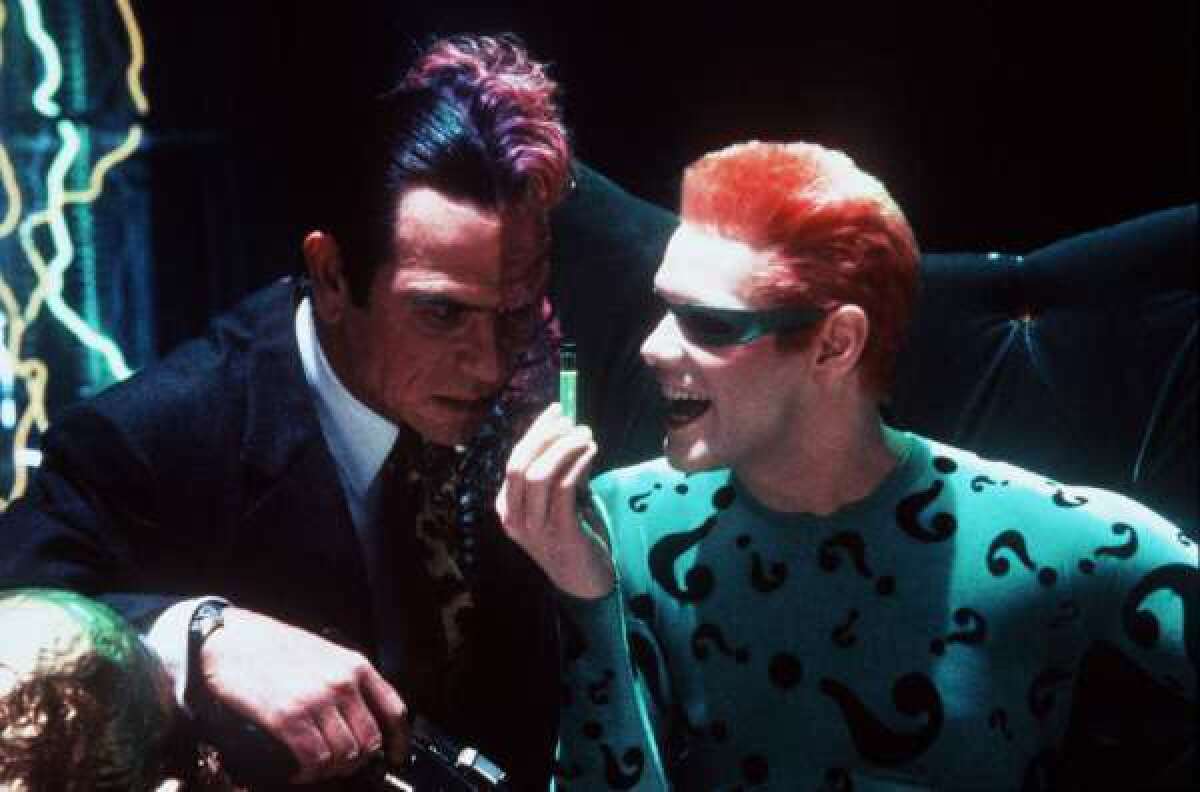 Born in New York on Aug. 29, 1939, Schumacher studied at Parsons School of Design and the Fashion Institute of Technology before shifting from fashion to filmmaking. He served as costume designer on such films as Paul Mazursky's 1973 film "Blume in Love" and Woody Allen's futuristic 1973 comedy "Sleeper" before moving into directing, having earned a master's in fine arts from UCLA.
Though he enjoyed only modest success with his first two films, the comedies "The Incredible Shrinking Woman" (1981) and "D.C. Cab" (1983), Schumacher tapped the zeitgeist with his third movie, 1985's "St. Elmo's Fire." Centered on a group of glamorously angsty young graduates of Georgetown University, the film became a box-office hit despite largely scathing reviews. (Times critic Sheila Benson said that, like the atmospheric phenomenon for which it was named, the film was "a deceptively beautiful electrical display that can't be confused with reality.") "St. Elmo's Fire" helped cement the fame of the "Brat Pack," a group of young stars including Lowe, Demi Moore, Judd Nelson and Emilio Estevez, though Schumacher himself resisted that label.
In 1993, Schumacher directed the hit legal thriller "The Client," based on the bestseller by John Grisham. The film earned solid reviews and a best actress Oscar nomination for Susan Sarandon, and Grisham asked for Schumacher to return to helm 1996's courtroom drama "A Time to Kill," which gave McConaughey his breakthrough lead performance and also performed well at the box office.
But while he proved himself capable of handling a range of genres, establishing himself as one of the go-to directors for Warner Bros. throughout the '90s, Schumacher's foray into the comic-book arena was bumpier. While "Batman Forever" overcame poor reviews to become the biggest box-office hit of 1995, Schumacher's follow-up, "Batman & Robin," proved an utter debacle. The over-the-top, candy-colored film was so creatively misbegotten, Times critic Kenneth Turan wrote, "The strutting bully that was the Batman franchise is no more." Indeed, Warner Bros. decided to shelve the franchise for eight years until director Christopher Nolan rebooted it with the grimmer, grittier "Batman Begins."
Through its failure, the film was ultimately credited with helping push the comic-book genre in a more serious, grounded direction. "What got lost in 'Batman & Robin' is the emotions aren't real," the film's screenwriter Akiva Goldsman told The Times in 2009. "The worst thing to do with a serious comic book is to make it a cartoon. I'm still answering for that movie with some people."
For Schumacher, that flop left a lasting bruise. "After 'Batman & Robin,' I was scum" he told Vice in a 2017 interview. "It was like I had murdered a baby."
Still, Schumacher continued to work steadily, though often on a smaller scale, earning a measure of critical favor for the more stripped-down "Tigerland" and the 2003 thriller "Phone Booth," both of which starred Farrell. He directed his final film, the thriller "Trespass," in 2011 and most recently directed two episodes of the Netflix drama series "House of Cards" in 2013.
"I went on to make movies and I didn't have a nervous breakdown," Schumacher told Vice. "Woody Allen, one of many mentors of mine, once said to never read anything about yourself because to believe the good, you would have to believe the bad and when they hate you, you remember every ugly word to the day that you die."
Sign up for Essential California for the L.A. Times biggest news, features and recommendations in your inbox six days a week.
You may occasionally receive promotional content from the Los Angeles Times.