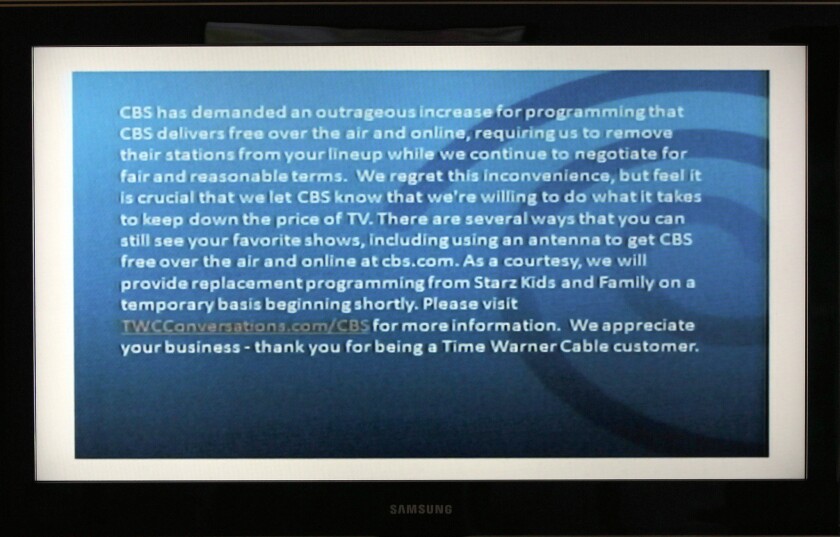 It's difficult to gin up much sympathy for either side in the battle between two colossal corporations, CBS and Time Warner Cable, especially since we the TV viewers — or at least the million in Los Angeles who subscribe to Time Warner Cable at substantial monthly rates — are suffering the collateral damage.
After negotiations over a new contract broke down last week, Time Warner pulled CBS programming (and its cable channels, including Showtime) off the air Friday in Los Angeles, New York, Dallas and other markets. On Channel 9 here, there has been a screen message written in high dudgeon that claims CBS is asking for "outrageous" fee increases. CBS took out print ads telling subscribers that it has been dropped and that's "unfair" to subscribers. Then CBS turned around and specifically blocked Time Warner's high-speed Internet customers from streaming shows on the CBS website. (That was "beyond the pale," wrote Time Warner Chief Executive Glenn Britt.)
Of course, it's not unusual for two companies to fight over the best deal they can get when renegotiating a contract. CBS contends that the current fee Time Warner pays it (believed to be about 80 cents per subscriber per month) is less than what Time Warner pays some cable programmers with a fraction of the viewership of CBS. According to analysts, CBS wants increases in fees that would rise during the contract to $2 per subscriber each month. Time Warner argues that that's unreasonable because CBS gives away its content for free over the air (your TV with an antenna) and online.
The longer all this goes on, the more cable viewers Time Warner could lose, as they find other outlets for CBS programming (Hulu, DirecTV, rabbit ears, etc.). And both CBS and Time Warner risk losing viewers who find something else altogether to do with their time.
As of Monday afternoon, Time Warner had offered CBS two proposals, including a provocative one to carry CBS a la carte and let viewers decide individually if they are willing to pay extra for it.
Although it's easy to hate a cable giant and a broadcasting behemoth, neither of which are likely to put viewers interests ahead of their own, let's not forget that we are enablers in this TV drama. We could tap a variety of other sources for TV programming — including services offered by websites, satellite operators and phone companies.
It's not a trivial thing to switch to another method of getting TV, but it's getting easier all the time. And if this battle drags on over blacked-out channels, cable viewers will adapt and find other outlets. So our advice to Time Warner and CBS is to agree to a compromise, fast — before cable viewers go elsewhere for good.
---