A solar array won't hurt the mood of Manzanar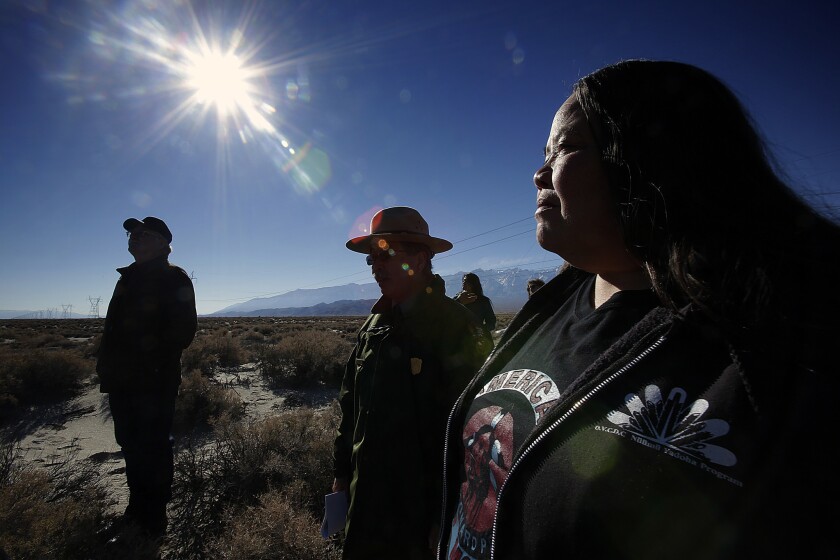 California is obligated to both its past and its future. And there is seldom a painless solution when the two obligations clash, as they frequently do.
That's especially true in the case of Manzanar, the World War II camp where thousands of people, most of them children and teenagers — and most of them American citizens — were incarcerated simply because they were of Japanese descent. Situated in a starkly rugged area of the Owens Valley, the camp has been preserved as a National Historic Site as a testament to what its residents endured and a reminder of the fragility of civil rights in wartime.
But just as there is a moral and legal commitment to preserve this part of our past, it also is imperative for California to develop sources of sustainable energy that reduce our reliance on fossil fuels. As part of that obligation, the Los Angeles Department of Water and Power plans a 1,200-acre solar array within sight of Manzanar. Some object, saying that any visible development in the area would damage the sense of desolation, of being in the middle of nowhere, that was part of the internment camp experience.
If that was what the federal government intended for Manzanar, though, it should have purchased more than the 800-plus acres that were declared a historic site. This area is also a solar hot spot where it makes particularly good sense to locate a facility to soak up some of the sun's energy.
That's not to say that Manzanar doesn't deserve special respect. It does. But the DWP project would be neither garish nor immediately adjacent. The site would be 3½ miles from the former internment camp — a considerable distance, even in a valley floor this flat. Though it would be visible, it would not be visually intrusive. The solar panels would be more of a dark glimmer in the distance than a mood-destroying force. And they would be silent.
California is a changing, developing place where human needs — especially energy needs — and landscapes change. Places that were once considered "in the middle of nowhere" suddenly find themselves to be somewhere. Accepting that change, while protecting signposts of our history, is an ongoing challenge. This project meets it.
---
A cure for the common opinion
Get thought-provoking perspectives with our weekly newsletter.
You may occasionally receive promotional content from the Los Angeles Times.