Newsletter: Joe Biden, the bumbling old president who outwitted Republicans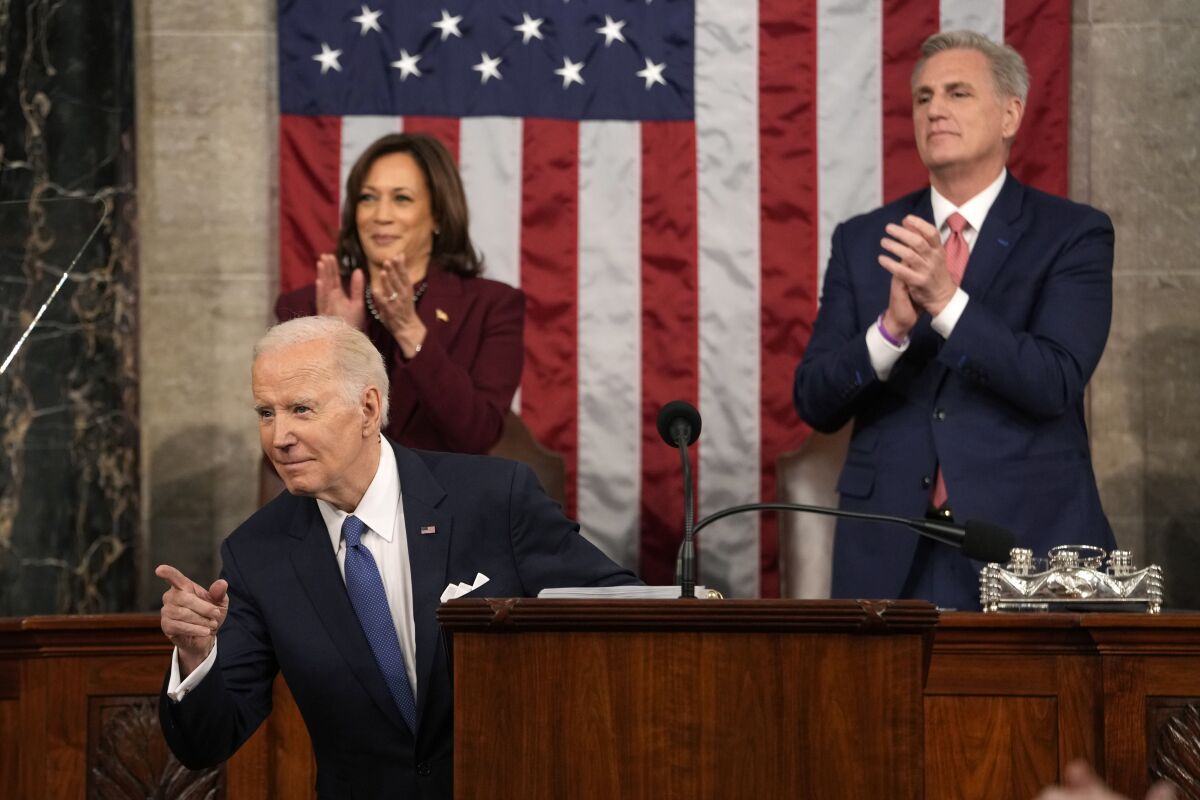 Good morning. I'm Paul Thornton, and it is Saturday, Feb. 11, 2023. Let's look back at the week in Opinion.
I had one major takeaway from President Biden's State of the Union address: Those who wish him success should hope Republican leaders never abandon their delusion that our 80-year-old commander in chief is a bumbling dotard of diminishing mental capability. Yes, at times Biden's lurching cadence and slurring were noticeable (he's not the first to trip up under that kind of scrutiny), and his volume control seemed switched off. But you know what? It was right for this political moment, and the president used his perceived oratory weaknesses to set traps in ways that the similarly gaffe-prone George W. Bush and Donald Trump never did.
The Republicans' heckling over the president's remarks on Social Security and Medicare brought back memories of then-President Trump's bullying behavior during his first debate with Biden. Then, Trump's incessant interruptions seemed designed to trip up a man whose childhood history of stuttering was widely known. On Tuesday, the Republican hecklers also seemed intent on flustering someone they perceived as intellectually small, and Biden welcomed the challenge by turning their antics into the most public display of bipartisan support for Social Security and Medicare in recent memory.
Score one for the geezer. Score a lot more than one for him, actually, because as op-ed columnist Jackie Calmes recently noted, Biden's LBJ-level of legislative effectiveness doesn't quite match the voting public's perception of him. This could change soon, according to Calmes:
"Expect to see Biden at a lot of groundbreakings in his term's second half, given that it likely will double as his reelection campaign. Clearly, he has to get out of Washington a lot more if he's going to run on a record that's impressive but has yet to make an impression. (He won't be adding to that record much, that's for sure, now that the House is under Republican control and functioning as a graveyard for progressive initiatives.)
"In the two days after his speech, Biden jetted to Wisconsin and Florida to spread the word about his achievements, generating local coverage about the jobs and other benefits his initiatives will bring to those swing states. (No, Democrats haven't given up on winning in Florida. Yet.) In Baltimore recently, he crowed about plans to rebuild a 19th century tunnel essential to rail shipments, and at the Ohio-Kentucky border he took credit for what will be a new bridge over the Ohio River.
"The president is flying high after good reviews for his Tuesday performance from pundits, politicians and quickie polls. He got extra points for the contrast between his can-do optimism and the vile negativity of some Republicans in the audience.
"But when it comes to fixing his messaging problem, he hasn't finished the job."
Reading this, I have to wonder how much of this can be attributed to a poll-driven political punditry that focuses on "optics" and voter sentiment as much as policy and lawmaking minutiae. Biden's ability to maneuver in Washington was never really a secret — he was a senator for 36 years before serving as a vice president noted for his behind-the-scenes negotiation with congressional leaders. But the focus since Biden launched his presidential bid in 2019 has been on his age and fitness for the job, and it continues as 2024 approaches and horse-race political coverage resumes. Perhaps the surprise over Biden's State of the Union performance will make us reconsider that approach.
Biden is right to stay firm on U.S. support for Ukraine. Biden devoted most of his State of the Union address to domestic issues, but some of his strongest statements focused on Ukraine. It's nice to see such unflinching resistance to Russia's aggression, but The Times' editorial board wants to see even more urgency on behalf of Ukraine: "The Russian invasion of Ukraine has posed a complicated problem for the U.S. and NATO alliance. Ukraine is not a NATO member, and the U.S. and its allies rightly have ruled out using NATO troops to defend it. But Putin's unprovoked and brutal aggression against Ukraine raises the specter of a Russian attack on current and future members of the alliance. It also threatens an international order in which nations respect the territorial integrity of their neighbors." L.A. Times
Speaking of Ukraine and Russia, you might have seen a report this week from Pulitzer Prize-winning journalist Seymour Hersh alleging that the U.S. and Norway bombed the Nord Stream gas pipelines in the Baltic Sea last September. This is an explosive claim — and as someone who watches Norwegian politics closer than most Americans, I am extremely skeptical. Some basic details are off (for example, there is no such thing as the "Norwegian Secret Service," and the American-built planes that supposedly detonated the explosives weren't operational in Norway's air force at the time); but more broadly, the picture painted of Norway as a vassal state of the U.S. is utterly unfamiliar to me. The description of Jens Stoltenberg, the current NATO secretary general and former prime minister of Norway, as a "committed anti-communist," is an odd way to describe a democratic socialist politician known for prioritizing smooth relations with Russia before the Ukraine war. Most absurd is the statement that Stoltenberg "cooperated with the American intelligence community since the Vietnam War" — because the war ended when he was 16. Seymour Hersh Substack
Two things that are right with L.A. now: LeBron James and Gustavo Dudamel. Sadly, Dudamel will leave his post as the L.A. Philharmonic music director for New York, and James will eventually leave the Los Angeles Lakers for whichever NBA team drafts his son Bronny — but right now, L.A. is that much more of a special place with those two superstars in it. Editorial writer Carla Hall celebrates James' recent feat: "James has broken a 39-year-old scoring record that some thought would never fall — and he did it while wearing an L.A. Lakers jersey. It was practically a feast of L.A. greatness to watch former Laker Kareem Abdul-Jabbar, the record scorer until Tuesday night, embrace James, the new record holder, on the court. Outside Crypto.com Arena is a statue of Kareem, and everyone assumes one of James is on the way." L.A. Times
Enjoying this newsletter? Consider subscribing to the Los Angeles Times
Your support helps us deliver the news that matters most. Become a subscriber.
The Great Salt Lake is disappearing. Utah has 45 days to save it. Things look really grim for the Western Hemisphere's largest saltwater lake, which could be completely gone in five years without immediate, drastic action. Writes Utah author Stephen Trimble: "The lake and its wetlands yield minerals, thousands of jobs, and an annual $2.5 billion for the Utah economy. Its brine shrimp eggs are used worldwide as food for farmed fish and shrimp, providing crucial calories for millions of people. The lake suppresses windblown toxic dust, boosts precipitation of incoming storms through the 'lake effect,' and supports 80% of Utah's wetlands — critical habitat for globally significant populations of migratory birds. All these wonders do best with a minimum healthy surface elevation of about 4,200 feet, which the Great Salt Lake hasn't seen for 20 years." L.A. Times
Your "superbloom" selfie isn't worth destroying California's ecosystems. All that January rain (though February has been distressingly dry) portends a beautiful wildflower season this spring — think hills painted orange, purple and yellow for a precious few weeks. But please, writes botanist Naomi Fraga, don't make the next hoped-for superbloom like the last one: "Thousands of people descended upon wildflower locations in 2019 in the hopes of experiencing the wonder of wildflowers. There were extensive reports of people walking off trail across fields of flowers, trampling as they went, picking flowers, digging up whole plants and trespassing in protected reserves. The wildflower season was even dubbed the 'poppy apocalypse' by the news media. Some of this defacement has been documented by observers but, for the most part, I've seen it in shameless selfies on social media. People don't seem to realize how destructive they're being." L.A. Times
Life is stressful. Our weekly mental wellness newsletter can help.
You may occasionally receive promotional content from the Los Angeles Times.