Op-Ed: The 'English Only' nativist movement comes with a cost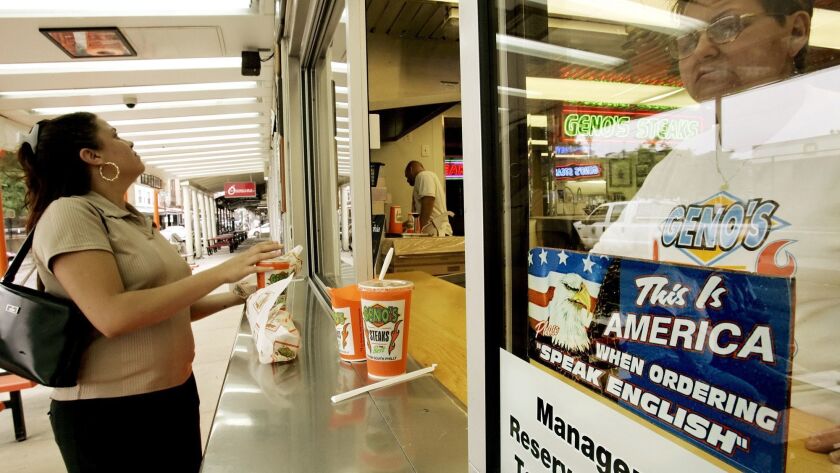 This summer, a candidate for secretary of state in Arizona called for the government to stop providing ballots in Spanish, Apache or Navajo; a sign on a Baltimore Dunkin Donuts offered free coffee for reporting non-English use by employees; a Houston building posted an "English Speaking Only" requirement for new tenants.
These incidents are part of the wave of anti-immigrant sentiment that has been swelling since at least the 1990s and that has worsened under President Trump. They reflect a restrictive view of what the United States ought to look and sound like — white and Anglophone.
Like German or Italian in earlier eras of American history, Spanish in particular now is seen as a threat to English and hence to the unity of the nation. English-only nativists seek to push Spanish and other minority languages out of the public sphere to where they can die out.
Removing all languages but English from the public sphere amounts to depriving the next generation of a resource that is rightfully theirs.
But knowledge of a language other than English is an asset. It makes no sense to discourage "natural" fluency and expect the educational system to pick up all the slack.
It is true that the status of English as lingua franca for business and research gives English-speaking countries an advantage globally. By some measures, however, China and the European Union have already surpassed the U.S. as the world's largest economy, and it is likely this trend will continue. With the economic power and political influence of the U.S. on the wane, cracks are appearing in the global English phenomenon.
Americans understand, on an intuitive level, that bi- or multilingualism is practical — that's why we collectively spend billions to acquire language skills each year. High school students took close to 240,000 AP language exams in 2017 and almost 40,000 SAT language subject tests in 2016. Nearly 1.4 million college students enrolled in foreign language classes in 2016 and they signed up for countless study abroad programs, certifications, tutors and Berlitz type courses.
The ability to speak additional languages remains a strategic need for both the public and private sectors. Despite budget cuts, federal Title VI grants continue to support the teaching of less-commonly taught languages deemed critical to the country's financial and national security interests, such as Arabic, Mandarin Chinese, Dari, Korean, Hindi, Persian, Portuguese and Swahili.
If we discourage the use of Spanish, won't we have to spend even more money to make up for a newly created linguistic deficiency?
Removing all languages but English from the public sphere amounts to depriving the next generation of a resource that is rightfully theirs. Over the years, I have heard countless stories from college students whose common thread is a sense of great loss: "I want to learn Spanish because I want to talk to my grandparents." "My parents gave up because I only wanted to speak English." "I wish I had grown up speaking Spanish." "My parents were told that I could always learn Spanish later, but that I would do better in school if I focused on English."
But foreign languages aren't just a good investment. They also constitute social and cultural capital that cannot be quantified in economic terms. Living languages give expression to the intellectual, political, scientific, emotional and artistic needs of their speakers. The combined value of the 334 languages spoken in the United States represents a cultural heritage that belongs to everybody — even the English-only crowd — regardless of mother tongue.
Proponents of the English-only movement often claim to have the best interest of linguistic minorities at heart. In their view, school, workplace or government accommodations create obstacles to the goal of integration. Without any doubt, command of English is necessary to do well in the United States.
But there are good reasons to think that multilingual families would suffer in an English-only America.
A comprehensive study by the Stanford Graduate School of Education, published in 2014, found that students with limited English proficiency who entered the San Francisco school system in dual-language programs did better academically and linguistically in the long term than students placed in English-immersion classrooms.
Enter the Fray: First takes on the news of the minute from L.A. Times Opinion »
In spite of language harassment, there are reasons for hope. A growing number of school districts are taking steps to protect and expand education in languages other than English. Dual-language immersion schools have had success selling the benefits of bilingualism to middle-class families. Thirty-three states now offer a Seal of Biliteracy to high school students who graduate with a certain level of proficiency in two or more languages. These programs show you can serve multiple populations and improve outcomes in English literacy and modern language proficiency.
Most important, they show that languages are not a zero-sum game. Kids can speak English and Spanish — or Portuguese, French or Chinese — and thrive. Maybe they will teach the grown-ups a thing or two.
Roberto Rey Agudo is language program director in the Department of Spanish and Portuguese at Dartmouth College and a Public Voices fellow with the Op-Ed Project.
Follow the Opinion section on Twitter @latimesopinion or Facebook
---
Life is stressful. Our weekly mental wellness newsletter can help.
You may occasionally receive promotional content from the Los Angeles Times.