Op-Ed: George Wallace stoked the fire of racial division that Trump carried all the way to the White House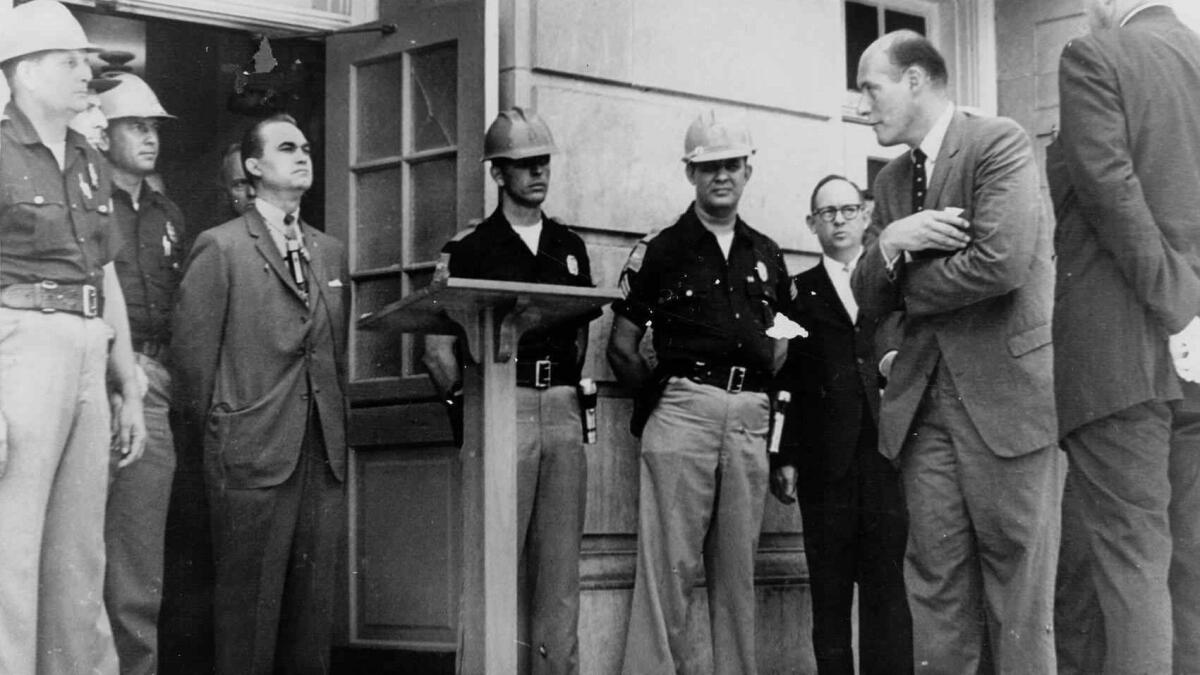 In late September 1968, presidential election polls showed that third-party candidate George Wallace's campaign was surging. With the support of a quarter of white voters, Wallace was within single digits of the Democratic nominee, Vice President Hubert Humphrey. Wallace's dominance in Southern states threatened to prevent any candidate from securing an electoral college majority, throwing the November election into the House of Representatives.
His was an extraordinary rise. In his inaugural speech as Alabama governor just five years earlier, Wallace had promised "segregation today, segregation tomorrow, segregation forever." He then gained national attention by personally standing in a schoolhouse door at the University of Alabama to block the admission of two black students.
By 1968, he seldom used explicitly racist language, but instead demanded "law and order" and railed against "crime," "drugs," "welfare mothers," "forced busing" and "big city thugs." He created the racially encoded language that still haunt our politics.
So when President Trump whips up rallies with his thinly veiled racist attacks on brown-skinned immigrants, Muslims and unpatriotic blacks, it is not a new development. The racial divide has been a political tool for those willing to use it for 50 years. As former President Obama pointed out in his Sept. 7 speech, "It did not start with Donald Trump. He is a symptom, not the cause. He's just capitalizing on resentments that politicians have been fanning for years."
In 1968, the white backlash to the Civil Rights movement and the '60s urban riots drew voters to Wallace. But others took note — particularly Richard Nixon's campaign advisor Kevin Phillips, who, in his book "The Emerging Republican Majority," saw the potential of a major partisan realignment. Over the next six years, President Nixon adapted a more subtle version of the Wallace message, appealing to what he called "the silent majority." In the years that followed, white voters in the once solidly Democratic South became the bedrock of the Republican Party.
The Republican Party's Southern Strategy initially focused on shifting voters with a segregationist bent to the party, but it proved adaptable to other whites uneasy with the increasing role of minorities in American life and politics. These appeals resurfaced many times over the years, most memorably in the infamous Willie Horton ad during George H.W. Bush's 1988 campaign, but also in the symbolism of Ronald Reagan's decision to make his first 1980 campaign appearance at the Neshoba County Fair in Philadelphia, Miss. — where three civil rights workers were murdered in 1964. With the election of Obama and a growing awareness that whites will eventually be a minority in America, the ground for such appeals has stayed quite fertile.
When Trump descended from Trump Tower in 2015, he immediately set himself apart from the gaggle of GOP presidential contenders by replacing the coy racial language of his predecessors with an unfiltered bullhorn. He has railed against prominent black leaders and athletes, talked about brown-skinned immigrants as murderers and rapists, and insisted dark-skinned Muslims constitute such a threat that we need to ban travel from entire countries.
Enter the Fray: First takes on the news of the minute from L.A. Times Opinion »
Wallace's bid for the presidency faltered in its final weeks, but a very small shift of voters in four states would have deadlocked the race. Wallace poured gasoline on the fire of racial division first, but Trump managed to carry that flame all the way into the White House. Who would have predicted that 50 years after the 1968 election, polls would show that more than half of Americans think their president is a racist?
Many factors have contributed to today's tribalistic politics, but race remains the bedrock of that division. Transcending racism is essential if our government is to break out of its current paralysis. If we do not succeed and Wallace's legacy of dividing us by race continues to shape American political life, then perhaps he won after all.
Historian Dan Carter, author of the George Wallace biography "The Politics of Rage," and University of Texas filmmaker Paul Stekler collaborated on the PBS documentary "George Wallace: Settin' the Woods on Fire."
Follow the Opinion section on Twitter @latimesopinionand Facebook
A cure for the common opinion
Get thought-provoking perspectives with our weekly newsletter.
You may occasionally receive promotional content from the Los Angeles Times.