Op-Ed: Don't call me an actress. In fact, let's get rid of that title altogether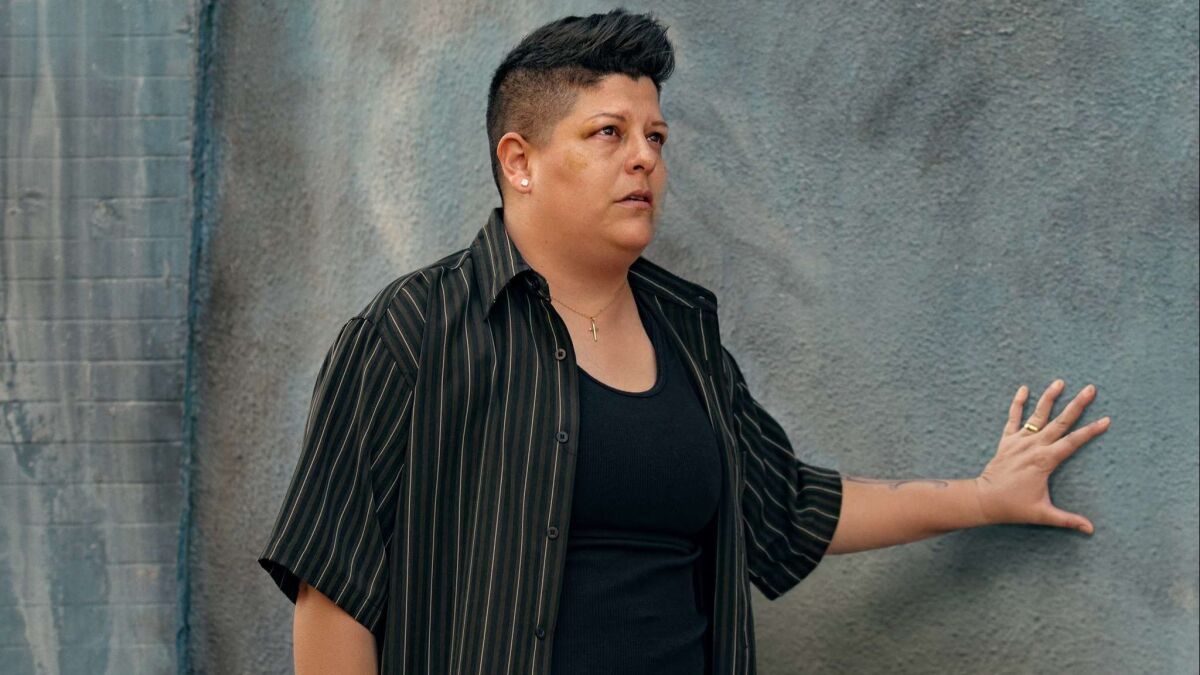 It wasn't long ago that there was no place on television for a gender-bending Latinx person like myself. Sure, there were a few white characters whose nature hinted at my reality, but these roles were written for white actors. I grew up thinking queerness wasn't meant for brown kids. Meanwhile, Latinx parts — even the rare LGBTQUIA ones — were reserved for highly feminine actresses.
Still, I was hungry to perform. So I had to write, direct and star in my own solo play to be seen. My empty bank account said everything about the opportunities available to me as an actor.
Then along came Eddy, the butch Latinx lesbian woman from Boyle Heights that I play on the Starz series "Vida." Eddy is a complex, open, beating heart. An actor's dream. That I'm helping others like her get a glimpse of themselves on screen is beyond affirming. It can help save lives.
But I am not my character. I am not Eddy. She identifies as the gender she was assigned at birth. I don't. I'm nonbinary, which means I don't identify with either gender.
Discovering gender freedom improved so many aspects of my life. But it didn't make it easy to audition or win dramatic roles.
"Vida" has received critical acclaim, for which I'm immensely grateful. And so has my portrayal of Eddy. But with awards season rolling around, this puts me in a bind. Most awards shows — including TV's top prizes, the Emmys — rely on the male/female binary in their award categories — best actor, best actress. So where does that leave me? I'm playing a female role, but that doesn't mean I should be up for Emmy consideration as an "actress" any more than Jeffrey Tambor should have been considered in that category for playing a transgender woman in "Transparent."
To place me in the actress category is to make me invisible.
With the Television Academy's blessing, my bid for a nomination has been submitted in the supporting actor category on the Emmy ballot. But while I am masculine-presenting, that's not the reason I chose this category. I think all performers ought to perform and be recognized under a gender-neutral descriptor, and "actor" is the closest we have to an umbrella term. I'm for awarding prizes to the best performances — regardless of race, gender, sexuality and class. And I hope talking about my choice, and how I came to make it, sparks a reimagining of the categories, so professionals like myself can have equitable ways to be recognized for our work.
My even greater hope is that this will have a ripple effect within our society and culture.
To be seen is a powerful thing. Visibility in media shapes larger cultural perceptions. In a time when many of us "others," trans and nonbinary people are under attack, binary award categories only reinforce divisive norms. Hollywood is uniquely positioned to shift the narrative on gender, creating a path for those who have been otherwise basically erased.
My own life is a testament to the power of narrative, storytelling and being seen. My solo stage show, "Ser," was more than a play for me. Its eight-year development process was an exploration of my identity. In it I played more than 25 characters, some feminine, some masculine. I found the masculine ones easier to access, to align my energy with, but they were all part of me. Ultimately, it was evident to me that my gender is ni de aqui ni de alla (neither here nor there).
Enter the Fray: First takes on the news of the minute »
Discovering gender freedom improved so many aspects of my life. But it didn't make it easy to audition or win dramatic roles. Being true to myself felt hopelessly unsustainable. I mean, when I got the audition for Eddy, my electricity was shut off.
With the success of "Vida," I've leaped over many of my hurdles — but the ones that remain sometimes still feel insurmountable. I'm thrilled to have covered so much ground — and to land on a show that's appreciated by audiences, critics and my peers. And yet, the male "actor" award category still isn't quite a fit.
I would be remiss if I didn't acknowledge how far the Television Academy has come on this issue. Its leadership has been nothing but supportive of my decision to be considered in the supporting actor category. Allowing performers to at least make a choice is crucial so that no worthy performer is left behind in these contests.
But we've got to go even further. The MTV Movie & TV Awards this month did away with gender labels for its performance categories altogether. Other awards shows should follow suit. Exchanging best actor and actress categories for gender-neutral ones would make a difference.
It is an honor to play Eddy, to show the world her humanity. Now, as a performer, I'm looking for that same opportunity.
Ser Anzoategui is an actor/writer/producer born and raised in Los Angeles. Keep up to date with Ser on Twitter: @seranzoategui Instagram: @ser_anzoategui
---
Life is stressful. Our weekly mental wellness newsletter can help.
You may occasionally receive promotional content from the Los Angeles Times.