Opinion: Meeting Diana, the Princess of Wales, only made me more fascinated by her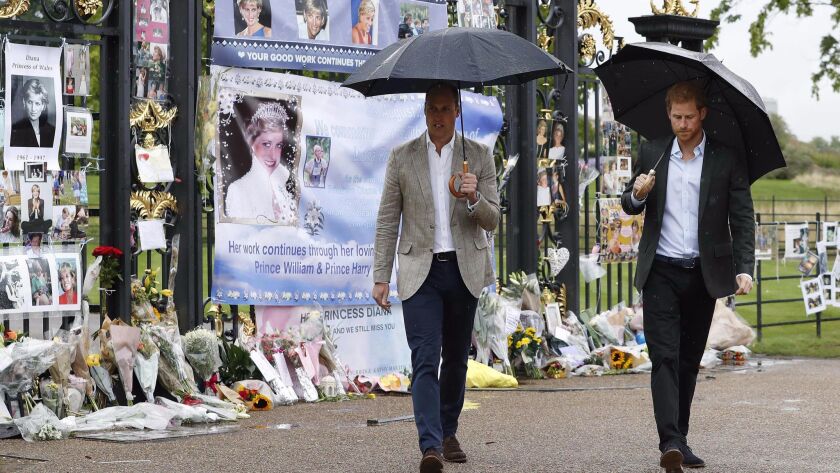 I first met Diana, the Princess of Wales, at an evening reception at the British Embassy in Washington in 1985. She was four years into her marriage to Prince Charles and the two were on their first visit as a couple to D.C. The Washington Post Style section was covering their trip lavishly and, as a young reporter for the section, I was deliriously happy to be part of it all. Everything about her fascinated me — the exquisite clothes, the jewels, the exoticism of her. She was a throwback to another era, in which girls went to Swiss finishing schools and set, as their goals, marrying well, and yet she seemed like a modern, approachable woman drafted into a fusty, dowdy royal family.
So there she was, in a red skirt suit, dutifully chatting with a clump of us, telling a wisp of a funny story about some official appearance she had made that afternoon in which the person introducing her had walked away, leaving her alone to make remarks that she wasn't expecting to make. She mimed looking panicked. "I can't stand when that happens," she said. Or something like that. What I mostly remember was that she had the most astonishing aqua colored eyes I've ever seen.
So multiply me by 750 million and you get the number of people who watched her wedding. You would have to more than triple that to get the number of people — reportedly 2½ billion — who watched her funeral.
Twenty years ago today, Diana died in that horrific car crash in a Paris tunnel, yet her mystique endures — enough to fuel a cottage industry of posthumous books on her and a spate of recent TV specials and magazine covers. We are, for better or worse, obsessed with celebrity, particularly the rarefied British royal kind who can wear tiaras and crowns without irony. Whether you are enthralled by the British monarchy or think it's an anachronistic waste of money, best enjoyed by watching "The Crown," it has survived hundreds of years of calls for its demise and it shows no signs of going away any time soon.
We can thank Diana for some of that. The British royal family has always had its fans, but Diana was different. She was eminently watchable on a different level. She started out as "Shy Di," who got engaged at the ridiculous age of 19 to a worldly man of 32. Who didn't cringe for her when she and Charles were asked in a TV interview if they were in love and she answered, "Of course!" and he said, "Whatever 'in love' means."
But she evolved and grew more self-confident.
So when I met Diana for a second time in the receiving line at a fashion industry reception in early 1989 in Manhattan, she seemed more sophisticated and more relaxed — if not particularly expansive. She was on a solo tour (no Charles) and she was having fun. This was a crowd that adored her, so she didn't have to say too much to delight them. She schmoozed about clothes and confided, with a grin, that she chose her own high-end outfit, designed by Catherine Walker, because "it doesn't crease." (This, I know she said, because I wrote it down in my notebook and put it in a story.)
Eventually, she would, of course, say a lot — about the breakdown of her marriage, her struggles with depression and bulimia, her feelings of being hounded by photographers.
And it was that later Diana who transformed herself from royal cipher into a humanitarian who could command the world's attention. Along the way, she helped pull the British monarchy away from its rigid sense of decorum and into the late 20th century. Even her divorce from Prince Charles — and his second marriage to the divorced Camilla Parker Bowles — would have been scandalous and unacceptable just a few decades earlier.
All royal family members open hospitals and go to charity benefits, but Diana leveraged her public relations appeal to push into different territory. She visited with and embraced AIDS patients at a time when there was still lingering fear about contact with AIDS sufferers. She toured fields cleared of landmines in Angola wearing protective gear and met with children missing limbs to publicize the horror of landmines. She didn't do the heavy lifting but, being the most photographed woman in the world, she helped put some focus on those who did.
Two months before her death, she, literally, shed the frothy '80s and early '90s era gowns that cloaked her younger self and auctioned them off at Christie's in New York, with the proceeds going to charity.
It may be hard now to imagine the extraordinary, widespread show of grief that overtook the world when Diana died in the crash along with her boyfriend, Dodi Fayed, the son of Egyptian billionaire Mohamed Fayed. People lined up at the British Consulate here in Los Angeles to sign books of condolence for the royal family. (This being long before Facebook, people had to actually physically put themselves out to do this.) I was sent to Britain to help cover the aftermath of her death. Mourners laid acres of flowers at London landmarks. Outside Kensington Palace, her home, I walked up to the massive field of flowers and discovered the pile was waist-high. More than a week after her death, as 10,000 tons of flowers lay wilting across the city, officials began to delicately cart them away, lest they anger people by simply dumping them.
In fact, flower tributes are back outside Kensington Palace to observe the 20th anniversary of her death.
Perhaps Diana's most significant contribution to modernizing the royal family was to raise two sons, William and Harry, now in their 30s, who have taken up many of her causes. Along with Prince William's wife, Catherine, they have aggressively launched a campaign to advocate for the importance of getting help for mental health issues — especially among the homeless, youth and veterans — and destigmatize seeking it. Prince Harry has spoken openly about his own years-long emotional struggle dealing with his mother's death, a problem for which he finally sought professional help. Publicly speaking on a topic like this is a huge change (for the better) in the public posture of the royal family.
If Diana had lived, it would have been interesting to see if she would have morphed into less a celebrity with humanitarian interests and more a humanitarian with a celebrity pedigree. And would she have had an Instagram account with 750 million followers? Wondering what would have been only fuels the fascination with her more.
Follow the Opinion section on Twitter @latimesopinion and Facebook
---
Life is stressful. Our weekly mental wellness newsletter can help.
You may occasionally receive promotional content from the Los Angeles Times.