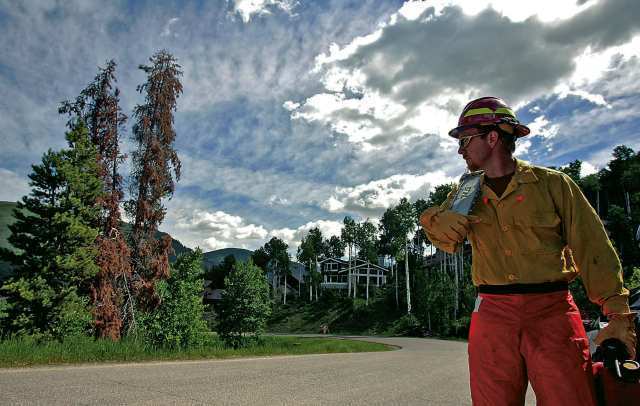 8 Images
Seven states, seven warning signs of global warming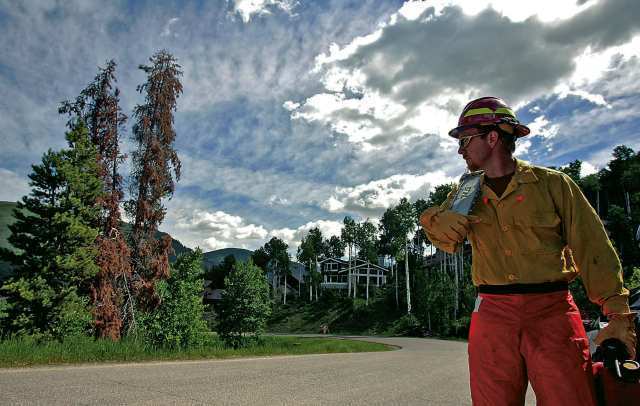 "Climate change is naturally occurring. What influence do we have over that, we certainly need to look into, but that's subject to debate."
--Rep. Mike Coffman (R-Colo.)
Not subject to debate is North America's worst infestation of bark beetles in recorded history, a problem centered in the once dense forests of Colorado. According to a recent report in the National Journal, the pest has destroyed 3.3 million acres of forest in Colorado alone since the 1990s. Although there is some disagreement among scientists about global warming's role in the blight, it is clearly connected to lower snowfall levels and increased wildfires, two phenomena plaguing Colorado that are predicted impacts of climate change.
(Bret Hartman / Vail Daily)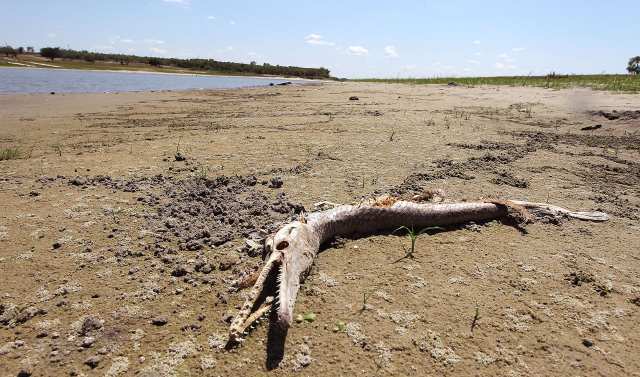 "I think the cap-and-trade bill is just another job-killing proposal that will kill 313,000 jobs in my state alone in Texas. The last thing we need is an additional burden on consumers and on businesses in the agricultural sector that this bill would impose, and that's really the problem."
--Sen. John Cornyn (R-Texas)
Earlier this summer, the National Atmospheric and Oceanic Administration estimated that the record-setting 2011 heat wave and drought in Texas and nearby states caused losses to crops, livestock and timber of about $10 billion. Using computer models, scientists also estimated the likelihood of similar heat waves as a result of global warming. Although climatologists frequently blame national shifts in rainfall on the El Nino/La Nina cycle, researchers found that in years with a La Nina, Texas will be about 20 times more likely to suffer a severe heat wave than in the 1960s. Rainfall totals greatly improved in 2012, but reservoirs remain low.
(Todd Yates / Associated Press)
"We've had decades and decades, and maybe even centuries, of periods of time when there's been a tremendous rise in temperature and then a tremendous fall in temperature. And all you've got to do is look at the Little Ice Age of the mid-last millennia as an example. And so we've got to single out what's natural and what's man made before you can make policy."
--Sen. Charles Grassley (R-Iowa)
Two-thirds of Iowa, the nation's largest corn producer, is suffering extreme or exceptional drought, part of a crisis across the Midwest farm belt that, according to the U.S. Department of Agriculture, has reduced corn yield per acre to its lowest level since 1995. Is global warming to blame? That will be clearer if such droughts become more frequent. But it's a very bad idea to bet the farm against the possibility.
(Jim Watson / AFP / Getty Images)
"Unfortunately, that's sort of the ridiculous pseudo-science garbage that's so common on the left on this issue. The real truth is getting out there, and I think citizens are really starting to push back."
--Sen. David Vitter (R-La.), in response to anecdotal evidence on global warming cited by Sen. Debbie Stabenow (D-Mich.)
The Midwest drought is having a disastrous impact not just on crops but on interstate trade, as the Mississippi River drops to levels that are slowing barge traffic to a crawl. Louisiana polticians, meanwhile, continue to push for more oil drilling in the Gulf of Mexico and a larger share of oil royalties for coastal states -- thus seeking to ensure that the greenhouse gas problem only gets worse.
(Los Angeles Times )
"I think it's an inexact science, and there has been more and more questioning about some of the conclusions that were reached concerning climate change. And I believe that everybody in the world deserves correct answers whether the scientific conclusions were flawed by outside influences."
--Sen. John McCain (R-Ariz.)
Among the biggest stories of 2011 was the spate of wildfires that swept across the Western U.S., with few states hit harder than Arizona -- the Wallow fire, which burned more than 538,000 acres, was the biggest in state history. According to NOAA's National Climatic Data Center, the damages from U.S. wildfires in 2011 exceeded $1 billion. Once again, making direct connections between such yearly phenomena and climate change is perilous. Yet climate models agree that as the world gets warmer, the wildfires will worsen across the American Southwest.
(Marcio Jose Sanchez / Associated Press)
"God's still up there. The arrogance of people to think that we, human beings, would be able to change what he is doing in the climate is to me outrageous."
--Sen. James Inhofe (R-Okla.)
On the fifth day, God let the Earth bring forth every kind of animal -- including mosquitoes. Some of them carry West Nile virus, which in 2012 has been reported in 48 states and has killed 118 people. The bulk of the outbreak, among the worst in the nation's history, is centered in Texas, but Oklahoma is in the top six states with 129 cases reported so far. When it comes to tropical diseases such as West Nile, warmer weather speeds up the process of production and infection -- increasing the population of mosquitoes, speeding their life cycle so that they reach biting age sooner, and rushing development of the virus within the bug's body. Other mosquito-borne illnesses, such as Dengue fever, are expected to become more common in the U.S. as global temperatures rise. Please, Lord, since you're the only one who can possibly solve this problem, send us down a tanker of thy DDT.
(James Gathany / Centers of Disease Control / EPA)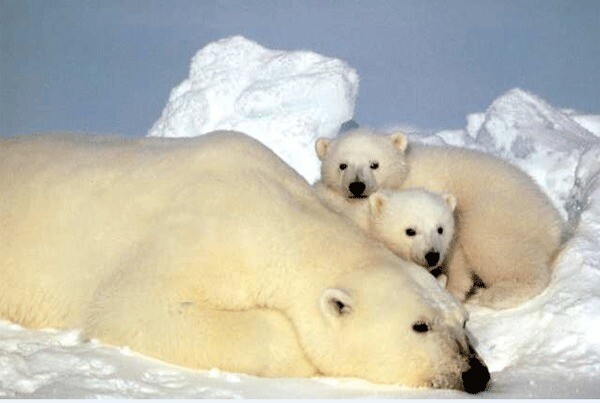 "I think this is the biggest scam since the Teapot Dome. I've got as many scientists who disagree with the science that it is getting cold, I mean warm, as say it's getting cold. And these are good scientists. I've got a guy from the University of Alaska who disagrees with the whole (Intergovernmental Panel on Climate Change) report. But it's not popular, so they're not being heard."
--Rep. Don Young (R-Alaska)
The rapidly melting glaciers and other dramatic changes that have affected many Arctic regions haven't yet had a major impact on Alaska, so it's not too surprising that Alaskans, whose state economy is massively reliant on oil drilling, tend to be less than enthusiastic about restrictions on carbon emissions. Most of the damage so far has happened in remote native villages or well off the coast where, out of sight of the average Anchorage dweller, sea ice is dwindling, posing a survival threat to the state's polar bear population. Climate scientists, meanwhile, fret that as the problem worsens, Alaska will be prime territory for feedback loops -- natural processes that will make the climate problem worse, such as when permafrost melts and emits methane into the atmosphere or sea ice vanishes and the sun's heat is absorbed into the ocean rather than reflected. Meanwhile, Alaskans can expect a future of bark beetle infestations, fires, coastal erosion and increasingly severe storms, according to NOAA.
(Steve Amstrup / Associated Press)