Obamacare debate: Will costlier insurance plans hurt the middle class?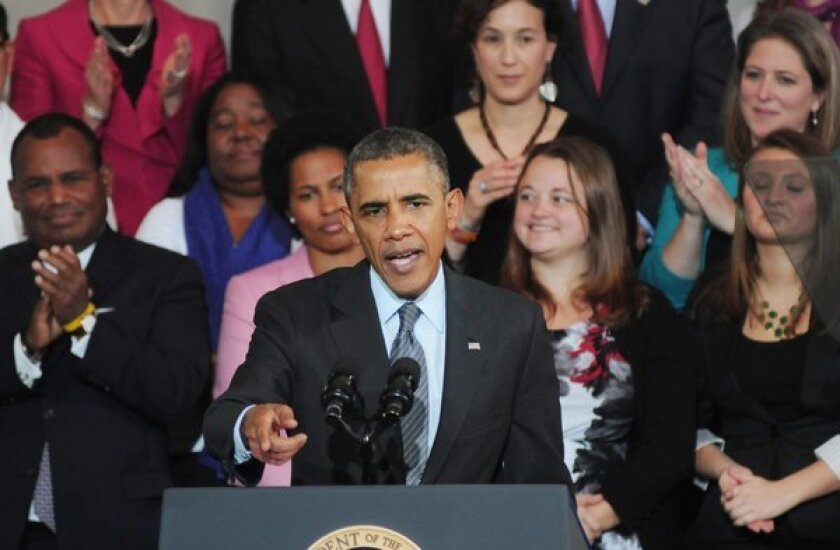 Forget Obamacare's website glitches. The outrage over the bungled Healthcare.gov launch has given way to sticker shock over the new insurance plans that force individuals to pay significantly more for comprehensive coverage.
People feel President Obama deceived them with his Affordable Care Act pitch. "If you like the plan you have, you can keep it," he said. What he neglected to say, however, was that insurance companies would drop plans that didn't meet the health law's standards. A more complete presentation, then, would have been: "If you like the plan you have, and your insurance company still offers it after the ACA is implemented, you can keep it."
"The administration is defending this pledge with a rather slim reed," writes the Washington Post, which slapped the president with four Pinocchios.
Meantime, people like freelance writer Matthew Fleischer are left to figure out how to pay for much more expensive plans.
On Wednesday, Fleischer detailed the cost increases under his new health insurance plan, which includes a nearly 43% increase to his monthly premium. Gulp. He argued on our Opinion L.A. blog that "if young healthy people like myself feel we're being taken advantage of, and opt out of purchasing insurance -- paying the penalty instead -- the healthcare exchanges will collapse." Instead of riding young, middle-class adults who "bore the highest toll in the recent financial collapse," he argued that "we're going to need to find a way to get older and wealthier Americans to chip in more."
I feel for him, and for everyone feeling the pinch. We're not exactly living in an easy economic climate. Wages have stagnated or dwindled for a lot of people, but the cost of living keeps going up. Yes, the Affordable Care Act puts healthcare within our reach. But it can be hard to appreciate something that might save your life later when rent is due tomorrow. (In case you missed it, read this fascinating op-ed: "Rich brain, poor brain.")
Commenting on Fleischer's post, reader "David in LA" argues that progressive policies are "pushing me lower and lower down the economic ladder." The reader says, "If Republicans are waging a war on the poor, Democrats are waging one on the middle class."
Reader "plainsarcher" echoes that sentiment, saying, "Obamacare is just another veiled attack on the middle class by progressives with Utopian income redistribution dreams."
While I do sympathize with people who're worried they can't afford costlier insurance plans, I would hardly call Obamacare a war or an attack on the middle class. Just ask Spike Dolomite Ward. She thought Obama had let down the "struggling middle class" until she had firsthand experience with the Affordable Care Act.
"I've been saved by the federal government's Pre-existing Condition Insurance Plan, something I had never heard of before needing it," Ward wrote in our pages in 2011. "It's part of President Obama's healthcare plan, one of the things that has already kicked in, and it guarantees access to insurance for U.S. citizens with preexisting conditions who have been uninsured for at least six months. The application was short, the premiums are affordable, and I have found the people who work in the administration office to be quite compassionate (nothing like the people I have dealt with over the years at other insurance companies.)"
Commenter "Justin Mayberry" is right: "[The] health plan gives hardworking middle-class families the security they deserve." If you have a preexisting condition or you lose your job, you no longer have to worry about being eligible for healthcare coverage. That's not a punishment to the middle class, it's a gift. Albeit an imperfect one.
As Diana Wagman wrote in "Night terrors of the uninsured," which ran in our Op-Ed pages over the summer:
"I had hoped that, under the new healthcare system, essential services for everybody would be covered by the government, as they are in every other First World country. At the very least I wanted the Affordable Care Act to be what it says it is: affordable care for everybody."
ALSO:

Democrats scramble to cancel insurance cancellations
Throw out Obamacare? Yes, and give us a single-payer system.
Follow Alexandra Le Tellier on Twitter @alexletellier and Google+
---
A cure for the common opinion
Get thought-provoking perspectives with our weekly newsletter.
You may occasionally receive promotional content from the Los Angeles Times.